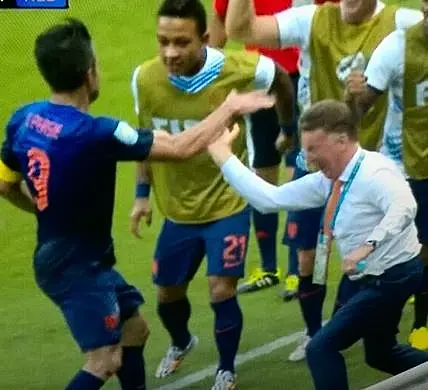 Xabi Alonso has slipped home a penalty to give Spain a deserved lead after 27 minutes.
Diego Costa won the penalty after being clipped by the lazy leg of De Vrij
Robin Van Persie equalised for Holland with a beautifully timed looped header
Arjen Robben put the Dutch 2-1 up with a glorious goal, inevitably reminiscent of Dennis Bergkamp's goal in 1998
Iker Cassius was surely fouled here as Stefan de Vrij made it 3-1.
A disastrous Iker Casillas error gives the Dutch an incredible 4-1 lead.
https://www.youtube.com/watch?v=VmIiwZsD1bc&feature=youtu.be

Arjen Robben incredibly made it 5-1 with 10 minutes left.
https://www.youtube.com/watch?v=ltZKeyj40F4&feature=youtu.be