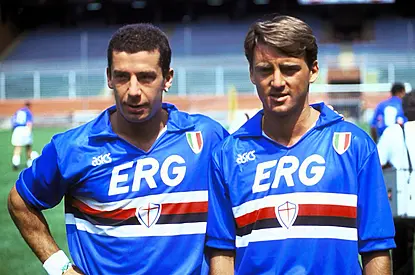 Now that the World Cup is over, we're back to the usual humdrum summer football news. Granted, we have the League of Ireland, but apart from that there's little to grab our attention other than transfer rumours and the now ubiquitous shirt releases. And let's be honest, there's a lot of them.
For every middle of the road professional team, there's two new shirts a year. For the top teams, there's three. But it didn't used to be like this. Remember when kits would stick around long enough to become iconic pieces of footballing fashion history.
There might be a vague recollection of those halcyon days somewhere in the back of your memory. Well we're asking you to dig deep and share them with us. We want to put together a definitive list of the sexiest bits of kit to ever grace a muddy field and we want to be democratic about it. And just to prove that we're not some kind of jersey snobs, this is not solely dedicated to hipster favourites of yesteryear. Should you want, then you're more than welcome to throw a particularly well designed current-ish kit into the mix.
To get the juices flowing there's a lot of love for the early 90's Sampdoria kit (above) in the Balls office, but maybe the presence of Robert Mancini and a hairy Gianluca Vialli is putting you off. Like we said this is a democracy, so send us in your suggestions, we'll sort through them and get back to you with the best of the best.
[gravityform id="38" name="Best Kits Ever - Your Suggestions" ajax="true"]