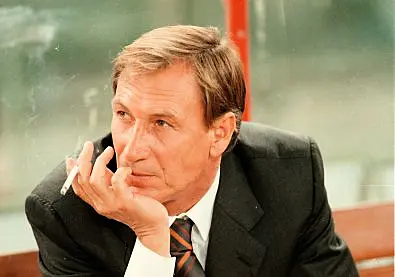 Zdenek Zeman was the first one I can remember. Lazio would be playing Cremonese or someone. Gary Bloom would be yapping excitedly through the action. The pitch would be covered in fog from all the flares that were constantly being launched into the air. In Italy the crowd always seemed to be about 4 miles away from the pitch and seemed to be more intent on setting off flares and starting funny and/or aggressive chants than watching the game. And Zemen would be there, hunched in the corner of the dug-out, squinting diffidently at the action, barely moving except to lift a cigarette to and from his mouth.
The football manager who smokes is one of the rare delights of football. It appears counter-intuitive. Presumably managers would take a dim view of their players smoking. After all, I can only assume Alex Ferguson didn't go out for a feed of pints after he had finished telling off Paul McGrath and Norman Whiteside for an hour. Maradona's managers didn't do a line of coke in their office before calling him in to chastise him about his drug fueled pool parties (of course, none of Maradona's managers seemed to chastise him about anything. That was the problem).
However, the sight of a manager smoking also seems strangely appropriate. In some cases, the cigarette can denote authority. It differentiates him from the players. It seems to say: "I am the manager, standing here in an overcoat, I am allowed smoke. You are the players, chuffing around a pitch in shorts, doing laps, you are not." It creates a wall of otherness. If, as in the unfortunate case of Wilf McGuinness, the newly appointed manager was recently a teammate of the players he is now in charge of, it's advisable he starts smoking, so as to assert his authority and separate himself from his former teammates.
Back in the 40s, presumably every manager smoked. Hell, even the players smoked. They got told off for not smoking. This was the war era, when a packet of Lucky Strike was advertised as the height of nutrition. Footballers used to advertise Woodbines like they were Lucozade Sport. As late as 1966, 18 year old Galway footballer Liam Sammon had a fag in his mouth when he was hoisted up by the invading maroon and white hordes after the Westerners secured the three in a row. No one thought anything of it.
It is particularly ironic that Zeman's teams are known for blisteringly energetic and recklessly attacking football. His training sessions were marathon affairs. The type of pacy, all-court game Zeman played required exceptional fitness. And all the while he stood there on the touchline taking a drag from his cigarette.
Zeman, one of the guys who never played football at any level and took up management at the age of about 14, coached in various dirt tracks around Sicily in the late 70s and early 80s. He made his name at Foggia, a tiny club in the South of Italy who he got promoted and then got into the UEFA Cup. Since his great days back at Foggia, and the above average job he did at Lazio, he has gone on the Ossie Ardiles trek. Zeman has managed around 7 million clubs in the last ten years in various exotic locations. Undaunted by the fact that he has barely got more than one season with a team for nearly two decades, he announced recently the he doesn't think much of Jose Mourinho and Fabio Capello, remarking that his "dead grandfather" could win with the players they have (surely unfair in the case of Mourinho at least.) He was the first to accuse Juventus of doping their players in the mid 1990s announcing that "Football needs to get out of the chemist."
Zeman was a cult figure. People wanted him to do well. His name made him sound like an exotic Russian Bond villain from the Roger Moore era and he looked like an enigmatic and taciturn Slovakian painter. The kind who makes abstruse, indecipherable statements and stays silent for whole interviews. Because of his chicness and idiosyncrasies, he is generally rated higher as a manager than his achievements merit. More hip than good.
Whereas Zeman preferred slim little cigarettes, one of his nemesis and the big beast of Italian football management in the late 90s, Marcello Lippi, was football's Darren Clarke.
Lippi's distinguished cigars make him look like an elder statesman of football. He unfurled a long cheroot on the touchline at the Nou Camp during Juventus' win over Barcelona in the 2003 Champions League quarter-final. After Italy's World Cup win in '06, he lit up a massive stogie on the pitch and puffed it jubilantly into the lenses of the cameras that encircled him. He didn't forget about the cigars at the moment of his greatest triumph. He gave them their due.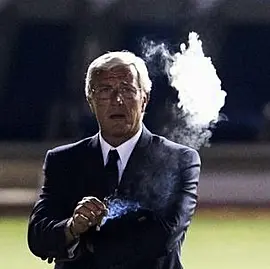 The iconic image of Lippi is of him standing, motionless and isolated, at the edge of the dugout. He is dressed in his smart club blazer, with the crest embroidered on the suit (that's the way they do it in Italy). He's peering intently at the game through his elegant specs, with a long cheroot cigar jutting confidently out of his mouth. Every now and then he grips it and lets it rest down by his side. At this moment he might issue an instruction. But it's never a panicky one, mind.
Fergie was a big fan of Lippi. In his first, and somewhat more tactful, autobiography in 1999, he wrote admiringly of the Italian "He's such a good looking bastard, he makes the rest of us look like Bela Lugosi." Ferguson always loved mixing it with those guys in the G8 of Global Football Managers.
Lippi was not the only World Cup winner who drew on cigarettes to help him win the big one. Cesar Luis Menotti led Argentina to their controversial first World Cup victory in 1978. Cigarettes were an integral part of his touchline routine.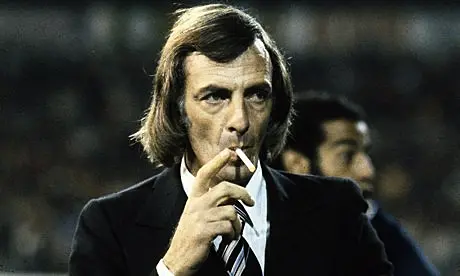 In the best traditions of the iconic foreign manager he had a nickname which sounded extremely exotic in Spanish but actually meant something fairly mundane in English, in Menotti's case 'El Flacco', or 'the thin one.'
He had a long shank of hair down his sides. He looked like a hungover bass player who was required to force himself into a suit to meet the executives from the record company. Whereas half the managers and players in Italy seem to be quasi-fascists, in South America they're all leftists, with Che Guevara tattoos and the like. Here's Menotti ruminating on politics and football.
There's a right-wing football and a left-wing football. Right-wing football wants to suggest that life is struggle. It demands sacrifices. We have to become of steel and win by any method … obey and function, that's what those with power want from the players.
He managed in so many sun-kissed glamorous locations, Barcelona, Athletico Madrid, River Plate, Boca Juniors, and Sampdoria Not exactly the Tony Pulis tour. However, much like Zeman, wasn't collapsing under the weight of his own silverware.
There aren't so many smoking football managers nowadays. It would be out of place with the whole Arsene Wenger muesli and pasta revolution that took place in the 90s.
The puritanical Yanks certainly pushed these things along a bit. A scandalised and irate Lippi told the story of working for Italian television during USA 94. He casually sparked up to light one of his cigars when "a big woman" came up and grabbed him on the arm and abruptly told him to put it out.
Then there were the turncoats. Johann Cruyff, the most famous smoking footballer/manager of all, underwent a double heart by-pass in 1991, and decided that his 20 cigarette a day smoking habit, that had sustained him on the way to winning three European Footballer of the Year awards in the early 197os, was no longer working for him. Like some repentant ex-Communist who later became an advisor to the Reagan administration, he became the face the Catalan government's anti-smoking campaign.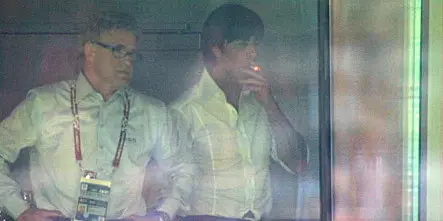 Now a smoking manager can cause an outcry when once we just privately admired his chutzpah.
Jogi Loew caused controversy in Germany by lighting up during a Portugal friendly. Looking like an aging new-romantic singer, the German boss sucked on a cigarette as his sleek charges beat the Portuguese 3-2. That he did so from behind a pane of glass like an international rugby coach or an American football team owner rather than on the touchline like a proper football manager took the sheen of authenticity off it a bit, made it a bit more furtive and ashamed looking.
His ardently libertarian stance was that "That's my personal business. I sometimes smoke a cigarette or have a glass of red wine in the evening. That is nothing outrageous."