There are few fixtures in the Premier League that produce great games as regularly as Arsenal v Liverpool does. The two have played out many classic over the years, in the Premier League, domestic cups and even in Europe. So, why is there a distinct lack of hype about today's game?
Perhaps the classic in the history of this game dates all the way back to 1989. On the final day of the season, Liverpool sat top of the table, 2 points ahead of Arsenal with 4 goals in hand in goal difference. Arsenal's last game was…away at Anfield – so they knew that all they had to do was win by two goals and they would have the league title wrapped up. In injury time, virtually with the last kick of the game, Mickey Thomas scored to make it 2-0 to Arsenal and bring the league title back to North London.
That game is remembered fondly both as one of English football's greatest ever finales, and as the birth of the modern era of a classic fixture. The 1989 game is a rare example of a time when the two clubs' trajectories have perfectly overlapped – Liverpool were at the absolute peak of their dominance, with Arsenal easily their closest challenges and begam a period of success unseen since the early 70s.
Both Arsenal and Liverpool have faced barren spells since that iconic '89 game. Liverpool infamously went 30 years without a league title from 1990 up until last season, while Arsenal themselves are entering year 18 without a league title this summer. One thing that has not let up over the course of those years, however, has been the quality of their clashes.
The first thing that pops to mind when you think of this fixture is the prolific amount of high-scoring games, particularly in recent years. A quick scroll through the Premier League app reveals two 3-3 draws, a 4-3, two 5-1s, and two 2-2 draws in the last 10 years alone. When these sides meet, it generally means goals. There has only been one 0-0 draw between the two in the league in the 21st century.
Even when the ties don't produce a tight contest, or a rake of goals, they invariably lead to amazing storylines and memorable moments. Think about the April 2011 game, when Robin van Persie gave Arsenal the lead in the 98th minute, only for Dirk Kuyt to equalise in the 102nd minute – both with penalties. Or, Thierry Henry's hat-trick at Highbury in the closing stages of the Invincibles season. Even the most recent league clash led to the infamous clash between Jurgen Klopp and Sky pundit Roy Keane in the aftermath.
The two greats have played out classics outside of the league as well. One of the most memorable games took place in the Champions League quarter finals in 2008, with Liverpool progressing 5-3 on aggregate after a six-goal thriller at Anfield. The second leg had everything – a controversial goal, a screamer from Fernando Torres, the emergence of an exciting youngster with Theo Walcott's run, and a goal from the greatest Premier League player of all-time, Ryan Babel.
The list goes on with memorable games – we haven't even mentioned the 2001 'Michael Owen final' in the FA Cup, or Andrei Arshavin's 4-goal visit to Anfield in 2009, or the 5-5 League Cup classic last season. A personal favourite for this writer was the 3-3 draw at the Emirates at Christmas 2017, with four goals scored in the space of six minutes at the start of the second-half.
By all accounts, an exciting game should be in store today The fixture has pedigree for producing high-scoring games, and the attacking talent in both camps is not to be sniffed at – when the likes of Mo Salah, Pierre-Emerick Aubameyang, Alexandre Lacazette and Sadio Mané are playing in the same game, your interest is naturally going to be piqued.
But something is off about this game. After finally having "their year" last year, Liverpool have been unrecognisable this season. They went nearly four years without a home league loss under Jurgen Klopp – since January, they've lost at Anfield four times. They sit in 7th, 25 points off the leaders Man City – at this stage last year, they were 20 points clear at the top.
Arsenal fans, on the other hand, have grown accustomed to a lack of Champions League football for several years now. Arsène Wenger's long-awaited departure in 2018 has not led to the change in fortunes Gunners fans were hoping for. 2018-19 saw a fifth-place finish, followed by 8th last season – and they currently sit below Liverpool in 9th place.
You would have to do a lot of searching to find the last time both Arsenal and Liverpool entered a Premier League clash in such low league positions. There have been lulls for both over the years and the games have often represented turning points or representations of the lows – Arsenal's 5-1 defeat at Anfield at Christmas 2018 springs to mind. But never a game with this low an average league position.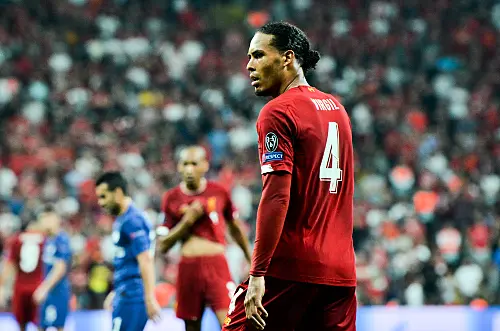 That is not to say that this is a permanent situation. Liverpool will likely never have a season as unlucky as this with injury – their two first-choice centre backs, as well as all three back-ups, have all faced lengthy layoffs, while Sadio Mané, Thiago and Mo Salah have all had COVID-enforced absences. They will surely be back with a vengeance next year and it is easy to forget they are defending league champions.
Arsenal, on the other hand, are showing signs of promise. Though their trajectory over the past three seasons would suggest a downward trend, the feeling around the Emirates seems surprisingly positive. There is a lot of faith among pundits and Arsenal fans alike in talents like Kieran Tierney, while fans will be hoping that the club can hold on to loanee Martin Ǿdergaard. The signs for the years ahead seem bright if Mikel Arteta is allowed to continue his work in charge.
So, the game this weekend marks a fascinating moment in the history of Arsenal and Liverpool. Having spent so long under one manager, Arsenal are finally beginning to forge a post-Wenger identity, and the team looks to have a bit more grit and potential than any side from the Emirates since 2016. Liverpool, having spent 30 years waiting for a league title, are now determined to prove that they are worthy of staying at the top. In a season where this game may initially seem less important than in previous years, it has the potential to be a major turning point for both teams.
And, besides, if that doesn't lead to a classic, we can probably rely on a meme-worthy moment from David Luiz or Granit Xhaka to make watching the game worthwhile. We certainly can't wait for 8pm tonight for the latest instalment of one of the best fixtures in the Premier League.