Despite winning his fourth trophy as a Chelsea player yesterday afternoon, Willian had to make do with playing only a handful of minutes in the FA Cup final.
Having drifted in and out of Antonio Conte's favour this season, the Brazilian let his frustration be known through his Instagram account.
Putting up plenty of celebratory pictures after Chelsea secured their 1-0 win against Manchester United, there was some telling emoji-work done on one picture in particular.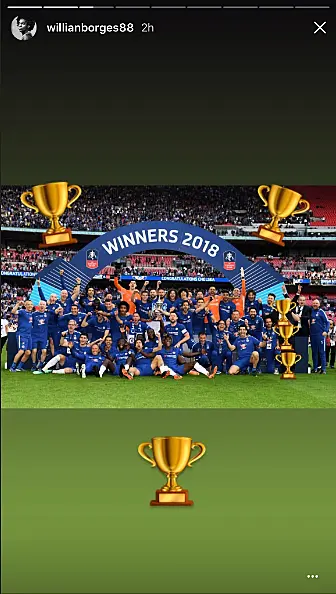 With trophies all over the place, it does not take long to notice that odd pillar of three on top of one another to the right of the photo.
Just high enough to obscure Conte himself, even if the Italian is seemingly destined to leave the club shortly, it would surely appear that if he does stay, Willian may find himself on the outs sooner rather than later.
A version of the unedited photo can be seen here.