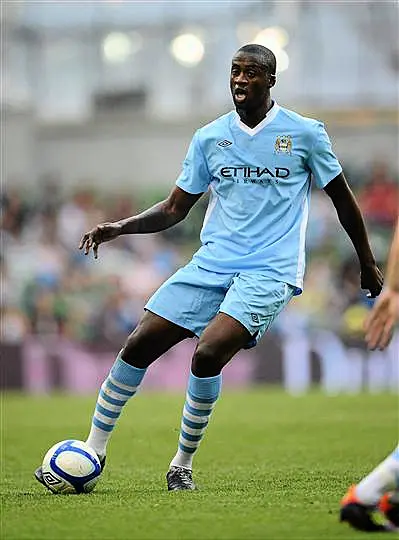 Reports are emerging that Yaya Touré is so disillusioned with Manchester City that he is willing to take a pay cut to leave the club - who his agent claims forgot his birthday on May 13. The gifted 31-year-old is thought to be seeking a return to Barcelona, or a move to a Premier League rival, even if it means taking in less than the £220,000 he pockets each week at Eastlands.
The Sun have printed agent Dimitri Seluk's claim that the final straw for his client was when the club forgot that Touré's birthday coincided with a lavish party hosted by Sheikh Mansour in Abu Dhabi to celebrate the Blues' title victory.
Yaya gives everything to his club and is probably the best player in the team — and the club do not protect him anywhere.

What happened at his birthday meant the club don't care about him. It was proof.

They can say whatever they want, 'Oh we like him but we forgot'.

Forgot? About Yaya? The player who helped you to be two-times Premier League champions?

The guy who helped you win the FA Cup and the League Cup?

His birthday can be on a normal day and, in a normal team, his team-mates and club would at least give him good wishes.

But when you win the title on May 11, a day later you go to Abu Dhabi and on May 13 you have a big party to celebrate the title and nobody comes to Yaya to say, 'Happy birthday', what more do you want?

They can say everything with words. But what we see in action is nothing. It's proof they don't care about him.
Touré has been with Seluk for 12 years and apparently calls him "Dad". Christ. Well anyway, it looks like "Dad" may have been telling a little fatherly fib about City missing Yaya's birthday - Bleacher Report have posted a video of City's trip to the UAE in which you can clearly see that he receives a City-themed cake and possibly the most awkward rendition of "Happy Birthday To You" in the history of first-class air travel.
Maybe Seluk feels that the birthday wasn't properly marked during the actual bash, in which case the star may have feel a bit peeved, but is it really grounds for leaving Manchester with a pay cut? We shall see. Anyway, the presentation of the cake is at the 2:30 mark in the video below.
Seluk continued:
It's not a question of money or contract, believe me. He has everything he needs. But as I said one year ago, for Yaya what is the most important thing is human relationships. Money is not important.

When your best worker has his birthday, from time to time it's not bad to shake his hand. To make him feel valued and appreciated.

They don't give any attention to Yaya. This is the shittiest thing.

If they think that with the money they can buy everything, they are wrong.

And now, with Financial Fair Play for them, it's very good if Yaya goes. They can receive money and they can show to UEFA they have money.

And they can let Manuel Pellegrini win the title with Fernando from Porto.
He concluded:
Yaya and I would agree a bet with City. If Yaya leaves the club and City win the Premier League I agree to sweep the floor at the training ground for a month for free.

But if not, Txiki and City chief executive officer Ferian Soriano would have to sweep the streets in Trafalgar Square for one day.

I think these people don't care. Only stupid people would want Yaya to leave the club.

For me, this is a strange situation because, if you think about it, when Yaya left Barcelona it was with the same people.

Now these people come to Manchester City and Yaya must leave City.