As an overly excited Cavanman, I found myself down a YouTube wormhole this week, revelling in Cavan v Donegal footage from yesteryear. About three days later I emerged back into the world, tired and hungry but even more enthusiastic for what's to come this weekend.
The rivalry between the two counties may not be as intense as those they have with the likes of Monaghan or Tyrone but history proves that they've the ability to serve up some barnstormers. We've picked out just a few of their most exciting Ulster championship encounters over the last 30 years or so to give you a taste.
(Be warned: this is written by an obviously biased Cavanman.)
----------
1983 Ulster Final - Martin McHugh ruins everything
The 1983 Ulster final finished on a scoreline of 1-11 to Cavan, 1-7 to Donegal and 0-7 to Martin McHugh. Unfortunately the Ulster council took the decision to add Martin McHugh's tally to Donegal's, despite the fact that it's quite clear he was no mere mortal.
Watching the final back now, McHugh seemed as if he was a player from the modern era who somehow got transported back in time and dropped into the early 1980s. He was aptly aided by the likes of Seamus Bonner and Michael Carr but the young McHugh was already showing signs that he was something special.
It's well worth flicking through the highlights to see a) McHugh's performance b) the half-time television ads and c) RTÉ's referee analysis after the game:
1992 Ulster Quarter-Final - Martin McHugh ruins everything again
Of all the matches we reference in this piece, the drawn 1992 quarter-final is the stand-out. This, ladies and gentleman, was a true humdinger. It was remarkably the fourth year in a row that the sides had been drawn against each other in the first round and it featured pretty much everything.
Fintan Cahill put in one of the all-time great fist-pump performances:
It finished in extremely dramatic circumstances:
With just a few minutes left, Cavan trailed by a score and needed something special. Up stepped Damien O'Reilly to score of the best points in the history of the game.
However, "the wee man from Kilcar" was still knocking about and with time nearly up, he pulled another wonder score out of the drawer; a pointed free from all of 50 metres.
Surely that was it? Surely Donegal had won it? Nope. Damien O'Reilly did it again!
The replay took place in Ballybofey, with Donegal winning 0-20 to 1-6. Cavan's chances were hampered by a Philip Smith sending off but when you watch the incident back (0:27 below) even the most biased Cavan fan will admit that he had to go.
Donegal would go on to win the All-Ireland that year, while Cavan would not win another championship match until 1995.
1997 Ulster Semi-Final - Martin McHugh is God
Fast forward to 1997 and the Breffnimen finally reached the promised land, thanks to guess who? Martin McbloodyHugh! To be fair, he had broken our hearts so many times by then that he owed us this one.
While many will remember the fantastic Ulster final against Derry, it's often forgotten that McHugh managed Cavan to a victory over his native Donegal in the semi-final. A match that included a belter of a Ronan Carolan goal.
1998 Ulster Semi-Final - Declan Bonner strikes the first blow
This Sunday's Ulster final will not be the first time a Declan Bonner managed Donegal has taken on Cavan in the Ulster championship. Bonner, the player, cracked two of his ribs in the 1997 clash and decided to retire in the aftermath. However, just four weeks later he was appointed as the county's manager.
In 1998 he and Donegal were given a chance at revenge when they took on Cavan in the Ulster semi-final. It was another dramatic game.
Mickey Graham was handed a starting place
After impressing as a sub aganst Fermanagh in the quarter-final, Mickey Graham was back in the starting line-up for Cavan.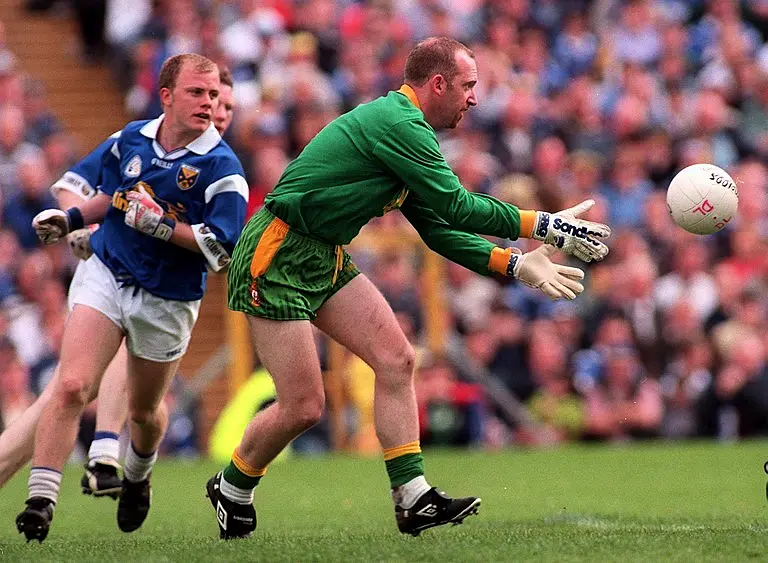 Declan Bonner was dressed like an extra in a Take That video
Graham's present day managerial rival was kitted out in a green bib, green tracksuit bottoms and peaked cap turned backwards.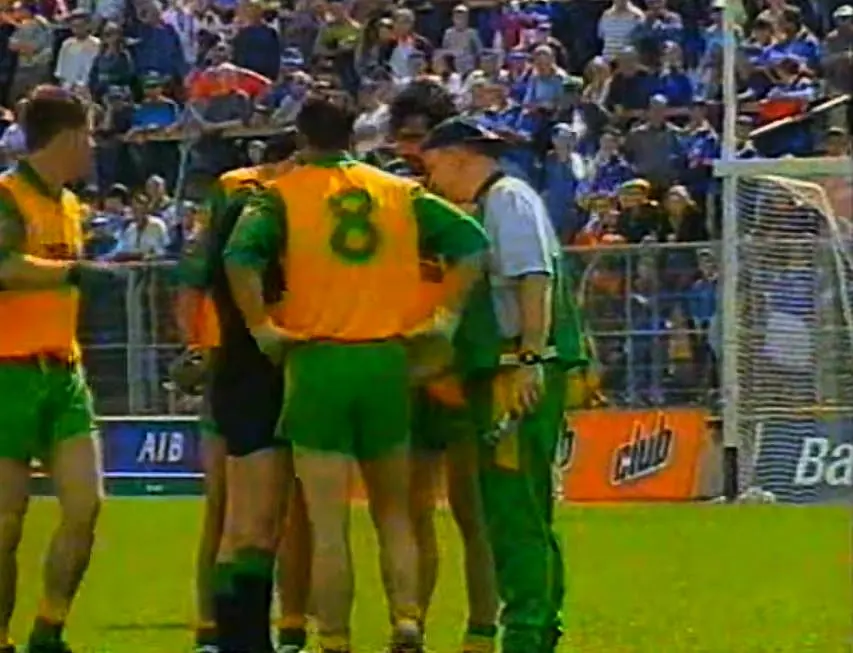 Martin Coll's early sending off compounded Donegal's bad start
As the first Gaoth Dobhair man to start a championship game for Donegal in over 20 years, it was a big day for Martin Coll. It didn't last long however, as he was sent off early for clattering into Larry Reilly.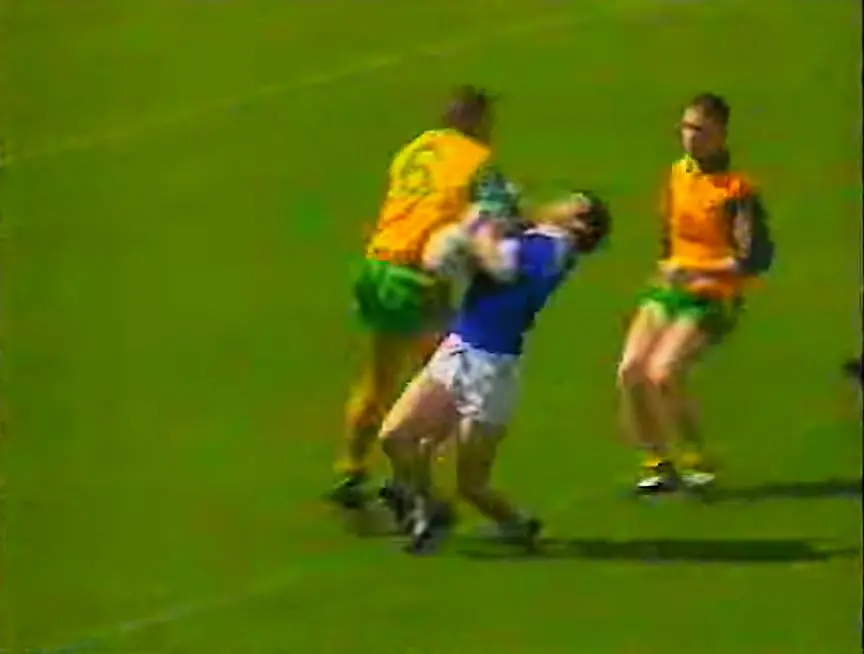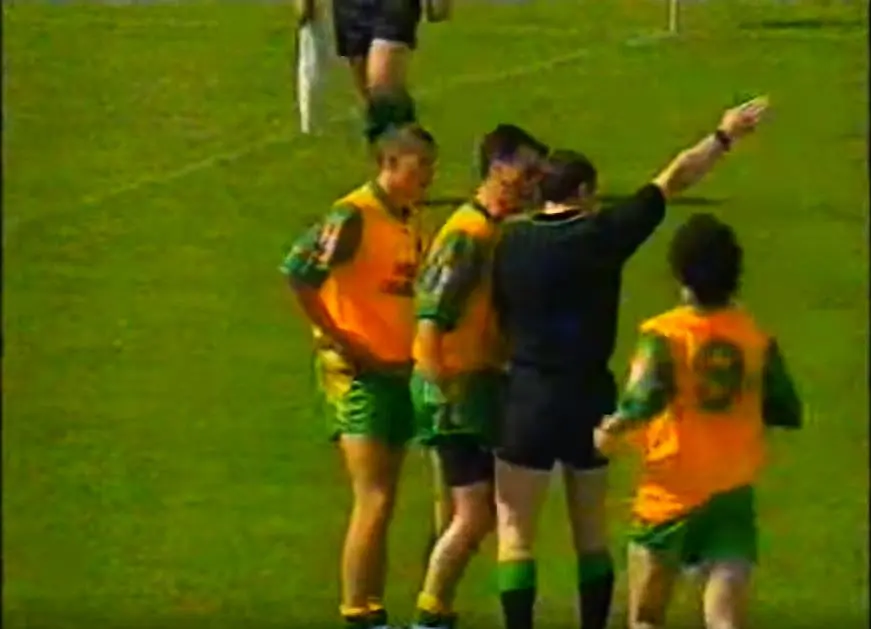 In the protests that followed, Bonner also found himself in the referee's notebook after storming onto the field to confront him. Reilly pointed the resulting free to give Cavan a 0-3 to 0-0 lead. You can watch the incident at 3:35 below:
Donegal storm back and Brian Roper is the hero
Against all the odds, Donegal went on a brilliant run either side of half-time and found themselves in a commanding lead. Cavan would not surrender their crown easily though and in the closing stages they were starting to reel Donegal back in. With the deficit cut to two points, Larry Reilly threw a fist at a breaking ball, only for Mark Crossan to catch it on the line. His clearance found substitute Brian Roper, who then ran almost the length of the field to score an inspirational point and cause Jim McGuinness to break into a celebration dance.
Roper's point is right at the end of this video.
More Recent Times
In more recent times, aside from Donegal's convincing victory in the opening round of the 2018 championship and last year's Ulster decider, the teams have had no real rivalry at senior level. That being said, if we take a look under the hood, we find an intense history between the players arising from their days at u21.
Back in 2010, Michael Murphy led Donegal to victory against Cavan in the Ulster final. Cavan would famously then go on to win the next four Ulster titles (beating Donegal in two of the finals) before Ryan McHugh popped up with a last minute goal in 2015 to halt Cavan's bid for five in a row.
However, now set to meet in a second consecutive ulster final, perhaps a new provincial rivalry is brewing. A win for Cavan would certainly go a long way to bringing it to the next level.