After an extended winter, we finally find ourselves in the last weekend of March awaiting the final round of the Allianz Football League.
And yet, this weekend won't signal the actual conclusion of the league. Thanks to those difficult weather conditions, the spread of final-round games goes beyond this weekend alone.
As such, the number of permutations surrounding this final run of games are plentiful. However, with certain eventualities already certain, here is a breakdown of what you can expect from this weekend's Allianz Football League.
Allianz Football League Permutations:
Division 1: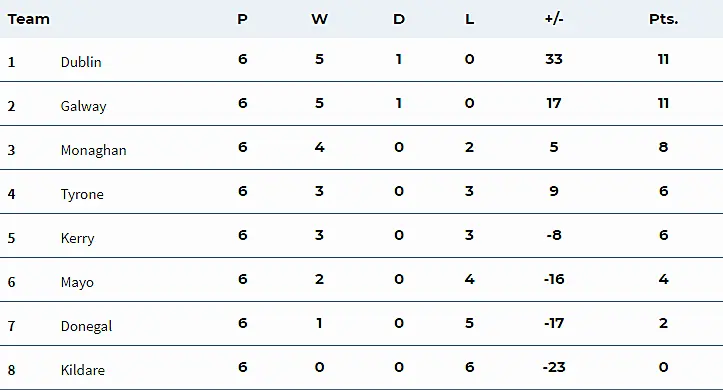 Dublin v Monaghan
Donegal v Mayo
Kildare v Galway
Tyrone v Kerry
The deciding tie of the Allianz National League has already been decided; Dublin will play Galway in Croke Park on April 1st.
In Ballybofey, Donegal and Mayo will play to decide who remains in Division 1 in 2019; the draw would be enough for Stephen Rochford's side. For Declan Bonner's Donegal, victory would save them on the head-to-head rule.
Division 2: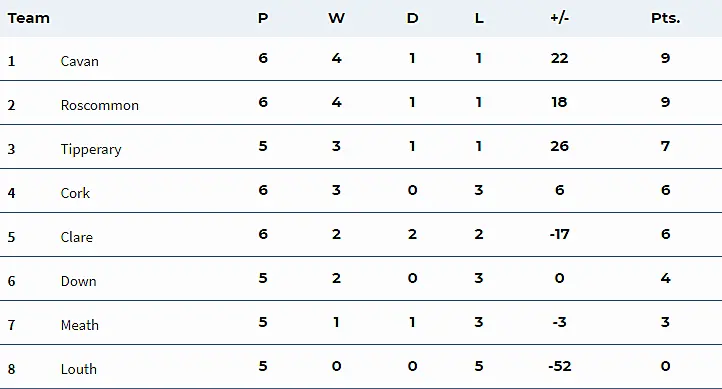 Roscommon v Cork
Meath v Down
Clare v Louth
Cavan v Tipperary
Things become a little bit more complex in Division 2.
If Cavan and Roscommon can both overcome their Munster opponents, a straight return to Division 1 will be assured. However, if Cavan can overcome Tipperary in Kingspan Breffni Park, Roscommon will advance alongside them regardless of their own result.
If that latter scenario were to play out, Tipperary's postponed game against Down would be rendered meaningless for their promotion hopes; once again, the head-to-head rule working against their favour.
Should Cavan and Roscommon both fail to pick up any points this weekend, the ramifications it may have on the opposite end of the table will be telling.
As it stands, Louth are looking squarely at the drop; Meath set to join them should they fail to overcome Down in Páirc Tailteann. Should Meath win however, the postponed tie yet to be arranged becomes all important.
Division 3: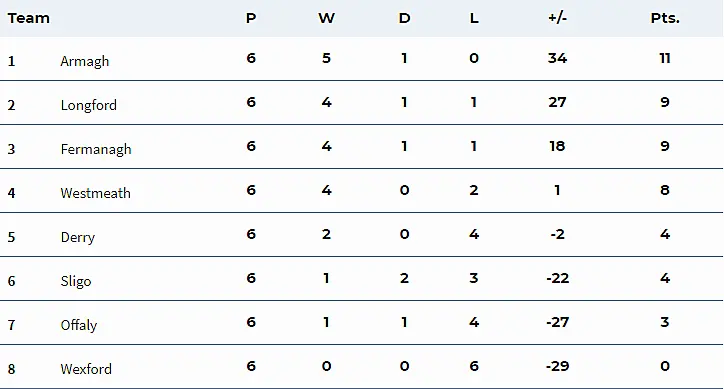 Longford v Fermanagh
Sligo v Derry
Westmeath v Offaly
Wexford v Armagh
Having already sealed promotion, Armagh will be joined by one of Longford, Fermanagh or Westmeath.
For Westmeath however, they will be hoping that they can overcome Offaly while Longford and Fermanagh play out a draw; however, with a huge points deficit on their two promotion rivals, it is much more likely that the winner of that tie in Pearse Park will decide the second promotion place.
Should Longford and Fermanagh draw, and Westmeath fail to make up the required difference, Longford will advance.
For Wexford, Division 4 beckons.
One of Derry, Sligo or Offaly will be joining them. Offaly are the most perilously placed of the three, a loss to Westmeath will seal their fate.
Win in Cusack Park however, and it will be the loser at Markievicz Park who enters Division 4. Should the three sides finish on 5 points, Derry will be safest of all; with Sligo and Offaly looking at very similar scoring records thus far.
Division 4: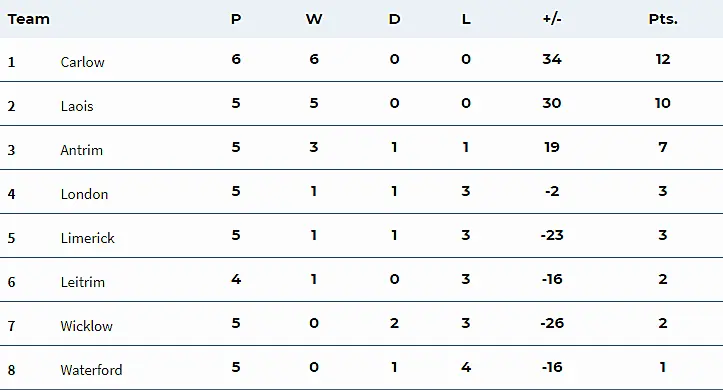 London v Waterford
Limerick v Antrim
Leitrim v Wicklow
Carlow v Laois
For Carlow, promotion is already guaranteed. Yet, they could still play a significant role in determining who joins them in Division 3.
Lose to Laois and both counties will go up together. However, if Laois fail to win, an Antrim win in Limerick would bring the promotion battle to the rearranged fixture between the pair on Easter Weekend.