In the dying minutes of Mayo's relegation decider with Donegal, play was halted as the referee tried to deal with a melee in the centre of the field. Kevin McLaughlin had just landed the crucial point to draw Mayo level when Mayo instigated some 'game-management' wrestling their counterparts to the ground.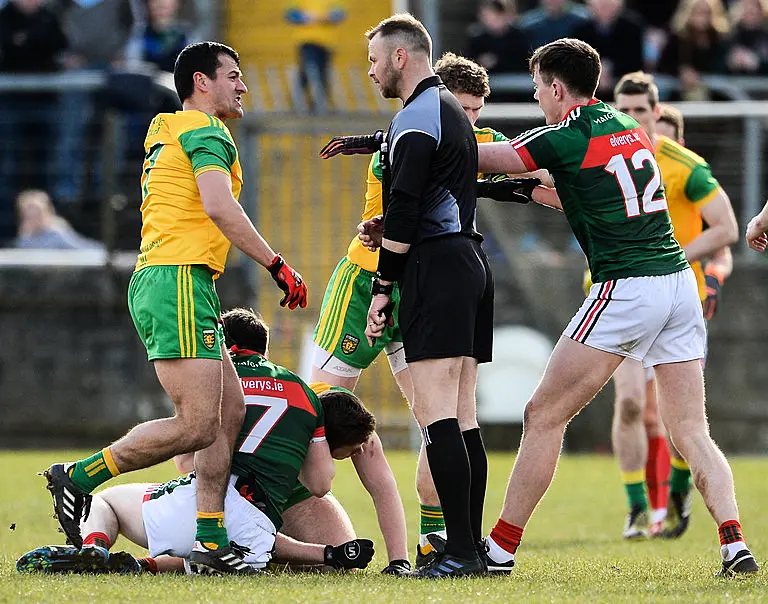 Speaking on League Sunday, Ciaran Whelan highlighted the dying minute's tactics of Dublin in last year's All-Ireland final and Mayo yesterday as a trend that needs to be curtailed within the game.
In an interview with Second Captains today, Mayo's Andy Moran agreed it was a questionable tactic.
To be honest, I don't think we pulled them down on mass. I think there was one incident that got into a bit of a brawl then at the top of the D. It is something that happened and I think the rule makers have to come up with some solution to get rid of it. I think it is kind of, part of the game. In some way, I would like if it wasn't.

If you look at other games, I think there are different forms of cynical play to kill out a game. So in soccer if someone is running by you and you are 1-0 up you'll do it, in rugby I'm sure there are little technical things that you can do in rugby to slow the game down and I'm sure there is in every other game in the world. If it is pulling down a man, it is probably not the right thing to do in the situation you are in.
Moran suggested an AfL style 50-yard penalty as a more suitable punishment.
it is a very thin line. In terms of, granted I haven't seen the game back. I didn't see League Sunday last night. If you are manager of a team what would you say?

I've often said it, I think Aaron Kernan said it a few years ago, the fifty-yard penalty would get rid of it.
The rule would effectively see the referee move the ball up the field and give the team a free closer to goal. In AFL, the rule is used to combat time-wasting or dissent. The GAA introduced the black card to combat tactics like the one Mayo utilised in Seán MacCumhaill Park although the referee elected for two yellow cards yesterday instead.