Crowds very rarely break the 8,000 barrier at Pearse Park, but on that sunny June day in 2006, 15,213 crammed into the place, most of them Dublin fans.
The terrace opposite the seated stand was a heaving mass of sky blue and navy jerseys. Even on the county final days, concrete steps are still all too visible during games, but not that day. Even behind the goal at the scoreboard end, a tiny embankment which is usually populated solely by pebbles, was packed to the brim.
The market square in Longford that Sunday lunchtime, usually at that time a place where tumbleweeds steer clear of in favour of somewhere more happening, was jammed with throngs of Dublin supporters. Local businesses were loving it.
The Battery Road, a scenic street on the way to Pearse Park, adorned by two Protestant churches, and home to a few local politicians and noted businessmen, was, for one of the first times ever for a GAA match, closed off to traffic. Some of the residents weren't particularly happy to see hordes of Dubln fans streaming up their road all day, but there have been no games of that size in Longford since, so the Battery Road residents committee does not quite rival the Croke Park residents committee as a community organisation.
Bertie Ahern attended the game with his daughter Georgina and her husband Nicky Byrne. It was still the glory years for Bertie, when Hector still wanted to hang around with him, when the cribbers and moaners were all wrong, and when he could still get the French President on the phone inside 15 minutes.
In the VIP section, situated in an odd spot in the corner of the ground (this was possibly the only game for which Pearse Park has ever required a cordoned off VIP section) all the talk at half time was about Bertie shaking hands with one of his great political enemies, former Taoiseach Albert Reynolds, the Longford 'Slasher' who served as Taoiseach between 1992 and 1994 (he got the nickname for firing eight ministers in his first day in the job after succeeding Charlie Haughey in Feb '92). Other luminaries in the VIP section included Declan Nerney and Frank Kilbride.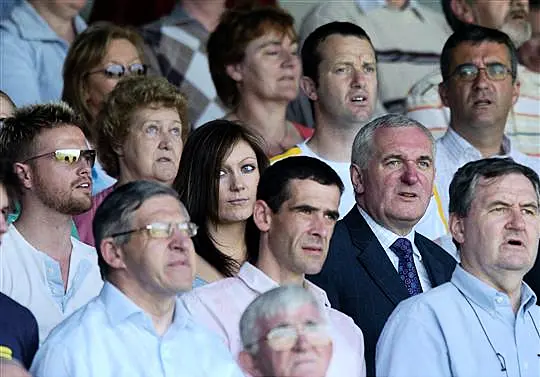 Dublin were still under the stewardship of Na Fianna's Paul 'Pillar' Caffrey, Ciaran Whelan was the idol of the Hill, Shane Ryan was a bustling, all action midfielder, and Mark Vaughan, well he was the future.
They still played uncomplicated, swashbuckling (and naive) football. They hadn't endured the long dark night of the soul that descended in 2009 and gone through the painful transition they were to undergo in 2010.
Longford, managed by Luke Dempsey, had been slaughtered by the Dubs in Croke Park the year before. Dublin cantered to victory 2 - 23 to 0 - 10. Longford presented no resistance at all.
It was the experience of that hammering in 2005 that led them to insist on their right to home advantage the following year.
The Leinster Council, obviously suffering from some rare personality altering condition at the time, decided to sacrifice the additional gate money that came from staging every Dublin match in Croke Park. They rejected a late request from the Dubs to have the venue changed.
And so for the first time ever, Longford hosted Dublin in the championship. And they were a transformed outfit in 2006, with Brian Kavanagh their new marksman at corner forward. After 20 minutes things looked really bad for the Dubs. They trailed by a worrying tally of 0- 5 to 0 -1. Longford supporters were giddy on the improbability of it all, while sensing that the longer they went without the backlash the closer they were to that backlash.
It came when Mark Vaughan slipped home a goal near half-time. Conal Keaney lobbed over a few points and the Dubs went in 1 - 7 to 0 - 6 ahead.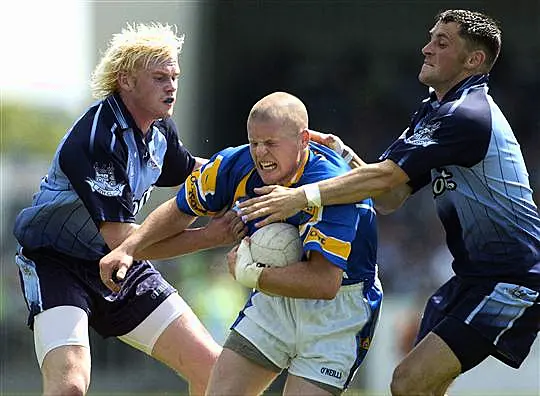 The game finished 1 - 12 to 0 - 13. While Longford were the more industrious side and probably deserved to win, they never looked like triumphing after the opening 20 minutes. They kicked a ruinous number of wides, and were held at arms length on the scoreboard for most of the second half. They scored the final four points of the match in a late burst. Even as they reeled off those scores at the end, narrowing the margin to two points, the feeling was not "Jeez, we could win this." It was more a case of "had we shot like this earlier we'd have this won."
Buoyed by their surprising stand against the Dubs, Longford went on to their have best championship in years, toppling Derry in the qualifiers, and only falling to Kerry in the final twelve on a day when Kieran Donaghy announced himself as a lethal full forward.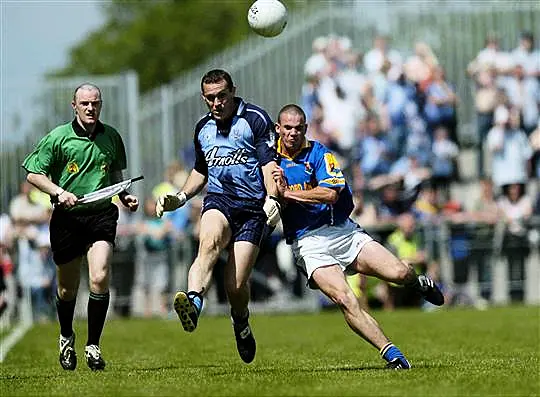 In the intervening eight years, every single Dublin championship game has been played in Croke Park, no matter how unglamorous the encounter, or how early in the summer it has occurred. They play hardly any League games in Parnell Park anymore.
Does it matter?
Sean Moran suggested this week that, in the past 20 years, Dublin's championship record outside Croke Park is in fact better than at headquarters. Since 1994, they've won 67% of the 79 games in Croke Park, whereas they've won 83% in 12 games outside Croker.
However, this surely forgets the fact that all of Dublin's non-Croker games in the past 20 years, have been against middling Leinster teams that they would probably have steam-rolled anyway. Whereas, a much higher proportion of their Croke Park games have been against Kerry, Tyrone, Mayo, et al.
But Moran is undoubtedly right when he says that it is not Dubs fault they play in Croke Park the whole time. The Dublin county board have always insisted they have no problem playing away from Croke Park and many of their supporters probably wouldn't mind travelling as part of an away crowd.
Wexford's Aindreas Doyle labelled it "unfair" in 2012, saying:
If Kerry played 11 of their 14 games down in Killarney we'd probably be seeing Kerry win the All-Ireland every year. It has to be an advantage and it's not right.
But very few other players have come forward with the same argument.
The truth is that most other counties want to play at Croke Park, firstly because the players and management like the thrill of it, and secondly because of the financial boon arising from bigger gate receipts. Unfortunately, they are willing to sacrifice home advantage for these reasons. They should think again.