When Mickey Harte left his role as Louth manager to fill the vacancy as Derry boss, it caused considerable consternation in certain corners of the Oak Leak County. The idea of the outsider manager will always rankle some arch-traditionalists.
In Harte's case, the idea of a person who personifies the traditions of a hated rival taking the helms was simply too much to take.
Of course, intercounty GAA would be nothing without its outsider GAA managers.
In the 2023 Championship, the likes of Andy Moran with Leitrim, Davy Burke with the Rossies, Darren Gleeson with Antrim and Mickey Harte with Louth all thrived. They're inheriting a tradition started by the likes of Paidí Ó Sé, Liam Kearns, Kevin McStay, and the underrated Len Gaynor.
Here's our Top 10 Best Outside GAA Managers
Note that Harte's time in Derry could send him higher - or lower - on this list.
10. Liam Kearns - From Kerry, managed Limerick, Tipperary, Laois, Offaly
The outpouring of grief that followed the passing of Offaly manager Liam Kearns in early 2023 was considerable, in large part because Kearns' managerial career took him all across the gaelic football hinterlands of the midwest and midlands. Kearns was an Austin Stacks man first and foremost but management brought him to Limerick, Tipperary, Laois and finally Offaly.
He was a beloved character and a fiercely committed GAA man.
9. Mickey Moran - From Derry, managed Sligo, Donegal, Mayo and Leitrim
The OG of outsider GAA managers. Few have managed more counties outside their own as the venerable Derry man.
On top of at least two stints managing his home county, Moran had his fingerprints all over the northwest, leading Sligo, Donegal, Mayo and Leitrim. His biggest win in intercounty football was surely the unforgettable All-Ireland semifinal against Dublin in 2006.
Fittingly, his greatest moment in management came managing a club that was not his own: when Kilcoo won a last-ditch club All-Ireland in 2021.
8. Mickey Harte, from Tyrone, managed Louth and Derry
Tyrone's All-Ireland win in the Covid Championship of 2021 - secured by Brian Dooher and Feargal Logan in their first year in management - was experienced by many as the ultimate palette cleanser to the Mickey Harte years. Tyrone's great players - some would tell you - were being held back by Harte and his outdated styles. These same people would tell you Harte's best days were behind him.
And so the legendary manager set off to the wilderness of gaelic football - to Louth, off all places, along with coach Horse Devlin. Under Harte's watchful eye, Louth went Division Four obscurity to the Sam Maguire round robin. It was an incredible achievement and proof of his greatness as a manager.
Harte has now embarked on one of the most high-profile outside management roles in the history of the sport. Derry, many say, have an All-Ireland in them. Time will tell if a Tyrone man will be the one to send them up the Hogan Stand steps.
7. Anthony Daly - From Clare, managed Dublin
There were vague whispers that Dublin hurling could be on the brink of a renaissance when Daly arrived in late 2008. But they still hadn't gotten past Wexford in the championship yet, never mind Kilkenny. And few would have backed them to win a Leinster championship and a League title within five years.
They survived low-points. Antrim reeled off eight points on the trot to dump them out of the 2010 championship before the quarter final match. And the entire year of 2012 was miserable from start to finish.
The undoubted high point was the 2013 Leinster campaign. Wexford and Kilkenny were dispatched after replays and then an out-of-sorts were Galway were comfortably beaten in the Leinster Final.
6. Davy Fitzgerald - From Clare, managed Waterford and Wexford
Davy Fitz's singular All-Ireland win as a manager came with his home county but he'll be best remembered for his work with counties in the sunny southeast, being one of the greatest outside GAA managers.
In his first year in management, Fitzgerald took over a famous Waterford team that had lost three All-Ireland semifinals in four years and got them over the hurdle. The reward was an All-Ireland final against Brian Cody's Kilkenny at the very peak.
Davy Fitz then headed to Wexford in 2016 and delivered a famous Leinster win for the Yellowbellies. That Wexford team was on the verge of reaching an All-Ireland final but faded in the final 5 minutes against eventual All-Ireland champions Tipperary.
Fitzgerald is back with the Déise. 2023 was heavy sledding but Davy Fitz is never boring and we presume Waterford will have a plan for Munster in 2024.
5. Michael Bond - From Galway, managed Offaly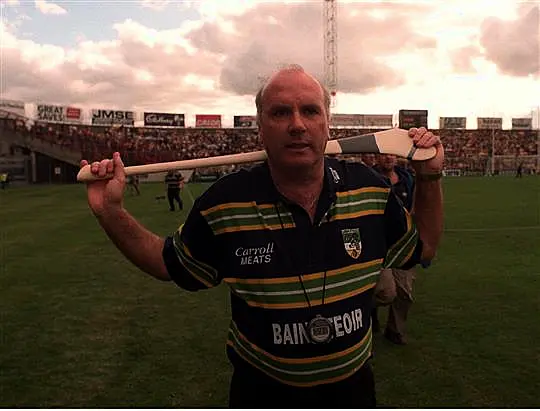 Jonathan Wilson once wrote an article in which he tried to explain the Claudio Ranieri phenomenon at Leicester City. He wrote that liberation from extreme discipline tends to lead to success in the short term but to decay thereafter.
Could the same analogy be applied to Michael Bond's success with Offaly in 1998? When Babs Keating assumed control before the 1998 championship, he talked ad nauseum about how Offaly were traditionally vulnerable to bouts of ill-discipline.
Babs would bring discipline to the party, or so he promised.
Offaly's independent and tight-knit group revolted against the Babs regime, taking umbrage with his dismissive remarks in the media after the Leinster Final loss. The Babs reign was swiftly ended.
Grandiose managerial announcements weren't obligatory in those days. They especially weren't in fashion in Offaly. The next day at training, the players muttered among themselves about the presence of a middle-aged stranger warming up in the corner.
The man stood up and told them he was Michael Bond, a school principal in Galway who didn't believe in failure. He admired Offaly hurling and told them they were going to do some of it. Duly liberated, Offaly powered to the All-Ireland.
It might be unfair to say that this was followed by decay. Offaly lost a All-Ireland semi-final classic to Cork in 1999 and Bond departed. Still, it is an intriguing analogy, making him one of the greatest outside their county GAA managers.
4. Eamonn Cregan - From Limerick, managed Offaly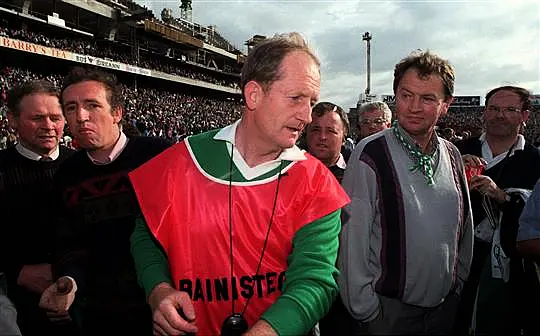 Eamonn Cregan looked faintly traumatised after the final whistle in the 1994 All-Ireland final.
An All-Ireland winner with Limerick in 1973, his famously talented and rambunctious bunch of Offaly hurlers had just denied his native county their first victory since that year.
Cregan managed Offaly from 1993 to 1996. Denis Walsh wrote in 'The Revolution Years' that they gave him hell for four years but the spell yielded two Leinster championships and one All-Ireland title. It was a period of relative managerial stability for Offaly.
Offaly owed their comeback in '94 to the most famous acts of insubordination of hurling's golden era. Billy Dooley was brought down 21 yards from goal and his brother Johnny stood over the free. He turned around to the sideline for instruction. Quite logically, Cregan advised him to pop it over the bar and shave a point off Limerick's lead.
Johnny decided to totally ignore this instruction. And to the surprise of everyone present, especially, it seems, the Limerick defenders massed on the line, he arrowed a low fizzing shot into the net. From the next puck-out, the ball was horsed straight back into the Offaly forward line. The Limerick backs missed it and Pat O'Connor pulled on the ball, whipping it into the corner.
Somehow, Offaly led by a point. Limerick offered no response. Clearly shell-shocked, they stood around like traffic cones as Billy Dooley proceeded to treat the final few minutes as shooting practice.
3. Mick O'Dwyer - from Kerry, managed Kildare, Laois and Wicklow
Though he never won an All-Ireland with a county other than his own, Micko must rise high in the rankings thanks to his achievements with Kildare, Laois and Wicklow. Less so with Clare.
While some iconoclasts have doubted his training methods, the evidence of the past two decades suggests that Micko's very presence has a galvanising effect on a mid-ranking county, making him one of the best GAA managers to manage outside their own county.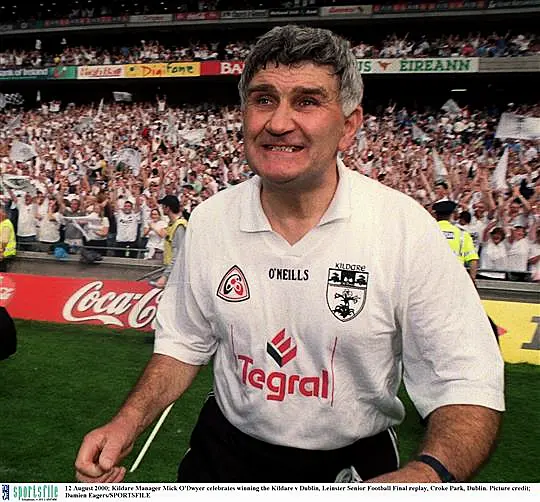 He had an immediate effect on Kildare, leading them to the League Final in 1991. Thereafter, they hit a few snags. Their longstanding bogey team Louth stunned them in the Leinster championship and their summer ended prematurely. Over the next couple of years, they couldn't get past the obstacle of Dublin. Micko departed for a couple of seasons, with Dermot Earley Snr making no headway with the side in '95 and '96.
It was when O'Dwyer returned that things began to happen. In 1998, Kildare picked up a Leinster title for the first time in decades, adding another two years later.
Ultimately, they felt short in their only September engagement. In '98, they beat the three previous All-Ireland champions (Dublin - '95, Meath - '96, Kerry - '97) en route to the All-Ireland final. The resulting hype convinced everyone they were healthy favourites against Galway, but they were blown away in the second half.
O'Dwyer subsequently guided the golden Laois underage crop of the late 90s to a possibly overdue Leinster title in 2003. At Wicklow, the home form of his team was responsible for the coinage of the term 'Fortress Aughrim', a term which has returned to the realms of the nonsensical in recent years. Their high water-mark of his reign was reaching the last 12 in 2009.
2. Eugene McGee - From Longford, managed Offaly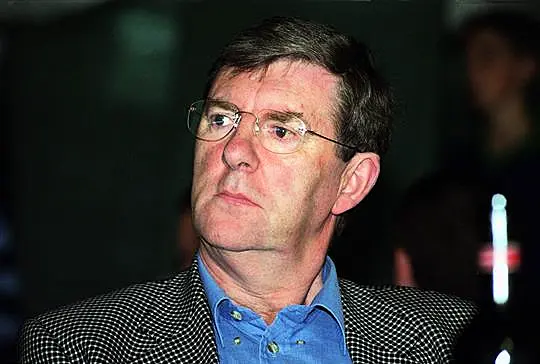 It was a tight call between McGee and O'Dwyer for the runner-up spot. But the former got his Longford paws on the ultimate prize in 1982 in possibly the most famous All-Ireland final of them all.
McGee's coaching reputation was established with UCD in the Dublin club championship. They duelled with St. Vincent's for primacy throughout the early part of the 1970s, winning county titles in 1973 and 1974.
In 1976, with Offaly having retreated dutifully to the doldrums following the giddy highs of the early 70s, McGee was appointed county manager. There is a step-by-step beauty to McGee's reign in Offaly. Improvement was barely perceptible at first but he gradually improved them and they eventually unseated Dublin as Leinster champions in 1980, making him arguably one of the best GAA managers to manage outside their own county.
Despite a memorable performance from Matt Connor, they were beaten by Kerry in the 1980 semi-final. The following year, they had to wait until the All-Ireland final to lose to Kerry.
Consult Michael Foley's Kings of September to find out what happens next.
He later managed his native county in the mid-1990s.
Longford football was in a hideously poor state at the time - it's probable that the 2nd team worst team in the country would have given them an unmerciful hiding - and the experience is best forgotten by all concerned.
1. John O'Mahony - from Mayo, managed Galway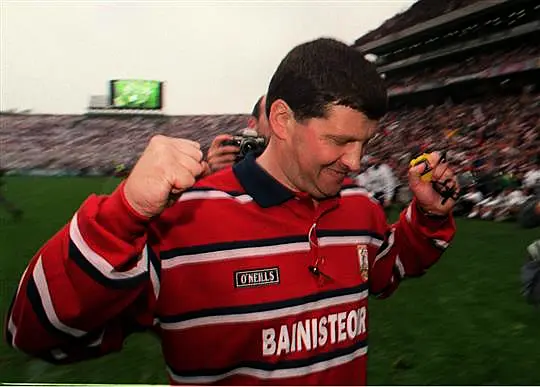 Sacked by Mayo after they lost the 1991 Connacht Final, O'Mahony subsequent exploits made his county men yearn for his return. He became the outside manager extraordinaire during the 1990s.
Arguably becoming one of the greatest outside GAA managers in the game to lead another county to success.
Leitrim won an emotional Connacht title in Hyde Park in 1994. 0-12 to 2-4 was the score and the smallest county in the country were on the road to Croker in August.
The Leitrim men peering down from the veranda of heaven offered a toast to their imported boss. The following year, labouring under the unfamiliar burden of favouritism, Leitrim were defeated by Galway in dramatic fashion in the 1995 Connacht semi-final, a match which has the distinction of being the first live televised match in the Connacht championship.
Two years later, O'Mahony was appointed Galway manager. He cemented his reputation as the greatest outside GAA manager of the lot.
He took over at a propitious time for Galway football. He benefited from an infusion of young talent in the forward line, as the St. Jarlath's class of 1994 reached full bloom.
Galway won a sensational All-Ireland title in his first year, the county's first in 32 years. In 2000, they were defeated by Kerry after an All-Ireland final replay. At a Special Congress that October, Galway were one of the only counties to signal their opposition to the proposed qualifier system, extolling instead the traditional knockout.
Irony of ironies, Galway became the most dramatic beneficiaries of the new system in its first year, winning an All-Ireland through the back-door in 2001. O'Mahony stayed at Galway for three years, collecting a couple more Connacht titles (in total, he won eight in his managerial career across three different counties, including his native one) and departed after a relatively early championship exit in 2004.
This article was originally written in 2017 and updated in 2023.