Clare reached a first National Hurling League final since 2005 with a resounding 4-22 to 2-19 victory over Kilkenny in Thurles.
Aaron Cunningham notched 2-3 for The Banner on a day when the 2013 All-Ireland champions simply wanted it more, though it could be argued that three of their goals arrived from Kilkenny blunders as opposed to particularly incisive play.
Conor McGrath's goal, however, was a sublime solo effort, arrowing past Eoin Murphy into the top left-hand corner. On a technical level, it was similar to his strike against Cork in the All-Ireland final replay three years ago. But in terms of its intensity within the context of a league game which was long-since finished as a contest, it was a score taken with such fervour and ferocity that you couldn't help but think the Cratloe man felt aggrieved about something.
'There you go. We're not just going to beat you today. We're going to hammer you. And we'll see you in a few months.'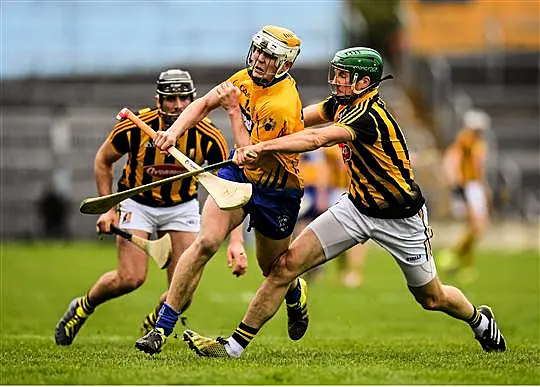 Back in September, Dónal Óg Cusack said of All-Ireland champions Kilkenny and the chasing pack:
Any other county sitting down this week and wondering about how to catch Kilkenny, needs to plan on doing everything harder than Kilkenny do, and for longer than Kilkenny do, and better than Kilkenny do.

They need to sacrifice more than Kilkenny. They need to hate losing more than Kilkenny.
As John Fogarty pointed out in the Irish Examiner earlier this month, Cusack was claiming Clare could be the team to usurp The Cats this season a good six weeks before he joined Davy Fitzgerald on the sideline.
The former Cork goalkeeper famously likened Kilkenny's All-Ireland second-halves to Mount Everest's death zone - oxygen-free, nose-bleed territory, such is the savagery opponents are usually destined to receive, with few ever surviving.
Cusack wrote of Fitzgerald's Clare:
2016 is year zero. They have a style of play which might just survive the death zone. For now, they need to worry about getting up that mountain again and having the right leaders for when the air gets thin.
Little did he know that just a couple of months later he himself would be one of those leaders. Or perhaps he did know. Either way, he talked the talk about Clare and now finds himself walking the touchlines alongside Davy Fitz in what those in the know suggest is a synergic coaching partnership between to extremely different hurling men.
Despite a difficult two seasons since winning Clare's first All-Ireland in 16 years, Fitzgerald still has a certain mystique to him as a manager. His acquisition of a former adversary in Cusack, for example, shows just how passionate he is about his county's hurling welfare, despite some claims to the contrary over the course of the past two seasons. That being said, such is his enthusiastic nature that he also needs support staff around him who aren't afraid to hit the brakes on occasion.
The Wednesday after Clare beat Cork in the All-Ireland replay back in 2013, members of the senior panel each received a text message containing their dietary plan for the winter, and suggesting they don't overdo it with the celebrations. Three days.
The player I was with had a can of Carlsberg in his hand at the time and wryly threw his eyes up to Heaven, before reiterating - quite sincerely I should add - what an honour it was to play for Davy Fitzgerald.
The following July, Clare were knocked out of the Championship by Wexford without having won a game.
But if the novelty of being All-Ireland champions hadn't quite worn off by the summer of 2014, it's long-gone now. After two timid attempts to regain the Liam McCarthy Cup and constant write-offs from fans and hurling scribes alike, Clare have a chip on their shoulder once more - certainly on the basis of today's destruction of the champions.
And when you consider the personnel on their sideline, how could they not? Surely there are no two better men in hurling to fuel a team on a sense of deeply personal injustice.
Naturally, there can be averse effects to playing with 'Championship intensity' in spring, but the Banner face Waterford in the league final ahead of the pair's Championship clash five weeks later, meaning both teams can afford to shadow-box to a degree. Beyond that, if Clare can rediscover something close to the class of 2013's mesmerising approach play, and add it to their new-found blood-lust, they'll be a force in Munster and beyond this year.
They're angry. And we won't like them when they're angry.