Not even a month has passed since Dublin's sixth All-Ireland football title win on the bounce and thoughts have already turned to them making it seven.
Though it has long been seen as a possible spanner in the Dublin works, success has never brought enough apathy to derail this team.
It is the changes which keep Con O'Callaghan interested. Last year, there were many: A new manager, a pandemic which altered the championship calendar and the competition's format, and a new position for the forward.
"I was out around the half-forward line a lot more. I was very much an inside forward [in 2019]," says O'Callaghan, the PwC GAA/GPA Player of the Month for the All-Ireland final.
"You get involved in the game a little bit more. You contest kickouts, you're involved a bit more defensively as well, which is a good thing.
"Given the conditions, it being winter football, full-forward can be a lonely place if you're struggling to get the ball up there. It's nice to be able to get your hands on the ball in those little rucks and scraps.
"Before Covid, I didn't play a match. I hurt my shoulder with the college. I played inside against Meath and a little bit out against Galway. Mick Galvin is the forwards coach and we spoke about keeping things fresh.
"It's a new challenge. That's the way you look at it. The runs you make inside might be a lot different from the runs you make [out the field]. They're sharper, shorter runs inside and you're trying to wrong foot your man.
"In the half-forward line, you can make those longer runs and you can get on the ball a lot more. It's a different challenge. It's something that you try to make your own, see 'How can I most effectively play this role? What might best contribute to the team? How can I impact the play?' It's that little challenge. It's enjoyable to figure out what's working and what isn't."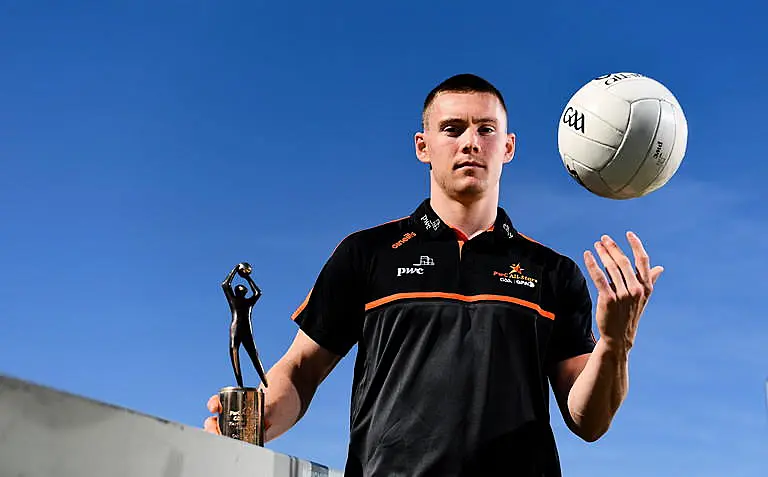 Dublin footballer Con O'Callaghan pictured with his PwC GAA / GPA Player of the Month Award in Dublin. Photo by Sam Barnes/Sportsfile
Dessie Farrell is a man O'Callaghan knew well even before he succeeded Jim Gavin. O'Callaghan was part of Farrell's Dublin U21 team which won the 2017 All-Ireland title.
"I suppose Dessie is probably a little bit more of a man-to-man manager," O'Callaghan says.
"He's really good at that, and he probably gets a little bit more involved. Jim (Gavin) liked taking the objective view and would stand back. He'd have a look at the wider scheme of things.
"Dessie probably gets a little bit more involved. You know, running the drills and even just close-up personal conversations and stuff like that.
"Jim would have had a vision. Dessie is probably a little bit more up close and personal man-to-man.
"So it's nice to have a little change like that. But like, in fairness to both, both their styles are really effective. They worked really well so far."
With inter-county teams unable to train collectively until at least February due to Covid-19 restrictions, O'Callaghan is taking it easy.
The Dublin panel had a video call a fortnight ago where an optional S&C programme was outlined. The Cuala man is tipping away with some gym equipment in the garden shed and the running will start next week.
"It's actually nice to get a break," he says. He, and other Dublin players, also enjoyed 2021's truncated championship format compared to the Super 8's of previous years.

Now 24, O'Callaghan already has five senior All-Ireland medals.
"I was actually chatting to Richie Hogan when we were organising this event," he says.
"He works in the GPA, and he said the same thing to me. I was like 'Oh yeah, but you were probably the same,' I think he had something like six or seven All-Irelands before the age of 26 or 27.
"And he said, 'you know, I haven't seen once since.'"
"So I'm very aware that there's a possibility that things can dry up and they can dry up pretty quickly."
Photo by Ray McManus/Sportsfile