Damien Hayes believes Saturday evening's All-Ireland semi-final in Croke Park is a dangerous game for Galway.
"I feel this Clare team has something to prove," the former Galway hurler told Balls at the launch of the EirGrid Moments in Time competition on Wednesday.
Hayes believes Galway will win but he's wary of this Banner team, one he sees as having a Jekyll and Hyde-type personality.
"I think Galway know that this is their opportunity to make hay, that they've a group of players here that are mature enough to go on and it's Galway's All-Ireland to lose," said the Portumna man.
I was one of the people who said Galway are good enough to win the All-Ireland three years ago.

I knew the players were there and if things had worked out, Galway could be going for four All-Irelands in-a-row. But they didn't work out.

Galway fell asleep against Kilkenny three years ago and Kilkenny won the All-Ireland.

Two years ago, they lost to Tipperary by a point and they were ahead only for the unbelievable goal by Bubbles down the sideline.

Last year they won the All-Ireland and this year... it's basically the same core of players. I think this is a very mature bunch of Galway players and I feel they can kick on and win a lot.
How have Galway kicked on? The complete reintegration of Johnny Glynn into the team is a big factor according to Hayes.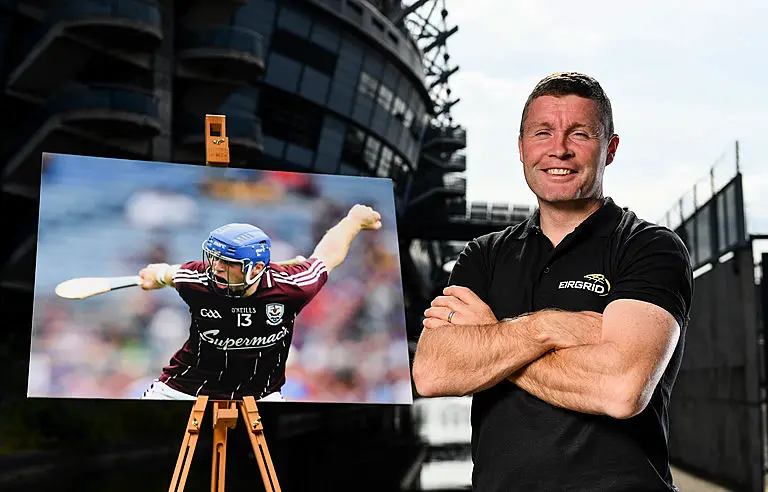 "I think Johnny Glynn has definitely added [more to his game]. He's home more and I think now he's a target man at 14, I think Johnny Glynn is a great player and it's not just today I'm saying that, I think he's an unbelievable team player. I feel Johnny, he gets the ball and his awareness to pop the pass has been brilliant.
"I think Conor Whelan is brilliant, he reminds me so much of Joe Cooney and Lar Corbett, that type of a player.
"I think Galway are so settled, I think Daithi Burke is unbelievable. I predicted he's going to get another All-Star this year and he's going for his fourth All-Star in-a-row."
In attendance at the launch of the EirGrid Moments in Time competition is former Galway hurler Damien Hayes with his chosen GAA Moment in Time. EirGrid, now in its third year as the official timing partner to the GAA, works closely with communities around Ireland every day and the organisation wants to ensure that these communities have a chance to benefit because of their partnership with the GAA. EirGird is calling on all GAA supporters throughout the country to submit their favourite image of a GAA Moment in Time be it on the pitch as a player, as a volunteer in a club or as a supporter on the side line to be in with a chance to win a digital clock and scoreboard for their club. For information on how to enter please see www.eirgridgroup.com. Photo by Sam Barnes/Sportsfile