"It adds to the whole story," says Diarmuid O'Keeffe.
The Wexford hurler is referencing Davy Fitzgerald's uncertainty last summer regarding whether or not he should return for a third season as Wexford manager.
The arduous eight-hour round trip - 120 of them in the first two years - between his home in Sixmilebridge and Wexford's training base in Ferns was taking a toll.
In mid-August last year, 11 Wexford players carpooled to Fitzgerald's home (they gave him 24 hours notice) in hope of convincing him to stay on. O'Keeffe was one of them.
"At the time, we were hoping to have a bus full of lads but it didn't materialise that way," says O'Keeffe, speaking at his announcement as they PwC Hurler of the Month for June.
"It was a good day, we had a great chat with Davy. Everything was laid out on the table.
"If memory serves me correct, we were there for three, four, five hours. Did it take long? Of course it did. It was a massive decision. He's putting up serious miles every week coming across from Clare to Wexford. It's not easy, it's not easy on his family.
"We had to promise a few different bits and pieces, going the extra mile.
"We went down there that morning and we would have said, 'Davy, you're a winner. Your record speaks for itself. You CV is phenomenal. We want to be winners as well and want you to be part of that'."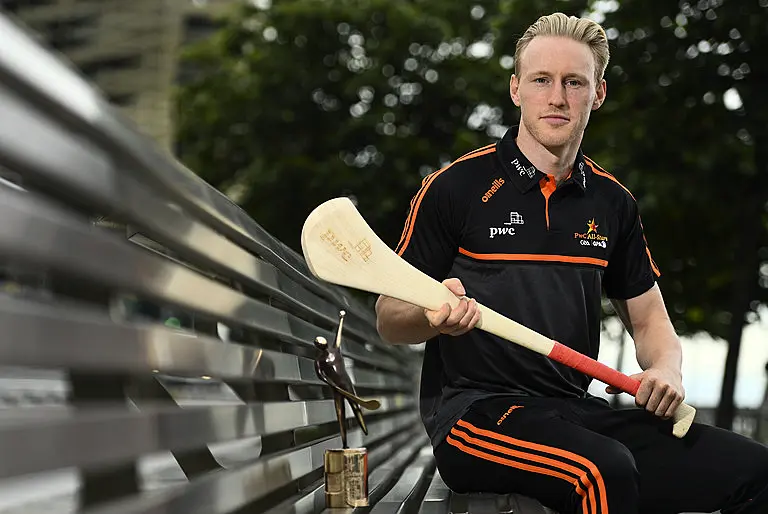 The PwC GAA/GPA Players of the Month for June, footballer Jamie Brennan of Donegal, and hurler, Diarmuid O'Keeffe of Wexford, were at PwC offices in Dublin to pick up their respective awards. Pictured is Diarmuid O'Keeffe of Wexford. Photo by Sam Barnes/Sportsfile.
Their Leinster final win against Kilkenny last month and the All-Ireland semi-final to come this weekend are justification for the faith shown both by Fitzgerald in his players and the panel in their manager.
The dark days for Wexford at not that long in the past. O'Keeffe was part of the Wexford team which lost by 24 points to Kilkenny in the 2015 Leinster semi-final and the following year's 13-point loss to Dublin.
"I remember at the time our coach Gerry Fitzpatrick said, 'This will come right'," recalls O'Keeffe.
He was saying to us as individuals, 'You've just got to make sure that you're on the horse when it does come right. Keep putting your shoulder to the wheel and be there when it does come right and it's Wexford's time. You've just got to make sure you're there'.

While some of those defeats were very disappointing and demoralising in some ways, you wouldn't play unless you believed there was something there and that you felt you were in a position where you could win.

It can be [hard to come back the next year], but you have to enjoy and love what you're doing. You just don't know when success is going to come your way or there's no plan for that. You just have to trust in the fact that it will come right and the good days will come back.
O'Keeffe lives in Castleknock during the school year, working as a teacher in Dunboyne (he's down home in Wexford for the summer).
The commute to Ferns is one to which he has become accustomed. It's made easier as he's not the only one on it. Matthew O'Hanlon, Liam Óg McGovern, Paudie Foley, Joe O'Connor, Rory O'Connor, Jack O'Connor, Conor Firman and Damien Reck are others on the M11 journey.
"When four o'clock hits, it's time to go. It means being a little bit more prepared; you have your food and your gear ready from the night before.
"The big thing which helps everyone who does it is the quantity of lads in Dublin; there's 10 or 12 lads in Dublin including the college guys during the year. You learn a lot about yourself on those car journeys and you learn even more about the guys you're travelling with. That's where all the stories come from.
"One of the guys had a minibus from the company he was working with. It was in the company and he said he'd borrow it for the evening; we didn't have it every evening. It was unreal craic when he did have it. I think 100kph was the cap on the speedometer."
Already this year, Wexford ended their 15-year Leinster title drought. On Sunday against Tipperary, they will have a chance to reach a first All-Ireland final since their 1996 win.
"1996, I was only a chap," says the 27-year-old.
"I remember very little of it. It's new territory to us, this year. The last couple of years, it was quarter-finals and we found it difficult to get over that quarter-final hump.
"I'd say the players are very much kind of in tune with 'an All-Ireland semi-final might never come around for us again'. So let's make hay now. Let's deal with what's in front of us, do everything we can, as best as we can going into the semi-final.
"Then, after that, let's see where it takes us. If there's a game after that, then great. If there's not, then we'll build again and we go again - simple as. I don't think anyone is thinking about next year yet."