After last weekend's FBD League fiasco, Sunday's postponed fixture between Mayo and Galway was played out under the lights tonight.
When MacHale park was deemed unplayable on Sunday afternoon, many fans were left in the invidious position of having already paid for tickets, and not being offered any refund.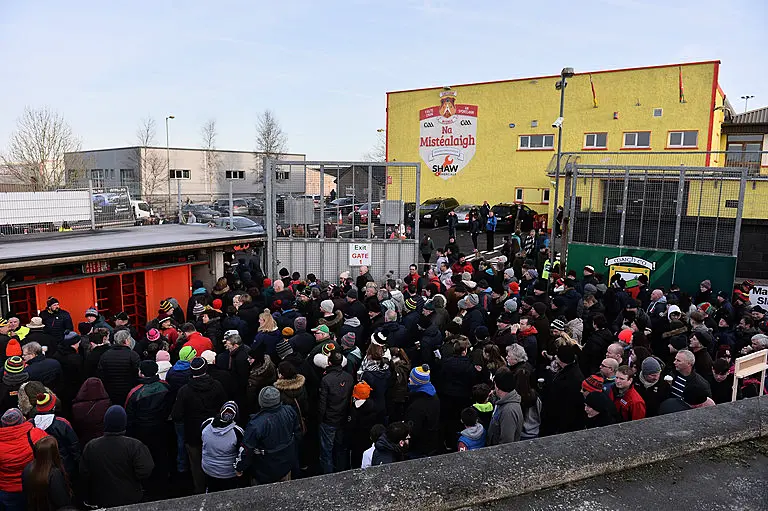 Offered the compensation instead of gaining entry to tonight's game, pictures emerging from Mayo suggest that although the weather scarcely improved, the match on offer was certainly entertaining.
With the pitch looking heavily waterlogged, Galway emerged as victors in a match that some felt scarcely shouldn't have gone ahead in the first place.
This game shouldn't go ahead tbh but I think it will just to play it. pic.twitter.com/Gg4d2Jz37q

— Cormac O'Malley (@cormacpro) January 12, 2018
With the water on the pitch visible from the stands, it didn't take long for the players to start feeling the ill-effects of a heavy January pitch.
#FBDLeague Rd 2 Refixture@MayoGAA 0-6@Galway_GAA 0-4

30mins First half pic.twitter.com/Zmmhy2cbmC

— Mid West Radio (@radiomidwest) January 12, 2018
Not exactly a surface conducive to a high-scoring game, a tight affair between last year's All-Ireland finalists and Galway threw up few scores, but plenty of action.
Although they would limp across the line with a one-point winning margin, overcoming a two-point half-time deficit, Galway would do so while down to 12-men.
Eight yellows, and two red both for Galway. This is the FBD! The league and championship games will be fun.

— Cormac O'Malley (@cormacpro) January 12, 2018
One of those reds was handed out to Galway's Damien Comer - mere minutes after he had entered the play as a substitute.
It's hilarious listening to a Mayo vs Galway game on a Galway radio station. Sure poor auld Damien Comer had no choice but to throw an elbow with Mayo men hanging out of him!!! #MayoGAA

— Alan Flatley (@alflats11) January 12, 2018
Straight red card for Damien Comer minutes after coming onto the pitch.

— Mid West Radio (@radiomidwest) January 12, 2018
It was a decision that didn't fall too far from the general tempestuous nature of the game itself.
#FBDLeague Rd 2 Refixture@MayoGAA (0-8) 1-9 @Galway_GAA (0-6) 1-10🔴🔴

In a tempestuous game - Galway had two straight red cards - in woeful conditions the Tribesmen take the points as Mayo score just 1-1 in the second period. pic.twitter.com/vIoGFeiD90

— Mid West Radio (@radiomidwest) January 12, 2018
While both teams will struggle to take much from tonight's game, it has at the very least offered some proof that these pre-season games can be interesting, if nothing else.