A highly-anticipated clash between two potential All-Ireland contenders, Mayo vs Galway spectacularly failed to live up to its pre-match billing.
Nevertheless an incredibly tense and tight affair, regarding the quality of football on show, people were not happy.
Im 50 minutes in. Mayo Galway game horrendous so far. Not football.

— paul galvin (@pgal10) May 13, 2018
This is shocking football between Mayo and Galway. There was far more entertainment and dare we suggest quality in Wexford Park last night #GAA

— Sean McGoldrick (@SeanMcGoldrick1) May 13, 2018
Searching the house for toxic liquids to dissolve my eyes. Mayo vs Galway has been absolutely poisonous.

— David Ennis (@Davey_Ennis_1) May 13, 2018
26 handpasses 2 15 yard kick passes in 2 1/2 minutes of play by Galway...this is some game for insomnia...if this is the championship it should be condensed into about 4 weeks #torture #mayovgalway

— Anthony Moyles (@moylesiea) May 13, 2018
Forget how the teams are set up, this game is breaking records for shots dropping short. #GAA

— John Fogarty (@JohnFogartyIrl) May 13, 2018
Mayo v Galway was never going to be a classic. Both teams planned for eachother to the nth degree which generally leads to games that aren't free-flowing, but instead tight and tense as it's proving to be.

— Shane Brophy (@BrophShane) May 13, 2018
Puke stuff there from Galway

— Derrick Lynch (@DLynchSport) May 13, 2018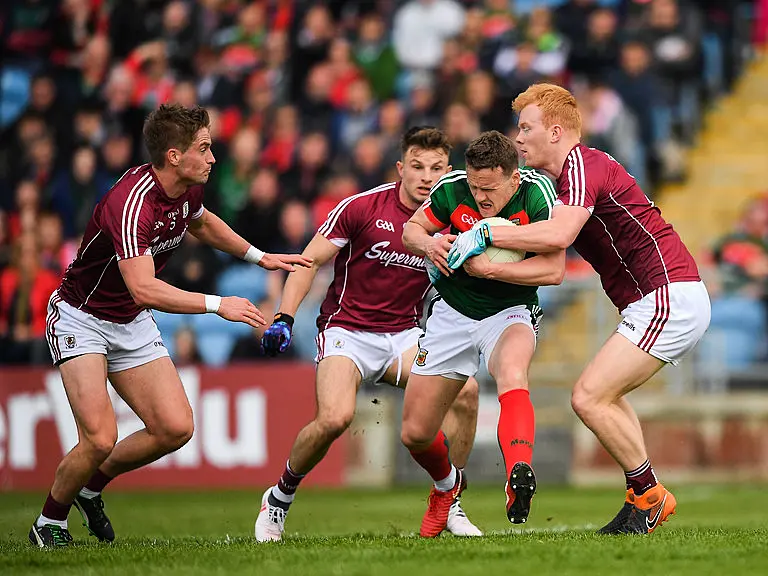 With Kevin Walsh's Galway taking most of the slack for not capitalising on the one-man advantage they held for the whole of the second-half, it wasn't until the 74th minute of play that Galway took a meaningful lead; Johnny Heaney finishing off a well-worked move with a brilliant goal.
Johnny Heaney with a cracker of a goal! pic.twitter.com/lblrvyMg6K

— The GAA (@officialgaa) May 13, 2018
Having held little hope for the fixture from the outset, and a good deal less by half-time, the RTÉ studio panel were scathing by the time this one finished up.
For Tomás Ó Sé, "it was a poor advertisement for football, a desperate second-half."
Predictably enough, the ever-outspoken Joe Brolly felt "total disappointment" after what he had seen. Wishing to see players keen to express themselves, Brolly highlighted "the great condition for Gaelic football" that MacHale Park was in, and how this was not used whatsoever.
Perhaps the most damning indictment of what was on show came from Colm O'Rourke however.
Pointing out the fact that Mayo had much of the possession, O'Rourke nevertheless felt their inability to use it suggests they are a side in "terminal decline."
Unsure whether Galway "have much more" than they were able to show in today's performance, the former All-Ireland winner with Meath made a point of once again stating that Mayo, with a number of players now unavailable, are in "terminal decline."
After today's disappointing tie, Galway will now go on to face Sligo in a Connacht semi-final, while Mayo plot their way through the back door once again.