Shane Walsh spent much of his childhood rewatching 'The History of Galway Football,' a video produced after Galway won the 2001 All-Ireland final. Countless hours observing and dreaming of days in the maroon and white.
It is striking that when the individual who kicked 0-10 in that final became manager, one of his first decisions was to select Walsh as captain. The similarities between Padraic Joyce and the Kilkerrin-Clonberne man are obvious. Rolls-Royce forwards capable of scoring with either foot as well as linking play.
Joyce saw Walsh up close as a member of the 2017 Ireland International Rules management team. At the time, he noted that all the raw materials and potential were evident, but he "needs to apply himself a little more".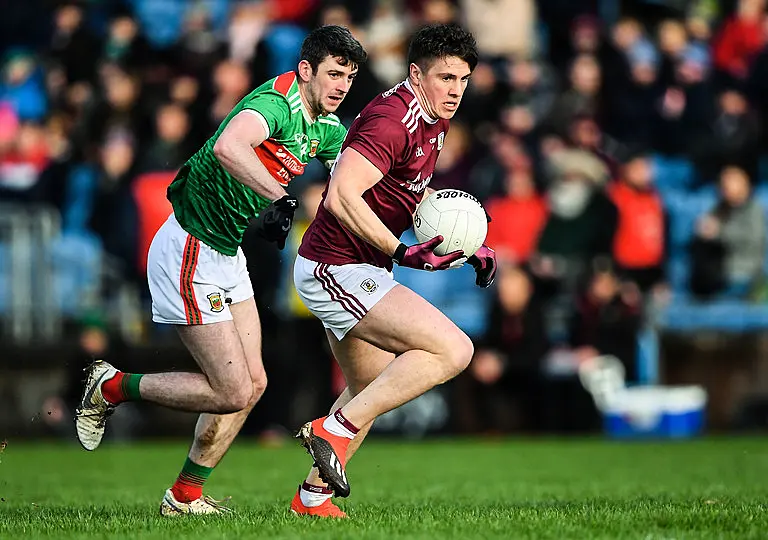 Once regarded as a generational talent, the 26-year old is now in his prime. His career includes two Connacht titles as well as a U21 All-Ireland but no All-Star.
Galway's newly appointed captain kicked 1-8 yesterday as they won the FBD League final against Roscommon. Operating as the fulcrum in a more progressive system, 2020 represents his best chance yet at ending that wait for some individual honours and more importantly, adding to collective ones.
"He was really close to an All-Star in 2018," former Tribesman star Michael Meehan tells Balls.ie.
"He nearly did enough in the Connacht final alone that day. Galway had Roscommon down in the Hyde and he was just superb.
"They were septic the first half but he was all over the pitch. Taking ball on, driving forward, kicking scores. Literally a one-man show in the first half."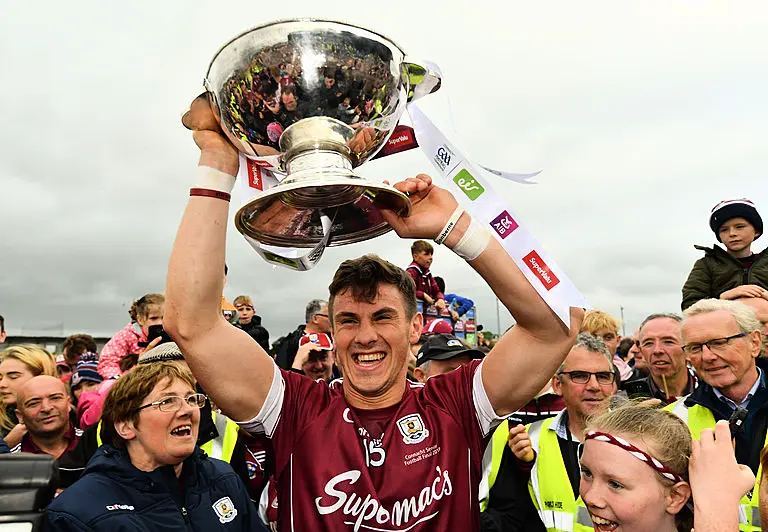 Meehan first encountered Walsh in 2013 when Alan Mulholland called up a collection of U21s to the senior squad but he had heard about him long before then. He can still remember the hype around the two-footed St. Jarlaths star who kicked 0-9 in a 2011 Hogan Cup final loss to St Colman's.
It did not take long for Meehan to become an admirer.
"Look at his skill levels, there are hardly a handful on the same level. That is in the entire country. He can do stuff no one else can, turn nothing into something."
Real recognises real.
Yet there is an inescapable sense that Walsh has more to give. His nonchalant flair could catch fire and allow a team filled with attacking sparkle to explode this season. Joyce's evolution will prioritise protecting Walsh as a forward threat, in the same way Kevin Walsh attempted before.
In some ways, he is a player better suited to the Galway of old rather than the utterly altered modern game.
"I think every player would, in some ways, rather play ten years ago than now!" declares Meehan with a laugh. "There are certain players you never, ever want to see go beyond the 45. Shane is one. Every team has them."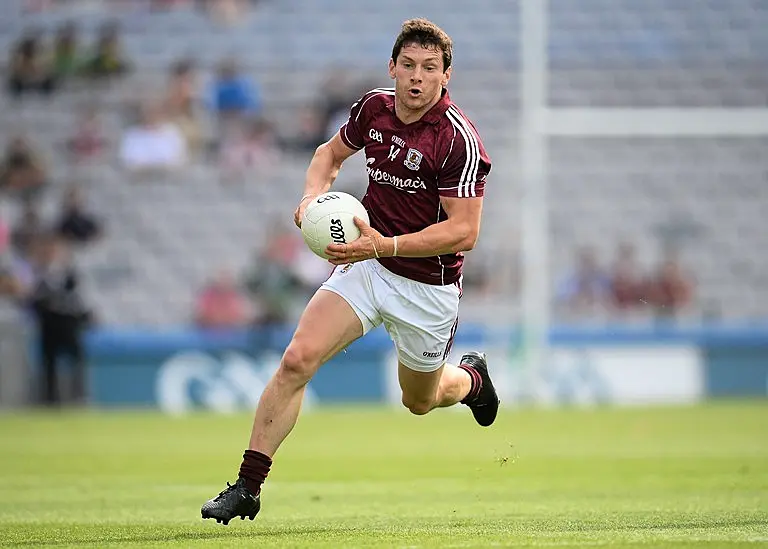 Last season, in a bid to free Walsh from the restraints of tracking attacking wing-backs, Walsh moved closer to the square. In the Connacht final, Roscommon's Conor Daly marked him at full forward. After Mayo's Patrick Durcan dropped beside him in round 4 of the qualifiers, he once again stood in on the square.
The problem came with what happened around him. Too often the need to bolster the back took precedence over proper attacking structure. A hard-working half-forward line retreated to their own 45 and when they gained possession relied on their running game to move forward.
The result was a disconnect between inside forwards and the rest of the team.
Consider this passage from Mayo's win over Galway last June.
Galway are five points down and looking to start an attack. Goalkeeper Bernard Power is frustrated at a lack of options.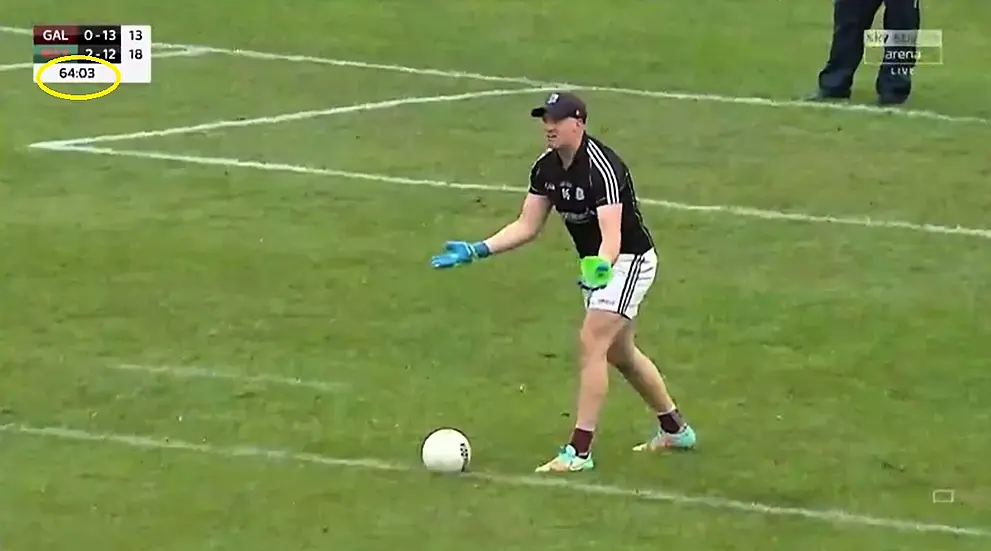 Eventually, he goes short to John Daly.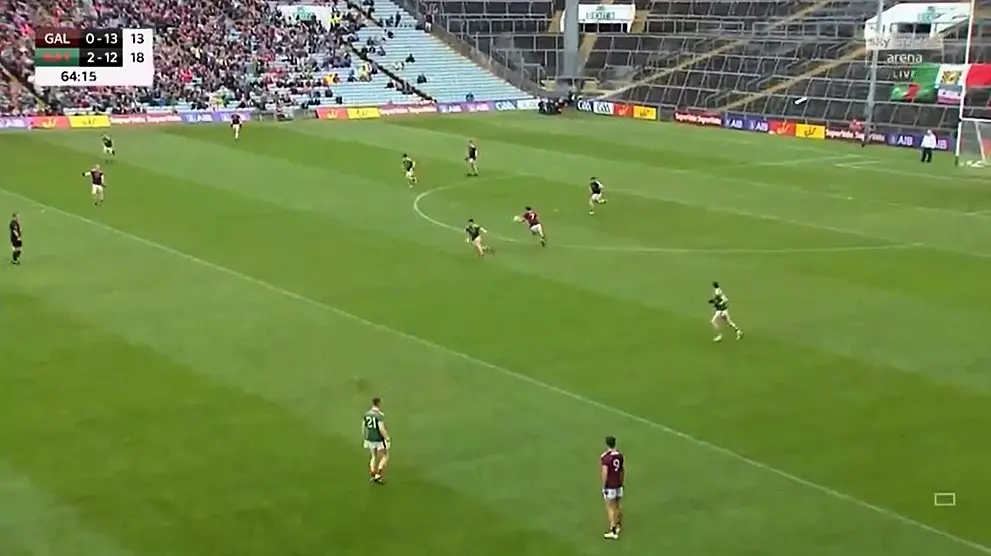 Daly goes back to Power, who then goes wide to Kieran Molloy.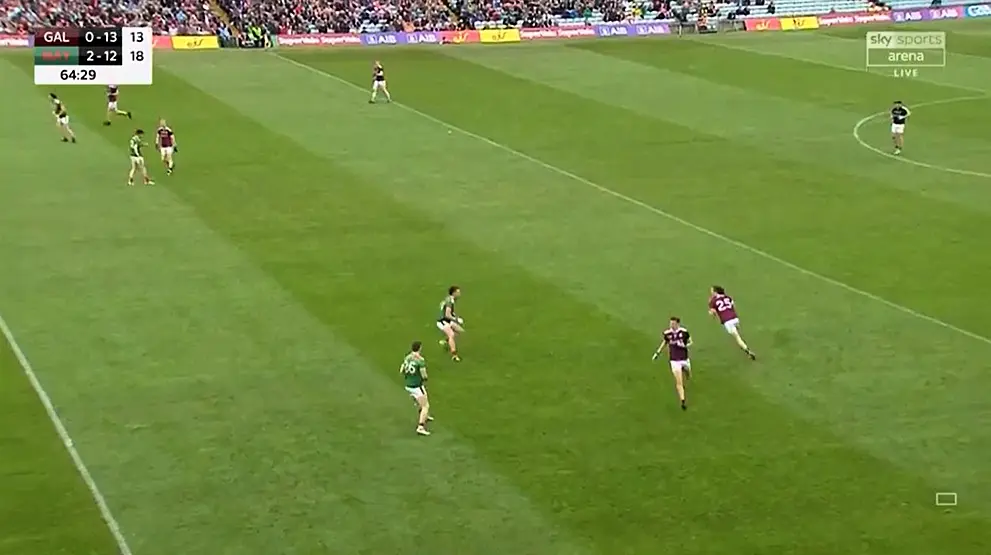 Molloy carries crossfield to Seán Andy Ó Ceallaigh. Ó Ceallaigh finally drives forward into space. Galway have not kick passed once and Mayo have ample time to retreat behind the ball.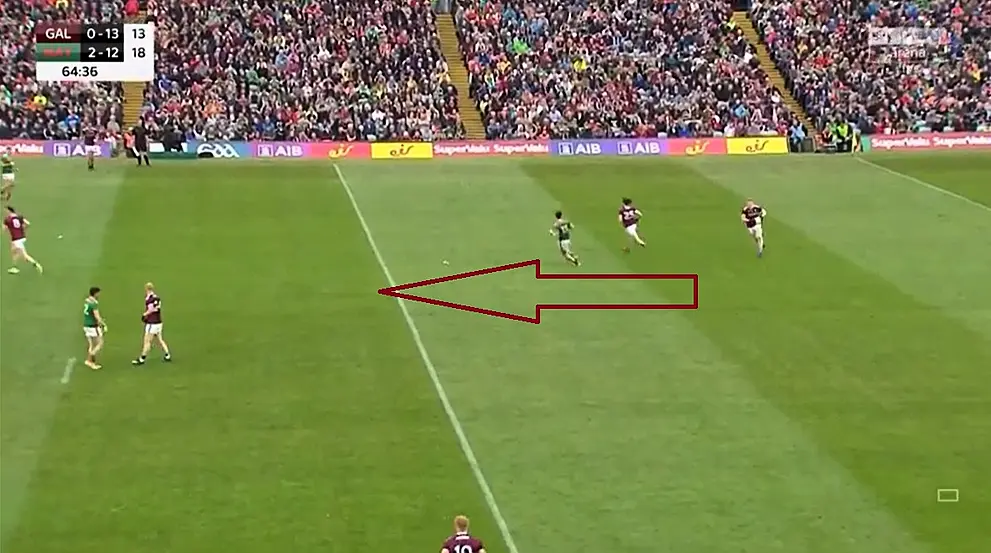 Both Damien Comer and Walsh come from deep in front of their man. However, Ó Ceallaigh carries into contact and then handpasses backwards.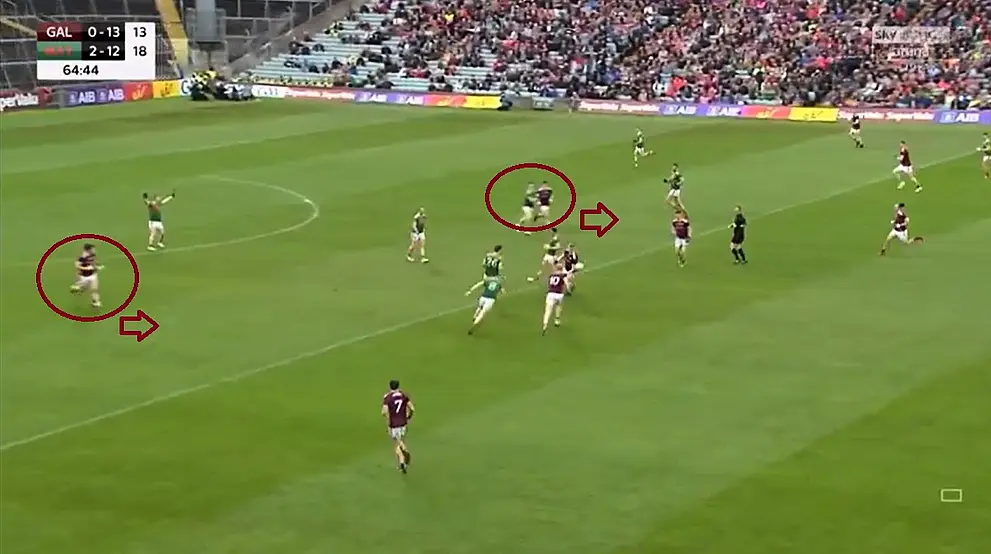 There is now no inside threat. All Galway players are bunched around the 45. A one-dimensional attack runs out of road when Mayo bottle a Galway runner up and turn the ball over.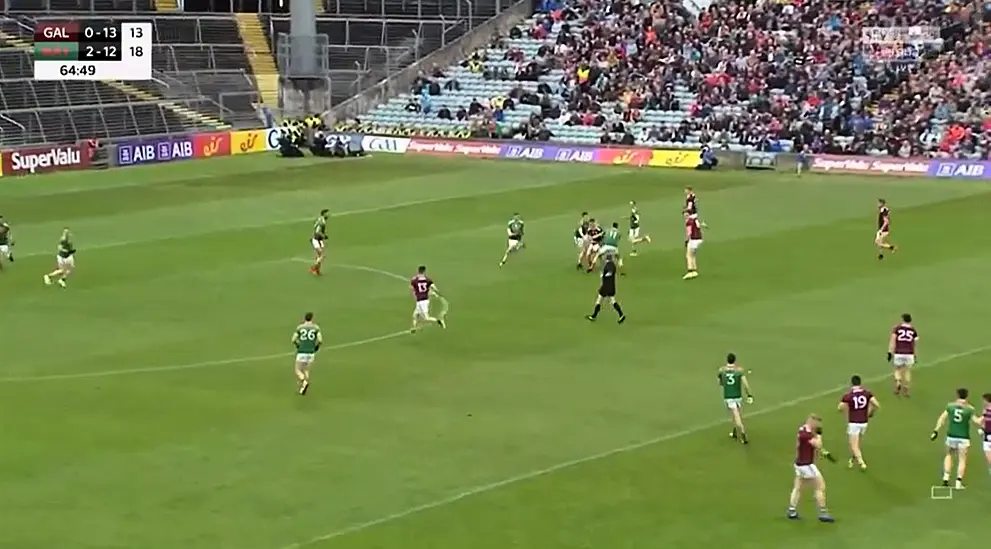 Galway must move the ball forward quicker if they are to reap the rewards of their skilled offensive players. On top of that, there is an added incentive to do so.
The advanced mark is a move that will benefit players like Walsh. His free-taking ability becomes more valuable. He is more likely to receive quicker ball inside, as the FBD League demonstrated.
The ball is kicked from the 45 into the full-forward line to Adrian Varley.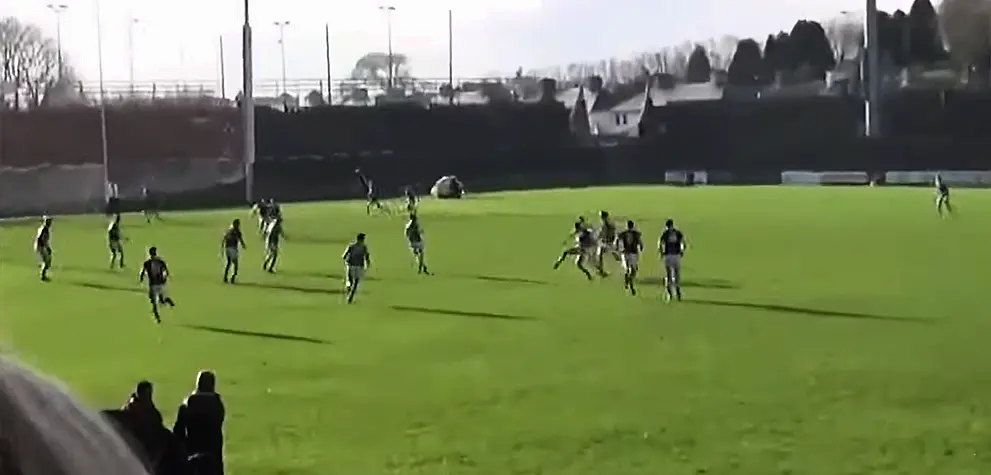 Walsh is able to come on the loop and kicks a score.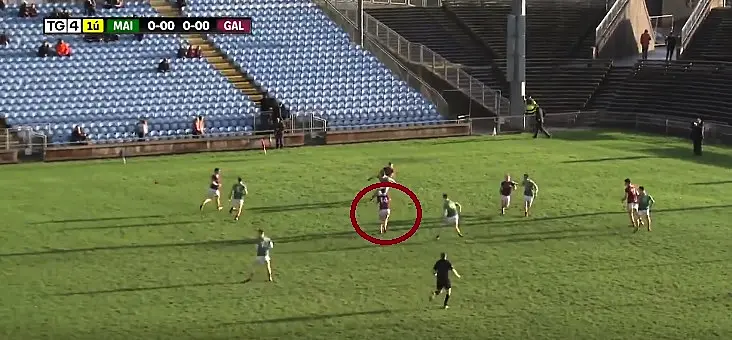 Note Galway still have a man on the edge of the square. Walsh can shoot or pop it inside.

Meehan points to the amount of frees Walsh has kicked from his hands during the FBD League as an interesting development.
With the mark, it makes sense for him to prioritise the kick from the hand. That way you get the mark and free practise. Everyone is thinking more about it now.

Teams experienced it in the league last year but they didn't buy into it in training that much because they knew it would be gone. This is their first proper test.
The fact that Galway's captain did play international rules in 2017 will also stand to him.
"From doing a few international rules myself, I remember the second time you played you were ripping lads in tackles. You weren't shadowing and trying to tackle the ball like in Gaelic football.
"Having done it previously for a season, you adapted quicker in the games after. I think the mark will be the same. Lads with experience will fair better. Look at Conor McManus or Tommy Walsh in the league last year."
A central role in a positive system with a new rule suited to his skills. 2020 has all the components to be Walsh's best year yet.