Long-time Limerick GAA physio Mark van Drumpt died last week following a battle with cancer.
Born in the Netherlands, Van Drumpt went on to work with Limerick inter-county teams for more than 15 years, initially with the footballers and later the hurlers. It was at U21 level where Gearóid Hegarty first encountered someone who would be part of his life for the next six years.
"His funeral was on [Saturday] morning and we were all there - we all gave him a guard of honour," said Hegarty, who dedicated his PwC GAA/GPA Hurler of the Year award to Van Drumpt during Saturday evening's All-Stars ceremony broadcast on RTÉ.
"I got much more emotional than I thought I would. It just shows you how much he touched us all.
"He's been fighting a savage battle with loads of ups and downs. He was told eight years ago that he had max two years to live. He was such a battler, an incredible person and full of craic.
"[He was] always someone you could go have a bit of craic with before training - getting strapped or rubbed or whatever. He's with lads dealing with injuries at their worst times and he was always such a great guy to be dealing with and unfortunately he took a bad turn in the last six months or so.
"Even the lead up to the All-Ireland final he was with us on the Friday night. He was with us at every training session. As somebody said, other people with his sickness wouldn't have been able to get out of bed, and he was still coming to training with us."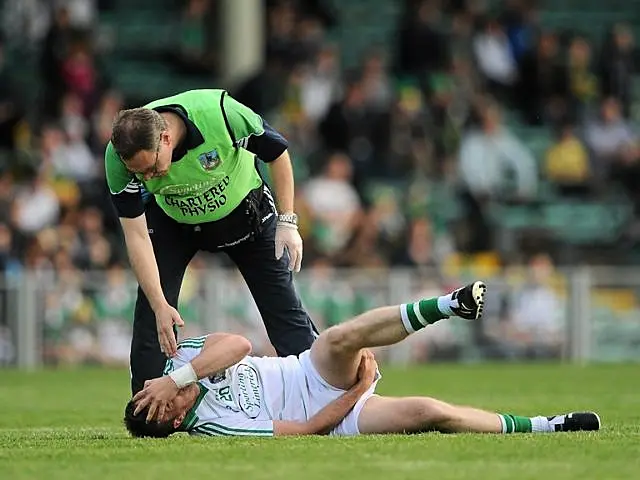 4 June 2011; Eoin Joy, Limerick, is attended to by physiotherapist Mark van Drumpt after picking up an injury. Munster Senior Football Championship semi-final, Limerick v Kerry, Gaelic Grounds, Limerick. Picture credit: Stephen McCarthy / SPORTSFILE
During the 2015 Munster U21 victory over Clare, Hegarty picked up a bad ankle injury which looked like it would keep him out of the All-Ireland semi-final. The half-forward had visited a specialist who informed him that he'd have to go under the surgeon's knife - Van Drumpt thought there was another way.
"There was three weeks between every game at under-21, I always remember," said Hegarty.
"It was a couple of days after the Munster final and the specialist was mad for me... it was surgery, surgery, surgery.
"Mark van Drumpt couldn't enforce it more that he didn't believe that I needed surgery. He said 'If you need surgery by the end of the year, by all means you can go for surgery, but I don't think you should go for surgery now. Try rehab it as best you can and see what happens over the next couple of days and weeks'.
"We were playing Galway in the All-Ireland semi-final, and he did an unbelievable job to get me where he did. He got me back for that game. He looked after me so well. And that was probably my best game in the U21 that year, against Galway in the semi-final.
"I never went for surgery in the end. So he was proven correct in his opinion there. He went over and above what he needed to do for me in that moment, and he always did that from then on."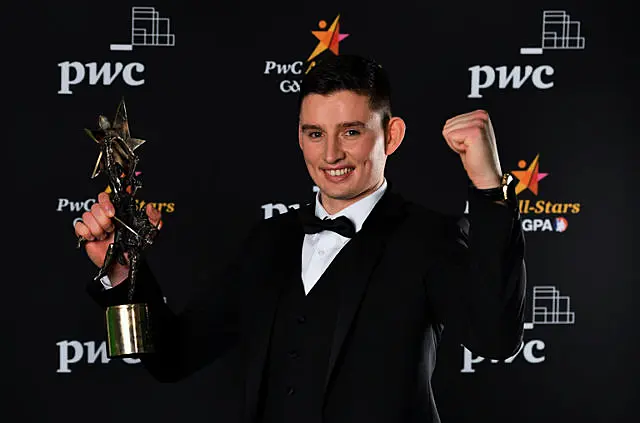 20 February 2021; PwC GAA/GPA Hurler of the Year, Gearóid Hegarty (Limerick) with his award in RTÉ. Photo by Brendan Moran/Sportsfile
While driving to Dublin for this year's All-Stars ceremony, Hegarty received a call from Mark van Drumpt's wife, Leonie. In his last days, her husband was still thinking of those under his care.
"I was thinking, 'What is Leonie ringing me for?' It was to tell me about my brother," said Hegarty.
"On Mark's deathbed he was talking about my brother. He was looking after my brother Diarmuid when he did the cruciate. He's only recovering from it. But making sure he was getting looked after and he was with a proper S&C coach and so on. It just shows you the character of the guy.
"Leonie told me in that phone call... he was quite sick in 2018 as well and Leonie asked him what was the one thing he wanted to see before he died. Because they always expected that it was coming. As I said he was told eight years that he had not long to live. He always just said he wanted to see Limerick win an All-Ireland.
"He got to see two really. It's never a nice time to go but I suppose he did go just after we won a second one for him."
Picture credit: Sportsfile