The 2022 All Ireland Senior Football Championship saw penalty shootouts be used to decide games for the very first time. Originally introduced by Congress in 2019, penalty shootouts were introduced to ease congestion in the calendar by avoiding replays. This year saw 3 penalty shootouts in the intercounty championship with Armagh v Galway being the most famous.
The trend is continuing in the club championship with two Ulster Club Quarter Finals, Naomh Conaill v Cargin and Enniskillen v Gowna last weekend both being decided by spot kicks. Liam Swift, a goalkeeping coach who runs his own goalkeeping academy believes that practicing penalty shootouts at the end of the session benefits the keeper enormously.
Most of my sessions with any team that I'm training with do a penalty shootout at the end just to keep [the keepers] on their toes and if there's a few players about I'll pull them in near the end of the session and get them to take penalties at them.

If there's 30 people at training, so 30 people can take a penalty each, we might be there all night, even if you pick 10 different penalty takers. So, they face different set ups, different kicking techniques. Some might throw you the eyes, some might give you something to think about so that's good.
Mind Games
Of course, you cannot have a penalty shootout without mind games being used. Liam believes that a goalkeeper should do whatever he can get away with to put the taker off such as staring them out and walking up to the ball. He also points out a great technique used by the Cargin keeper recently that put the taker off.
If you watch the Cargin keeper at the weekend, he put his arms behind his back and he did not move till the last split second which I thought was great because obviously when the taker sees him like that he's thinking, this is a cocky dude we have here, but it paid off.
📺WATCH: Dramatic afternoon at Corrigan Park!@Cargin_Gac came back from the brink of defeat in the dying seconds of both normal and extra time before emerging winners on penalties vs @NaomhConaillGAA!#ClubMeansMore pic.twitter.com/i27RZMIBad

— Ulster GAA (@UlsterGAA) November 13, 2022
Advice
The goalkeeping coach who is involved with Andy Moran in Leitrim's intercounty football team has advice for keepers in penalty shootouts. Liam believes that you should give yourself a moment to make up your mind on which way to go.
You see some goalkeepers run off the line maybe saying I'm going to go right, I'm going to go left, take that decision yourself without looking to see what the actual taker is going to do. Give yourself that wee split second to make the decision without just saying, right I've seen Shane Walsh take a penalty before, it went to my left. It doesn't mean it's going to go left next time, don't just assume. You have to do your homework and that's how you work it.
He also believes that the pressure is more on the taker, rather than the goalkeeper and that there are certain things that a keeper can do to help his chances of saving it.
You go through your pointers that you know will go through players, opening the body, closing the body, their hip position, giving them the eyes. He might have a towel or water bottle in his goals and just as the player is setting up, he will lift the towel or water bottle and put it to a certain place. The next thing the player is looking at, he's just focused on the water bottle/ towel, and that's his target. It's the last thing he looked and it's a good high percentage that's where he goes.
Goalkeeping Academy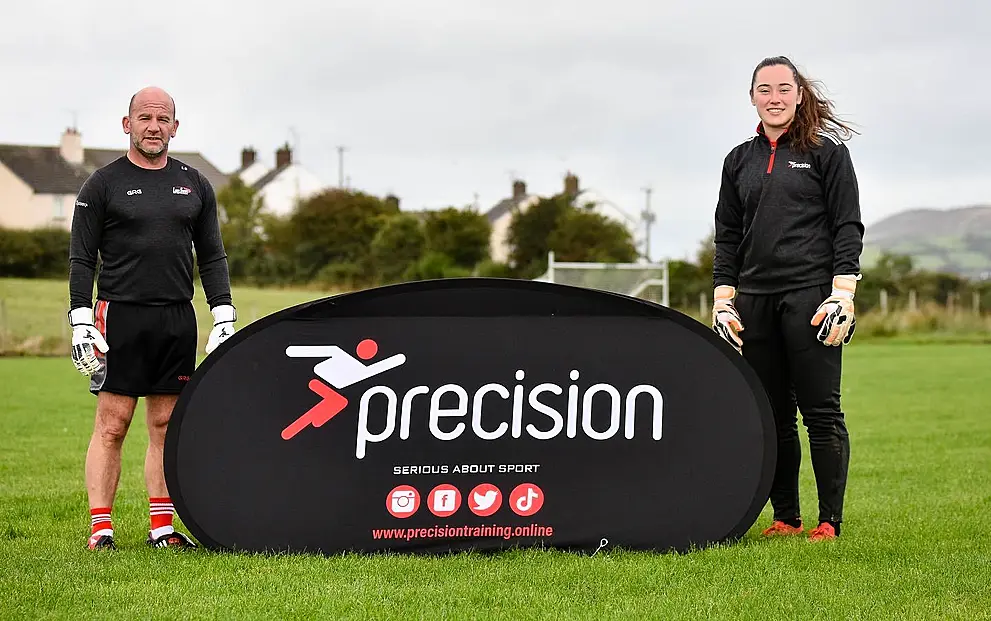 Liam currently runs his own goalkeeping academy which is helping and developing the present and future goalkeepers across the country. You can visit the website here, https://www.gaagkcoach.com/. He is currently touring the country having sessions with intercounty keepers such as Shaun Patton and is due to train both Cork and Kerry's goalkeepers this weekend. He is supported by Precision and Tom Parsons' Game Ready Gear company that provides him with his kit and equipment. Liam plans to visit every county next year to provide high quality training sessions to future goalkeepers.