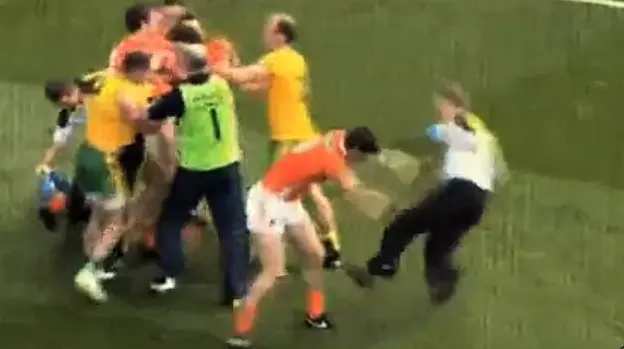 We've already brought you the incident during Donegal's single-point victory over Armagh in which Donegal team doctor Kevin Moran was pushed to the ground by Armagh midfielder Aaron Findon.
In this correspondent's opinion, reaction has been surprisingly divided on the matter, with plenty of you saying that the medic deserved it as he shouldn't have been in the thick of it in the first place.
Perhaps not, but respectfully I have to say that there should be no place for highly-conditioned players engaging in such rough behaviour with team officials. This is made even more serious when a medic is involved - Moran was fine of course, but it does no good to endanger the safety of somebody who might have to treat a seriously injured player later in the game.
Anyway, opinion was similarly divided on the RTE radio coverage of the match, as Des Cahill and co-commentator for the day Joe Brolly had a right old joust on the topic. The pair were in the Saturday Sport studio, along with Kevin McStay.
Initially, Brolly said that Cahill was "overblowing" the whole incident.
"Doctors do not get thrown to the ground," Cahill told Brolly.
In reply, Brolly made reference to a recent, unspecified boxing match RTE had shown.

Cahill said it had nothing to do with boxing and asked Brolly if he was "saying that it's okay for a doctor to get thrown onto the ground".

"I remember one of the most brutal boxing fights I had ever seen in my life and you guys were lionising it and saying it was magnificent… that it was an example of tremendous courage.

"Both boxers knocked each other out," Brolly said.
Des interjected saying it had nothing to do with the incident during the match.
"That was boxing. That was boxing. This is a team sport when a doctor came on…"

Brolly then replied: "I just think you are making too much of it Des… You know this is not… this is not a kiddie story.

"I'm not allowing you trivialising it… that's all I'm saying," Cahill said.
At this stage, McStay weighed in on the side of Des.
"You have to a travel to a lot of other sports to see the medical staff being thrown to the floor," the former Mayo star said.

"We're an amateur sport. I can't agree with you Joe."
Brolly then countered:
"If you put your head in the lion's mouth, you shouldn't sort of waggle it about you know.

"I think you're just overblowing the whole thing … it's not the end of the world," Brolly concluded.
Army officer McStay was still having none of the idea that a non-combatant should be targeted by a belligerent. He said:
"I'd say in 30 years and more, in playing it and watching it, I've never seen a doctor tending another player, club or county level, being pulled out and pushed to the floor," .
Quotes via Irish Independent
Introducing the new Irish Sun App. This is a must-have for serious sports fans, with exclusive GAA hurling and football clips and highlights plus all the latest sport news straight to your smartphone.
GAA in the palm of your hand – Exclusive clips, highlights and match reports
Download the app here.