There was a time when signals seemed mandatory in Gaelic football. Regularly, goalkeepers would put hands in the air, pull at their socks, or play with their laces. Each movement was an indication of where their kickout was going. A common occurrence from Junior B to intercounty.
On-field communication is a necessity in sport. Due to crowd noise or brevity, often that is nonverbal. It remains one of the few grey areas of modern analysis. There is no worthwhile metric to chart their impact or usage rate. The numbers cannot do it all.
There was a recent Twitter exchange on this topic that proved telling. Even NFL analysts view the player adjustments or audible reactions to certain schemes as a twilight zone. If this is the case for American football, one of the most ordered and structured sports in the world, imagine what it is like for Gaelic football.
the audibles & adjustments QBs and centers make presnap based on defensive personnel & alignments

— Warren Sharp (@SharpFootball) June 29, 2021
It should be stated that while the area is of interest for social science, it is early days. Some research has broken down non-verbal communication into three categories, communication tactics, functional communication and diagnostic communication. Signals fail into the first bracket.
The popularity of signals steemed from the fact that they are easy to understand and execute. It should only take a few pitch sessions for a coach to impose their plan.
They still appear in the modern game. Dublin's 'slow down and control the ball' signal even trickled down to the club game in recent years.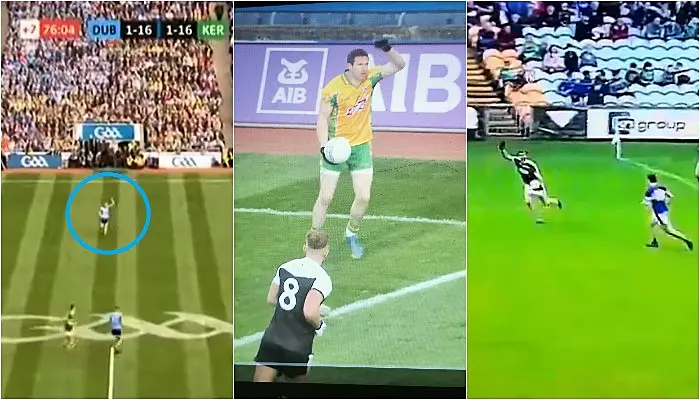 Breaks in play are the best opportunity to do it. In the 2021 league, Clare used a gesture for their kick-out strategy.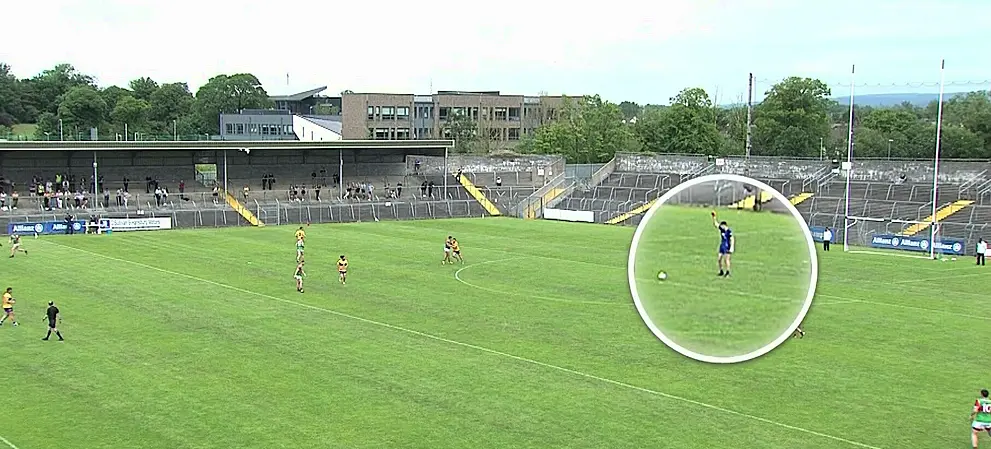 Both of these examples illustrate why the practice is dying out. Teams can deploy the signal, yet most of the time their opposition also understands it. Thanks to video analysis software and the availability of various camera angles, signals, patterns and movements are all easily dissected.
For example, in the 2019 All-Ireland final replay Michael Fitzsimons hand signals by crossing his arms. It meant that the ball was going long to the edge of the square.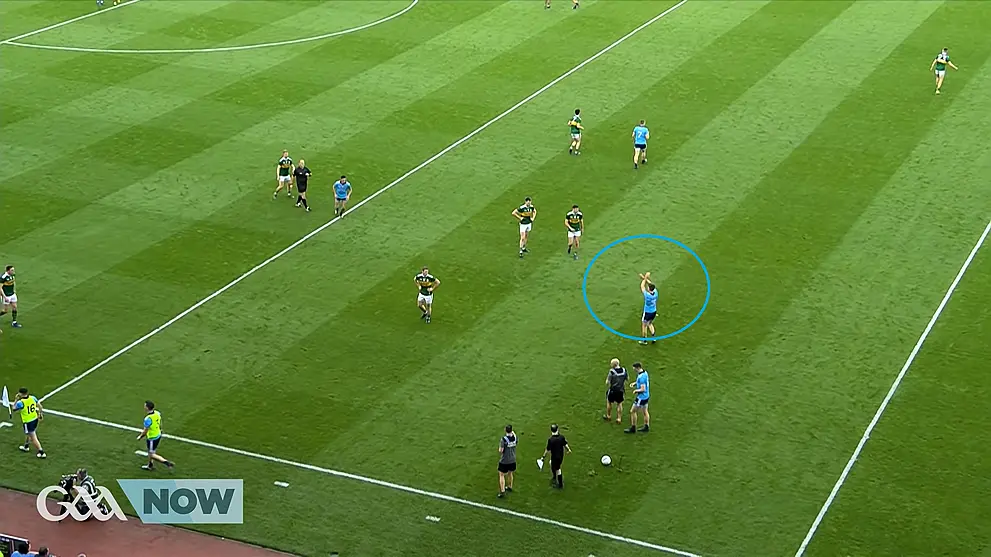 The problem was that Kerry knew this, as Dublin had done similar during the season. So, Brian Ó Beaglaoich immediately warns his full-back line while his teammates sprint back to held support.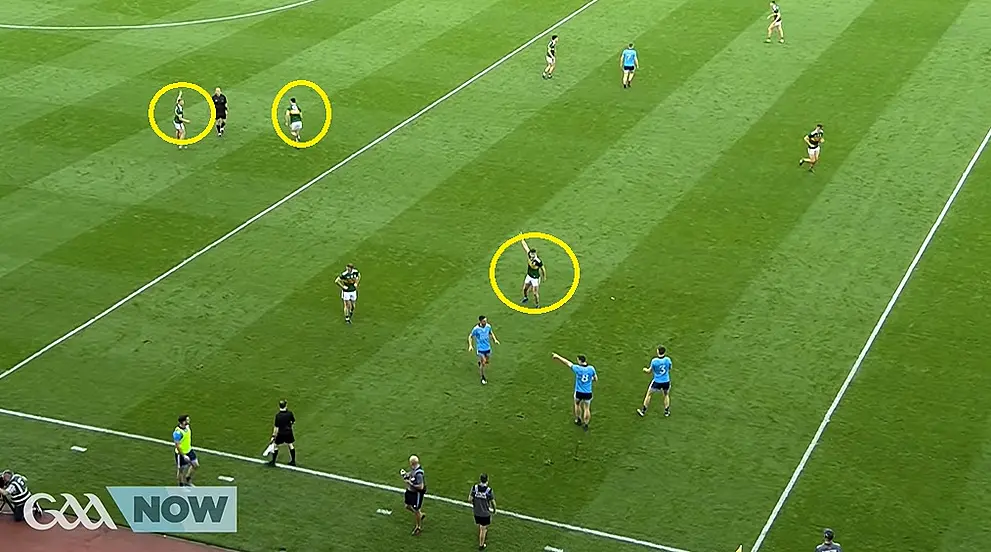 As highlighted by Peter Canavan on Sky Sports last weekend, Clare's strategy was based around using hand signals to indicate when they were going long during their Division 2 semi-final loss against Mayo. It was not a successful approach.
The same signal was used, the right hand went up which meant the ball was going long and left. I think Mayo latched onto that very quickly. It gave Aidan O'Shea in particular a chance to come in and win it.
He continued to point to various examples of the Breaffy man recognising the call and responding.
"When the short wasn't on, the signal was long. By this stage, Mayo had completely caught on. Once again it was Aidan O'Shea who ran from the middle of the pitch reading the signal."
The reality is thanks to coaching improvements, the need for such obvious cut and paste structures is lessened. There is now a higher emphasis on skill execution and decision-making. The best teams can mix and vary their approach within the overarching framework.
Coaching education continues to represent that. The webinar topics at this year's Ulster GAA Coach Academy Programme included 'Decision Making', 'Empowering Players' and 'Systems of Play.' It is not about Plan A or Plan B, the best are tactically flexible. Cultivating game intelligence is the key.
Come Championship, Clare's response to the kickout malfunction was simple but effective. Against Kerry last weekend they utilised the familiar bunch and break tactic, a method used by many teams including Kevin Walsh's Galway.
This gives the team a plan while allowing for their goalkeeper to introduce variety and pick out the best option, striking the necessary balance between guidance from a coach and trust in his players.
Clare's defenders all bunch in the middle.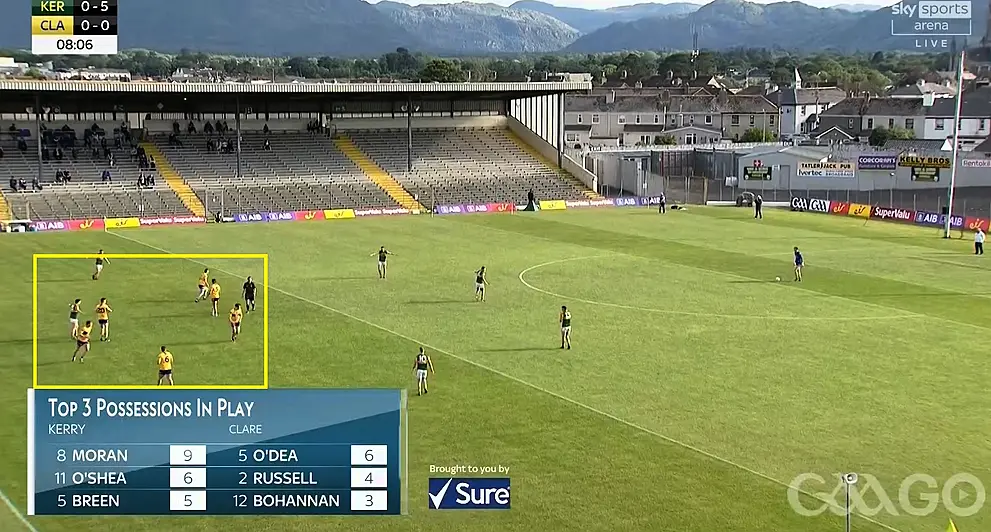 They then break in different directions. Whoever gets free receives the kickout.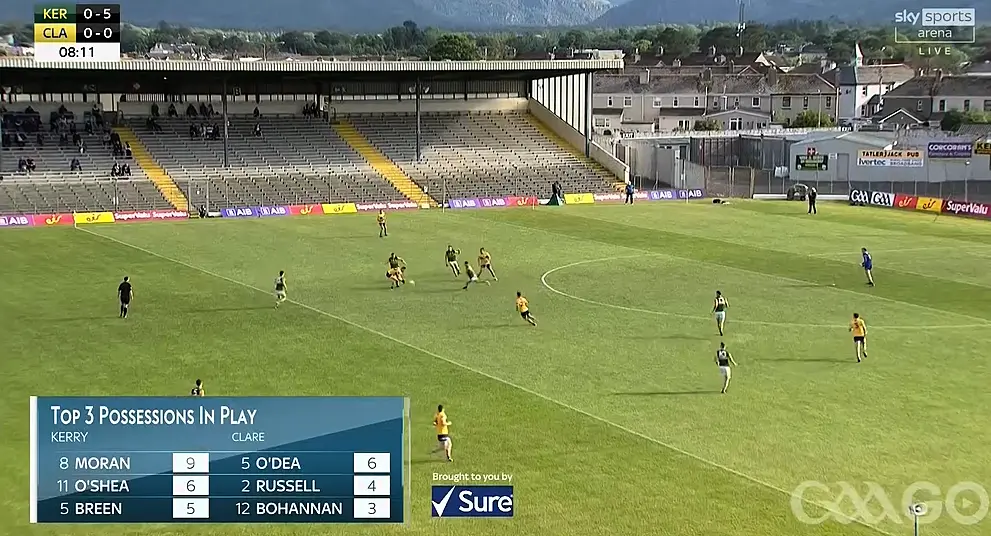 Even though it is noticeable when used, schemes such as signals are just a minor cog in the large machine. The temptation to base an entire strategy around them is best avoided.
There is no doubt having some set plays in the back pocket still has its place. But ultimately, every plan needs a desired outcome. Dublin's dominance is not down to a system or signals. They are an empowered group of exceptional footballers, capable of mixing it whatever way the occasion demands. A similar habit is the only way to match them.