There are few shows which consistently produce the goods like Laochra Gael.
The TG4 offering produces some brilliant episodes during each season, telling the stories of some of the most well-known and interesting characters in Gaelic games. It is often intriguing, hilarious, and heartbreaking in equal measure.
We have been eagerly anticipating who could be part of the lineup for the latest series and it certainly hasn't disappointed.
Lineup announced for latest series of 'Laochra Gael'
The latest series of Laochra Gael will land on our screens on Thursday, January 26th, with the focus being Galway hurling legend Joe Canning. One of the most talented hurlers to ever play the game, the Portumna will be reflecting on his inter-county career having only hung up his boots in 2021.
The new series starts with a huge name, but it won't be the only one included in the weeks ahead.
Aidan O'Mahony, Anne Dalton, Tom Parsons, Áine Wall, Liam Sheedy, Anthony Molloy, and Noel O'Leary will all have episodes dedicated to them over the next couple of months.
Here is the full schedule.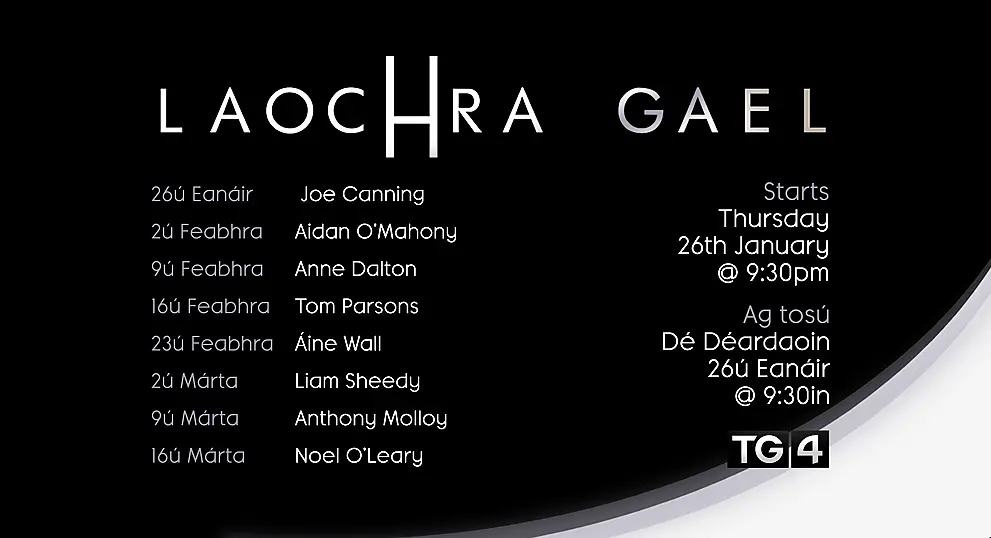 There will certainly be no shortage of memorable tales to come out of that lineup, with some very interesting characters involved. It will also feature contributions from quite a few familiar names, including Kieran Donaghy, Michael Murphy, and Paul Flynn to name but a few.
In short, you should keep your Thursday nights free for the next couple of months.
Here is a full summary of the episodes.
Laochra Gael lineup 2023
Joe Canning (Galway)
The 21st series of Laochra Gael returns with the story of Galway hurler, Joe Canning. Joe was marked for greatness from the start. He carried the burden of being the chosen one that would end the Galway hurling famine. Year after year, however, they fell short. Thanks to the magic he weaved on the field, Joe became the most famous player in the country, and learned harsh lessons about the scrutiny that comes with that fame. With the entire country fixated on Joe's quest to win the All Ireland he deserved, all he ever wanted was to make his family proud.
Director: Cormac Morel
Participants: Joe Canning; Seán Canning; Ollie Canning; David Canning; Ivan Canning; Deirdre Canning-Mitchell; David Burke; John McIntyre; Michael Rice; Paul Flanagan; Pádraic Maher
Aidan O'Mahony (Kerry)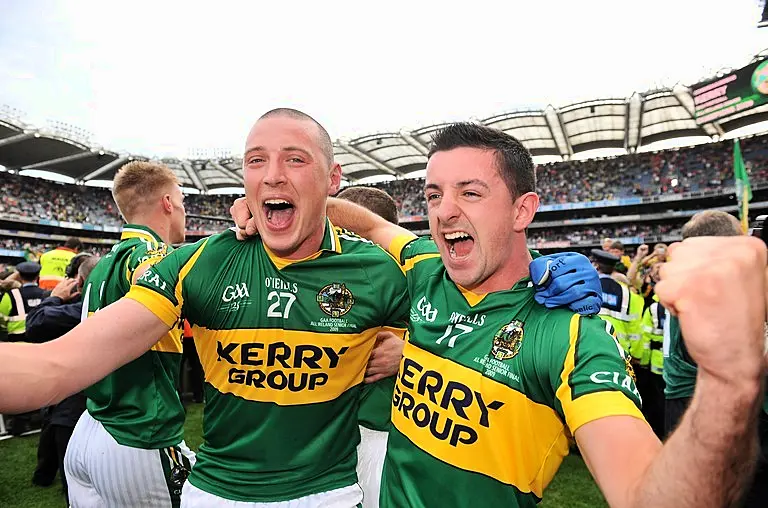 The 21st series of Laochra Gael continues with the story of Kerry footballer, Aidan O'Mahony. He overcame chronic health problems in his youth to take his place on one of the greatest teams of all time. But when he was in his prime, he became embroiled in controversy as the first GAA player to fail a drugs test. His mental health deteriorated and after a spell in a treatment centre, he faced the greatest challenge of his life- to rediscover his purpose and his love of the game. He found both in a promise he made when his father passed away.
Director: Ronan O'Donoghue
Participants: Aidan O'Mahony; Kieran Donaghy; Niall "Botty" O'Callaghan; Conor McCarthy; Mark Harte; Tomás Ó Flatharta; Seán Moran; Donal Murphy; Denise O'Mahony; Lucia O'Mahony; Lilah O'Mahony
Anne Dalton (Kilkenny)
Laochra Gael continues with the story of Kilkenny camogie legend, Anne Dalton. Having lost in her first three All Ireland Finals, Anne finally reached the mountain top in 2016. After that victory, incredibly, she lost the next three finals in a row. Bloodied but unbowed, Anne persisted, building a reputation as one of the all-time greats of the game. Salvation eventually came in 2020 when the Cats won the championship, with Anne's wife, former Waterford player Karen Kelly, and their three children cheering her on from their home.
Director: Sarah McCoy
Participants: Anne Dalton; Karen Kelly; Daragh Ó Conchúir; Grace Walsh; Ann Downey; Rena Buckley; Jane Dalton; Jim Dalton; Marie O'Connor; Imelda Kennedy; Jillian Maher; Esther Kennedy
Tom Parsons (Mayo)
Laochra Gael continues with the story of Mayo footballer, Tom Parsons. Tom came to the fore in 2008, becoming a star for the Mayo seniors while still in his teens. But when he was dropped in 2011, his world fell apart. He came back in 2014 and was at the heart of the renowned rivlary with the Dubs. Whatever heartache he felt from the defeats in those clashes, it was put into perspective when he suffered a horrific injury in 2018. Although he was told there was a chance he may not walk again, he miraculously took to the field again in 2019.
Director: Hugh Walsh
Participants: Tom Parsons; Colm Boyle; Paul Conroy; Mark Harte; John Casey Paul Flynn; Carol Hopkins; Tom Parsons Sr.; Carmel Parsons; Matthew Parsons; Chloe Parsons
Áine Wall (Waterford)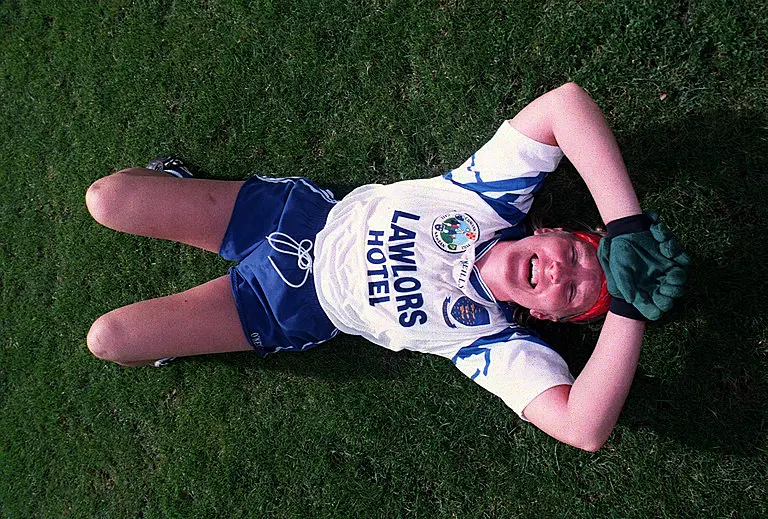 Laochra Gael continues with the story of Waterford footballer, Aine Wall. She came to the fore with her club, Ballymacarbry, but it was with the county that she became a star. With Áine spearheading the attack, Waterford won 5 All Irelands in the 90s, bringing unprecedented success to the Déise faithful. On top of that, as a result of the heroics of Áine and her friends, the sport , which had never even been broadcast when she started out, gained attention and respect. One of the greatest ever footballers, who revolutionised Ladies Football.
Director: Cormac Morel
Participants: Áine Wall; Marie Crotty; Michael Ryan; Michelle Ryan; Daragh Ó Conchúir; Geraldine O'Shea; Seamus Kennedy; Mary Wall; Eoin Wall; Michael Wall; Ann Dunford; Noirín Walsh; June Whyte; Catriona Casey
Liam Sheedy (Tipperary)
Laochra Gael continues with the story of Tipperary's Liam Sheedy. After the death of his father when he was two years old, Liam sought refuge on the hurling field, playing for his county at all levels. But he was little known when he became county manager. The team was in the doldrums, and nobody expected that Sheedy would win the championship and put an end to Kilkenny's reign. The hurling world was shocked when he stepped down after the historic win, and again when he returned ten years later, winning another championship, again against the Cats.
Director: Ronan O'Donoghue
Participants: Liam Sheedy; John Sheedy; Mike Sheedy; Eoin Kelly; Noel McGrath; Eamon O'Shea; Darren Gleeson; John McIntyre; Michael Rice; Dónal O'Grady; Margaret Sheedy; Aisling Sheedy; Gemma Sheedy
Anthony Molloy (Donegal)
Laochra Gael continues with the story of Donegal footballer, Anthony Molloy. Growing up in a remote region, football was always at the centre of Anthony's life. But after serious injury and a lack of success with the county, he emigrated to America in the 80s. When his mother fell ill, he returned home. The football enticed him back, and he fought through the pain to bring Sam Maguire to Donegal for the first time ever in 1992. Between the celebrations and retirement however, he developed a drink problem, and so he embarked on a battle that continues to this day.
Director: Cormac Morel
Participants: Anthony Molloy; Frank Craig; Michael Murphy; Brian McGilligan; Martin Gavigan; Catherine Uí Chinnéide
Noel O'Leary (Cork)
For the Series Finale of Laochra Gael comes the story of Cork footballer, Noel O'Leary. Noel is known as a true hard man of football. And throughout the epic rivalry between Cork and Kerry, it was the clash of Noel and Paul Galvin that drew the most attention. But behind the public image, Noel had been through unthinkable tragedy. In the space of a year and a half at the turn of the century, he lost his best friend, his cousin and his brother. He overcame these terrible losses, finding a solace of sorts when he won the All Ireland in 2010.
Director: Sarah McCoy
Participants: Noel O'Leary; Eoin Cadogan; Máire Uí Laoire; Conor Counihan; Seán Moran; Tomás Ó Flatharta; Colm Ó Laoire; Clíodhna Ní Laoire; Donal Óg Ó Laoire; Eimear O'Leary; Gearóid Mac Suibhne