In Croke Park on Sunday, Limerick fans experienced feelings some feared they never would.
James Owens' final whistle didn't just signal a hurling victory. With it came relief, release, pride, joy, and even a tinge of sadness for people overcome at witnessing the fulfillment of a lifelong desire. It was a moment for the people that have gone before, and for the people close to you. So much of your identity is wrapped up in supporting these teams. It has always been about a lot more than hurling.
Balls.ie writer Arthur James O'Dea was one of the 82,000 in attendance on Sunday. The son of a Limerick man, Limerick hurling has fastened their unique bond. On Sunday, they shared their own moment in Croke Park.
Editor
In my seat and no WiFi. Enjoy (15.06)
Not too bad. Lot of wides, but look, you'd have taken 4 point lead before throw in (16.10)
Fingers crossed now sitting beside 2 lads from Kilmallock (16.12)
God Almighty (17.16)
Such was the extent of the dialogue between my Dad and I during Sunday's All-Ireland final between Limerick and Galway. Parting one another's company in the shadow of the Cusack Stand at 2.45pm, we planned to meet up there again over two hours later at the statue of the man who lends his name to the stand in question.
Having begun this annual odyssey to Limerick matches with the All-Ireland U21 final in 2001, this would be the first time we found ourselves sitting apart from one another. As anyone who was in the hunt for tickets will confirm, however, you quite simply took what you got - if you got anything at all. Tradition be damned, preparations had to be made nevertheless.
With me sitting two rows from the sideline not far from the '45, Dad perched somewhere up in the premium level (thanks to a man from Mayo) on the half-way line, and a train heading to Sligo would leave at 7:00pm, timing was an issue. If - and it certainly seemed a big if as we planned things out at quarter-to-three - Limerick actually won, we allowed ourselves 10/15 minutes leeway in making it back after the final whistle.
Whatever happened, at Cusack we would reconvene and hash the final out all over again.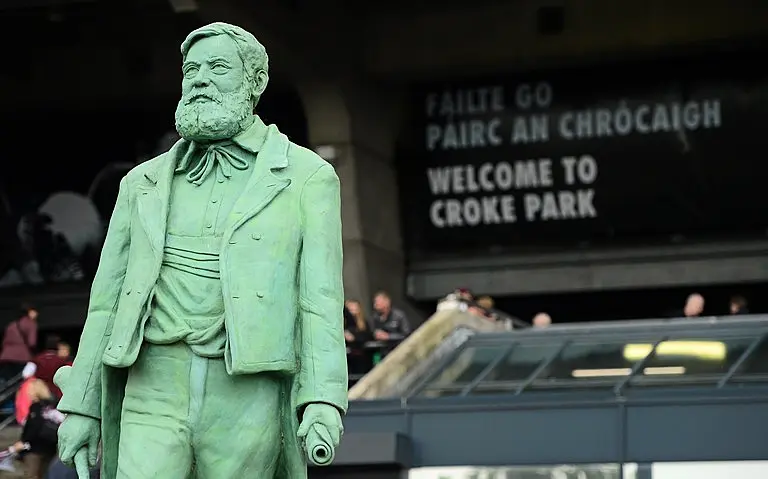 Only one of us would be getting that train to Sligo, however. Although born in Limerick 63-years ago, Dad had spent about half that time living on Ireland's north-west coast (because of love, what else?). Subsequently, this is where I would end up calling home too.
Visiting grandparents, uncles, aunts and cousins in Limerick on a bi- or occasionally tri-annual basis throughout my childhood, it had never been my home. Not only do I not know the words to 'Seán South', I've never even been to Garryowen.
Celebrate it though I do with the rest of Ireland, hurling has never really been my sport either. As with most of us who grow up in or around Sligo town, soccer is king. As such, my affinity to this Limerick team is not one borne out of place, rather, it is and always has been a way to connect with my Dad. From their successes, the joy I take is inextricably linked to his happiness.
Fortunately enough, our relationship scarcely hinges on these summer Sundays in the Gaelic Grounds, Thurles or Croke Park. Yet, it is in this joint-endeavour that we regularly eradicate the potential barriers in communication that come as a result of individual interests, day-to-day life and other equally flimsy concepts.
Through hurling, we find common ground.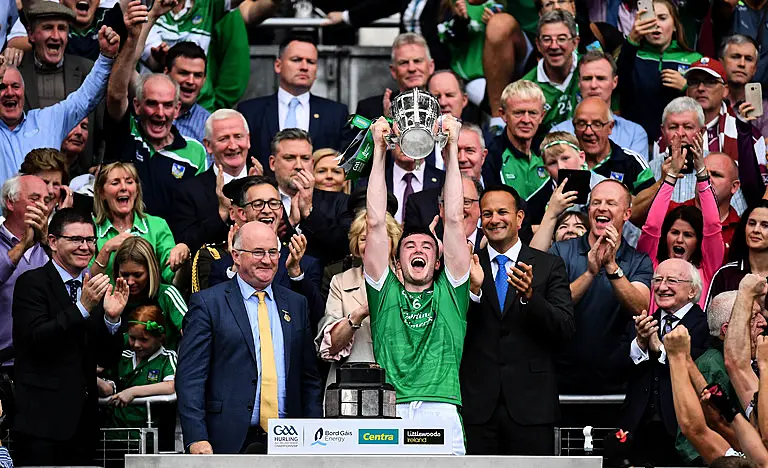 Aware of this special bond in our own relationship, it goes without saying that the significance of Sunday's game stretched far beyond us alone.
In the Croke Park hotel, my sister watched on with the same desperation that things would fall in Limerick's favour. Back in Sligo, my mum could only intermittently watch. 24-years earlier, with a 3-year-old and newborn baby in tow, she had watched as Offaly undid Limerick's best efforts in the most brutally late fashion.
Travelling on his own to Croke Park that day, that Galway looked set to repeat the trick seemed too cruel a fate for Dad and his like. Three of us Sligo born - my mum, sister and I - driven demented as the lead slipped. That Limerick held on is a minor miracle, but only serves to strengthen the argument that this has never just been about hurling, really. Would a 10-point win have been any more satisfying than the 1 that was enough in the end?
Taking time to watch Declan Hannon lift the cup from my vantage-point at the bottom of the Cusack Stand, I said my goodbyes to those I had shared this experience with. One particular man from Patrickswell had borne his fair share of hugs and gesticulations in the absence of my regular companion. Making my way up and out of Croke Park, I skipped down the flight of stairs and headed for the statue.
Spotting my Dad before he could see me, a brisk walk developed into a short sprint. Even now, I don't quite remember whether I got to him before he saw me coming. Yet, in that split-second where we reconnected the All-Ireland may as well have been won all over again. All the tears and disbelief that had been gone through as Limerick's hurlers celebrated and the Cranberries blared out of the speakers were brought to the surface in equal intensity.
Perhaps fearful that this All-Ireland final would go the same way as our experience in 2007, I had foolishly assumed that nothing could match the particular manner of Limerick's semi-final defeat of Cork a few weeks earlier. What with our astounding fondness for Shane Dowling, it all seemed too good to be true.
As we met beneath the statue of Cusack, such preconceptions were put to bed. Hugging, crying, laughing, shaking our heads, and praising Graeme Mulcahy's decisive winning-point, it was almost worth sitting apart for the duration of the match if just for this moment; almost worth the 45-years of waiting he had put in.
Never truly knowing whether or not Limerick would win an All-Ireland while we both could enjoy it, Sunday's final was a high-point we are unlikely to recreate in a sporting context. Yet, unlike Alexander's lament that there were no more lands to conquer, having this experience at all is reason enough to be thankful.
Those who share in the joy of Limerick's success will find the root of this sensation in various places. For myself, and many more besides, that it happened while the three people closest to me, in separate locations as the game was won, were happy and healthy enough to go through the rigours of Sunday's final as one is almost too close in kind to the "Dreams" Dolores O'Riordan sang about, and Limerick's hurlers made possible.
Listened to the montage you sent to Mum with the commentary and Dolores in the background. It was magic, but our meeting at the statue after the match was a moment to cherish forever. By the way, Helena will get the Limerick Leader OK (Wednesday 22, 21.36).