Dublin booked their place in the semi-final of this year's All-Ireland with a 1-14 to 0-14 defeat of Tyrone in Omagh this evening. Setting up a winner-takes-all third round tie between Donegal and Tyrone, Mickey Harte, speaking to the BBC after this evening's defeat, was careful to distance himself from a pre-meditated tactic thought to make Dublin's life tougher on one of their rare days away from Croke Park.
In a tightly-contested game, Tyrone found themselves trailing Dublin by two points as the clock rolled over into added time. Desperately searching for a goal that would clinch an unlikely victory, it was James McCarthy's earlier goal for Jim Gavin's men that ultimately told.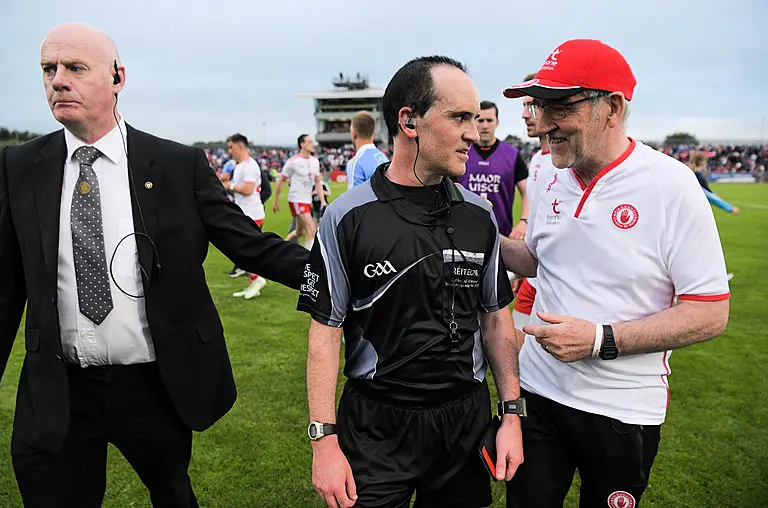 In the build up to this evening's fixture, it had been reported that Tyrone decided to augment the width of the Healy Park pitch in Omagh; reducing it by as much as six metres.
Keeping within the limits as set out by the GAA, it was expected that in making the pitch notably tighter than the Croke Park pitch Dublin were used to, Tyrone may leverage some greater advantage.
However, speaking after this evening's game, Harte was adamant he played no part in any such plan:
I don't know anything about this, the tightening of the pitch, honestly, I believe Sky asked the club could they get a bit more clearance for them on the sidelines because of the number of cameras they have doing the games. The Omagh club asked me would I have any issue with that, and I said no, whatever they feel like doing, go ahead.
Harte subsequently confirmed that the condensing of the playing surface had "absolutely not" been carried out after a request from him.
You can watch the full post-match interview with Mickey Harte here.