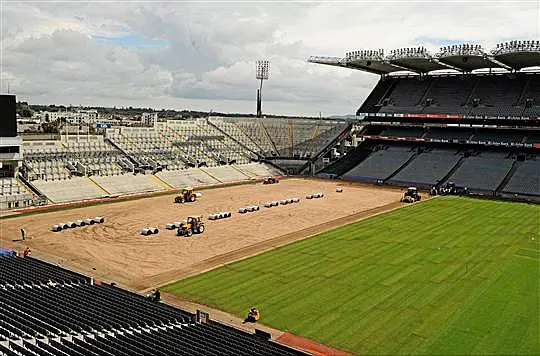 When you strip away the madness, the fervor and all the headlines from the Garth Brooks fiasco this week, there is something very sad at the back of it all. There's something that's been lost; an unseen energy that built Croke Park – the symbolic home of GAA – but has perhaps now left it.
Over the last couple of days, our local club in Cavan has had our five minutes of fame with our joke bid to host the cancelled gigs. Some found it funny and some didn't. While it's perfectly fine if such a thing didn't tickle your funny bone, to think that it had much to do with Garth Brooks is missing the point.
Somewhere, in the midst of jokes about a 'serious toilet' and farmers helping park cars in recently cut fields of silage, there sits that unseen energy we spoke of. An energy that has for over a century been wild at work in the heartland of the GAA, across our nation and yet a million miles away from modern day Croke Park.
That we laugh at the idea of a small community coming together to put on an event that provides them little or no personal benefit while we go to war with our neighbour perhaps best demonstrates how the essence has been lost. The comradery, the pride of place and the friendships that are Croke Park's foundations.
However, thankfully, it still bleeds strong elsewhere.
Again today we see another example of that Tour de Force. In Donal Óg Cusack's superb column for the Irish Examiner, he captures a romance than novelists can only dream of. That spirit and sense of community that breaths life into an organistation that sometimes loses sight of why it's alive in the first place.
And while we in Killinkere may never host the likes Garth Brooks we're perfectly happy with our lot; the raffles, the bonny baby contests, the fear an tí and the laughs. Maybe it's time for Croke Park and its residents to stop fighting and start pulling in the same direction.
I live my working week in Drumcondra and realise the hardship big gigs cause. It's essential that both parties work together on Croke Park events rather than be at loggerheads. That encompasses the inconsiderate way five concerts were organised without any prior discussion with residents on how it could work for both the organisers and the local community.