Whether or not he will head to Greece next week for the second leg of Bohs' Europa Conference League qualifier with PAOK, Philly McMahon isn't sure.
The Dublin footballer would not travel as a fan, but a member of the Bohs backroom staff. Earlier this year, McMahon was appointed as the performance coach for the Bohs first team.
McMahon was part of the travelling group for the European trips to Iceland to play Stjarnan, and to Luxembourg to face Dudelange. Both those games were played in the week after Dublin matches. The return leg against PAOK is different, it will be played just two days before Dublin face Mayo in the All-Ireland semi-final.
"I have to speak to Bohs, and I'll have to speak to Dessie (Farrell) as well," says McMahon.
"And obviously I'll have to speak to my wife Sarah, so she'll have a lot to say on that as well! Whether I can keep travelling away with Bohs.
"I don't have the answer for that because I'd have to sit down with the management and see if I missed a sessions or two, would that impact my chance of doing a job for the team."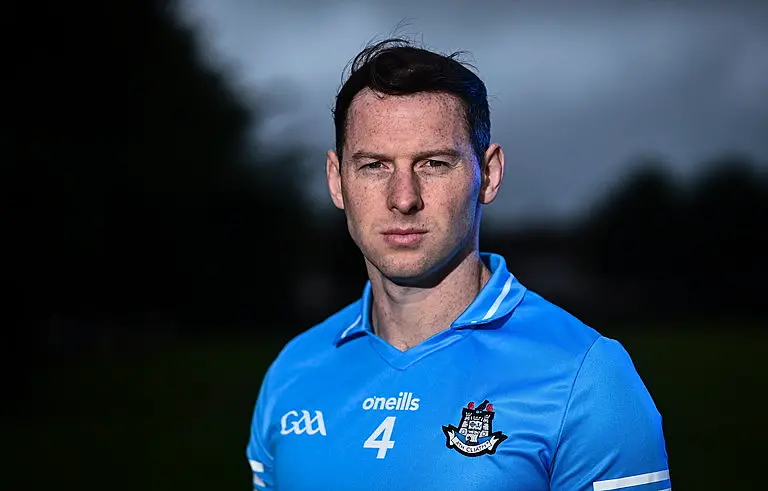 5 August 2021; Philly McMahon of Dublin during the GAA All-Ireland Senior Football Championship Launch at Charlestown in Dublin. Photo by David Fitzgerald/Sportsfile
McMahon says he hasn't "missed much training for Dublin because of the work with Bohs". Both teams are based in DCU. Once he's finished with Bohs for the day, he can walk around the corner for Dublin training.
Exactly what his role entails, McMahon is slow to divulge.
Philly McMahon on Bohs role
"It's to help the lads perform better," he says with a smile before a little more information is squeezed from him.
"I'm in there to try and give them whatever I can in terms of knowledge and experience and to try and get them from A to B in terms of performance.
"I've always been interested in coaching people. Obviously, starting off at the age of 17 or 18 coaching people in the gym industry, and then working with Mountjoy [Prison] and working with young athletes. I've always been interested in people and understanding how I can get the best out of people.
"I've done it from a very young age and again, I've done it in different parts of society which is great because there's a huge correlation, but then there's huge differences.
"So, for me to use those experiences in sport has helped massively in terms of helping groups in society.
"One of the reasons why I actually took the job with Bohs is because I knew I was going to learn from the players. I knew I was going to learn from the management. And every day, from young players, from old players, you're growing, you're learning, you're challenged.
"I suppose from a personal perspective, if I'm trying to help lads at Bohs improve their performances, that makes me more conscious of how I'm feeling or how I'm acting around the Dublin lads as well."