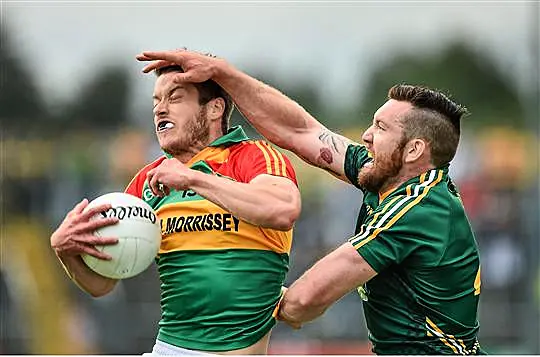 Meath decimated Carlow at Dr. Cullen Park on a scoreline of 7-13 to 0-06.
Late in the game, a streaker took to the pitch and according to The Irish Times, he did a pull-up using the crossbar of Carlow keeper Pat Coady's goal.
A little bit of good weather and people go nuts.
I wonder if he was dealt with as brutally as this streaker during the All Blacks and England game yesterday?
A streaker has just run the full length of pitch towards end of @Carlow_GAA v @MeathGAA #gaa #matchhighlight pic.twitter.com/ZEHK33MRJy

— Cóilín Duffy (@coilinduffy) June 15, 2014
Streaker runs length of pitch at Cullen Park. @MeathGAA 7-13 to 0-06 @Carlow_GAA pic.twitter.com/s8EwV2GdOw

— Rob Tobin (@rgctobin) June 15, 2014
I really do feel for the young lads standing behind the goal.
Streaker At Carlow Match Haha pic.twitter.com/YaRiduxsQ5

— CiaraHx (@CiaraHulton) June 15, 2014
Picture credit: Barry Cregg / SPORTSFILE