On Sunday afternoon, the iconic Dublin v Mayo rivalry will be reignited in the All-Ireland quarter-finals. The saga which began in the early 2010s will have another new chapter, so we've looked back on the series of matches which defined a decade of Gaelic football. This article was originally written by Conor McKenna in 2020.
Dublin and Mayo have met nine times in the Championship since Mayo beat Dublin in 2012 All-Ireland semi-final. Dublin have won six of those games, with two finishing in draws, with one Mayo win in their most recent clash.
From the results alone, you wouldn't think it, but this is the rivalry that defined Gaelic football in the last decade. The matchups have produced some excellent games, but Dublin have always found some way to come out on top, whether it's through the curse of the Gods, or through playing some excellent, attacking football. Given the points differential of the earlier games, Mayo were incredibly unfortunate to not win some of these games.
Ahead of this weekend's reunion, we've gone back through all of the Dublin v Mayo championship clashes of the past decade or so - not an arduous task - to rank them in order of entertainment value and quality.
READ HERE: GAA To Investigate Complaints About Crowd 'Mayhem' At Croke Park
Dublin v Mayo: Ranking a vintage modern rivalry
9. 2020 All-Ireland Final: Dublin 2-14 - 0-15 Mayo
On paper, this doesn't seem like too bad a game. But the winning margin flattered Mayo in the only winter final of the modern era. Dublin were perhaps at their most imperious in the COVID-affected 2020 championship, winning their Leinster championship games by an average of 18 points, and battered Ulster champions Cavan by 15 in the All-Ireland semi-final.
By contrast, five points in the final wouldn't have seemed too bad for Mayo. But, in a dark, cold, empty Croke Park, the 2020 final was a pretty miserable occasion - lifted only by the Dubs yet again making history in making it six-in-a-row.
Memorable moments
Dean Rock with a rapid goal
Dean Rock's goal after just 12 seconds of the 2020 final gave a pretty good representation of just how ruthless this Dublin team was.
It took less than 15 seconds for Dublin to score the first goal of the All-Ireland SFC final #DUBvMAYO

Follow updates right here: https://t.co/GgvUsjcTXn@RTE2 @RTEplayer #rtegaa pic.twitter.com/R5gjqPIXul

— The Sunday Game (@TheSundayGame) December 19, 2020
Half-time kerfuffle
Things got a little heated between both sides as the Dublin and Mayo players headed in for the HT break @RTE2 @RTEplayer #DUBvMAYO

Follow updates right here: https://t.co/GgvUsjcTXn #rtegaa pic.twitter.com/mNoIpnrbJH

— The Sunday Game (@TheSundayGame) December 19, 2020
It wouldn't be a clash between Dublin and Mayo without a bit of argie bargie, and the 2020 final was no different, as the teams scrapped going down the tunnel at half-time.
READ HERE: Ó Sé Says O'Donoghue Has 'Case To Answer For' After Nasty Sean Kelly Challenge
8. 2019 All-Ireland Semi-final: Dublin 3-14 - 1-10 Mayo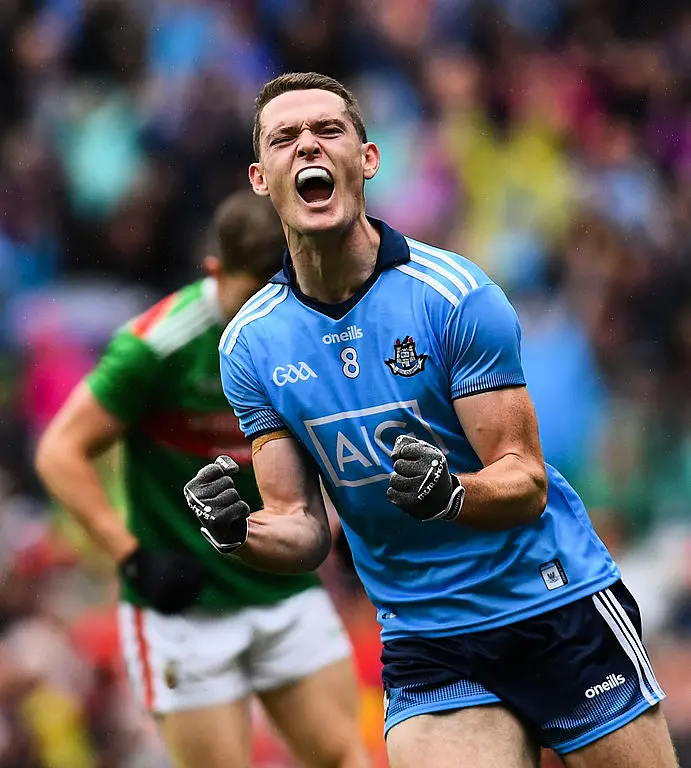 The most one-sided of the games between the two counties on the final scoreboard, but this was an epic tussle for 46 minutes. The 2019 All-Ireland semi-final really was a game of two halves. It's probably doing this game a disservice to have it so far down the list, although the second half was a real damp squib.
The first half was a thriller on the other hand and Mayo arguably should have been further in-front at the interval. Trailing by 0-8 to 0-6 at half-time, Dublin completely steam-rolled their opponents in the second half, with two Con O'Callaghan goals effectively ending the game as a contest by the 46th minute.
People thought this might be the end of Mayo - they would eventually reach the All-Ireland final in the following two seasons.
Memorable moments
Con O'Callaghan making mincemeat of Lee Keegan, twice:
Dublin trailed by two points at the interval. They led by 2-12 to 0-8 after 47 minutes. King Con's two goals brought the hammer down on Mayo as Dublin found another level.
Dublin destroyed the Mayo kick-out in that period, and killed the game.
The half-time anxiety:
The first half was absolutely savage stuff from Mayo. The Dubs were rattled. The five-in-a-row was hanging by a thread. And just as Mayo fans were starting to believe...
READ HERE: The Best Dublin Football XV Of The Past Fifty Years
7. 2013 All-Ireland Final: Dublin 2-12 - 1-14 Mayo
Not a classic All-Ireland final, but certainly not terrible either. Bernard Brogan delivered a talisman's performance for Dublin. The bookies could hardly separate the sides beforehand. For three successive years, Mayo had knocked out the reigning All-Ireland champions, but they could not get over the line on any occasion.
Memorable Moments
Bernard Brogan Magic:
Bernard Brogan scored 2-3 and won the All-Ireland for Dublin. Nothing more needs to be said.
Cynical football its worst:
James Horan did not hold back after the game, speaking about Dublin fouling, after Jim Gavin had been quoted as saying "not only were we playing Mayo but we were playing the referee as well".
Gavin had spoke before the game about a zero tolerance for cynicism in his squad and James Horan responded with "I know Jim made another interesting comment, that he'd walk away if his team were cynical so maybe that's another comment Jim should look at."
The final minutes of the game were marred by cynical Dublin tackling. However, Cillian O'Connor had a chance to go for goal in the 74th minute, having been told there was still time to win possession. He went for a point and Mayo lost.
6. 2016 All-Ireland Final: Dublin 2-9 - 0-15 Mayo
This game will be remembered for one reason - the day Mayo scored two own goals. Has that ever happened anywhere else in GAA history? A lot of people genuinely believed Mayo were cursed after this!
A Dublin player did not score for the first half hour, yet they were still two points up at halftime. And somehow, through it all, Mayo still fought back to secure an incredible draw.
Memorable Moments
Two own goals:
Kevin McLoughlin and Colm Boyle both scored own goals, which is unfortunately what this final will be remembered for.
O'Connor's late score:
Cillian O'Connor showed serious nerve to score from 40 metres in the 78th minute and force a replay. A truly great footballer.
Prematch schmozzzle:
None of this was ever seen on the TV, but John Casey's description of the 'skelping' before the match really set the tone, and it set the tone for the media chatter around the replay.
READ HERE: Derry POTM Credits Manager McErlain For Semi-Final Win Over Dublin
5. 2015 All-Ireland Semi-Final Replay: Dublin 3-15 - 1-14 Mayo
This All-Ireland semi-final replay ended the short-lived Holmes and Connelly reign over Mayo. Mayo lead by four points in the 53rd minute and ended up losing by seven. A brilliant defensive performance turned into an outright calamity.
Diarmuid Connolly's availability dominated the discussion right up until throw-in. This was a good, entertaining match that started Dublin on the road to five-in-a-row
Memorable Moments
Mayo's missed opportunity to go five clear:
Andy Moran had just found the net in the 43rd minute and Lee Keegan had a chance after that would have put Mayo five points up. He didn't take it and Dublin began to dominate.
4. 2015 All-Ireland Semi-Final: Dublin 2-12 - 1-15 Mayo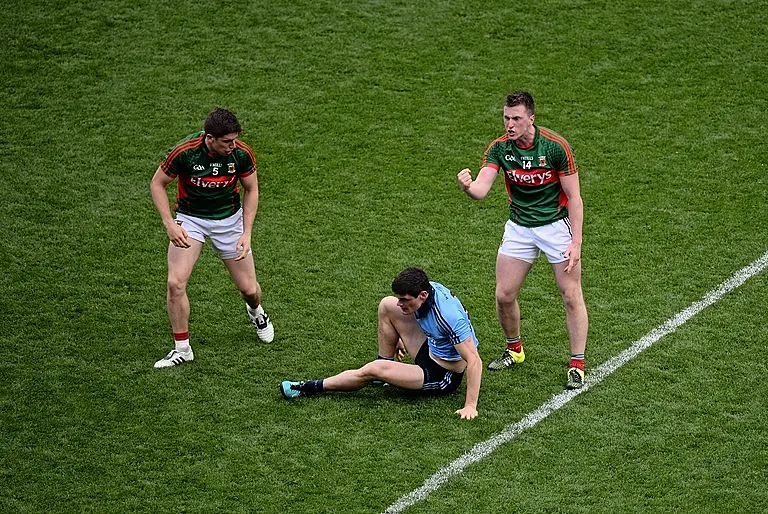 The drawn All-Ireland Semi-Final in 2015 was one of the most frenetic and chippiest games the two counties would ever play. The match was marred by indiscipline and cynicism, though Dublin seemed home and hosed, up seven points clear late on. Mayo did not give in, and from the 67th minute onwards, scored 1-4 without reply - a late Cillian O'Connor penalty forced a replay.
Memorable moments
Mayo's late rally:
Mayo are incredible competitors and rarely die without a fight. Trailing by 2-12 to 0-11, they forced a draw. Croker was rocking from a comeback that had everyone inside thinking about 2006
Connolly's red card:
Diarmuid Connolly was shown a straight red card in stoppage time. He seemed certain to miss replay, but was cleared at the last minute.
READ HERE: Pat Spillane Believes Two Counties Well Ahead Of Chasing Pack In Sam Maguire
3. 2021 All-Ireland semi-final: Mayo 0-17 - 0-14 Dublin
On the grittier side of the "all-time classic" debate, but this one was nothing but gripping from start to finish, and signalled the momentous end to Dublin's reign at the top of Gaelic football.
With a late fightback, Mayo managed to push the game to extra-time, and took a historic win in dramatic circumstances. It was Dublin's first loss in championship football in seven years, and Mayo's fans went wild in the lashings of Croke Park rain, as they finally beat Dublin in the championship for the first time since 2012.
Memorable moments
O'Connor keeps Mayo in it
With Mayo a point down and the clock ticking down rapidly, it looked like the Dubs would just about hold on. The heroics of Diarmuid O'Connor in chasing down a lost ball and keeping it in play led to...
Rob Hennelly coming in clutch
However this match finishes, so delighted for Rob Hennelly for making this on the second time around pic.twitter.com/q4uOmlnCiZ

— Balls.ie (@ballsdotie) August 14, 2021
One of the great points of the past few years, made all the more dramatic by the fact it had to be retaken. Rob Hennelly showed nerves of steel to level the game up and force extra time. Mayo would go on to win by three, booking their place in the final (which they would ultimately lose to Tyrone).
READ HERE: Mayo Man Singled Out For Praise By Lee Keegan After Dramatic Salthill Win
2. 2016 All-Ireland Final Replay: Dublin 1-15 - 1-14 Mayo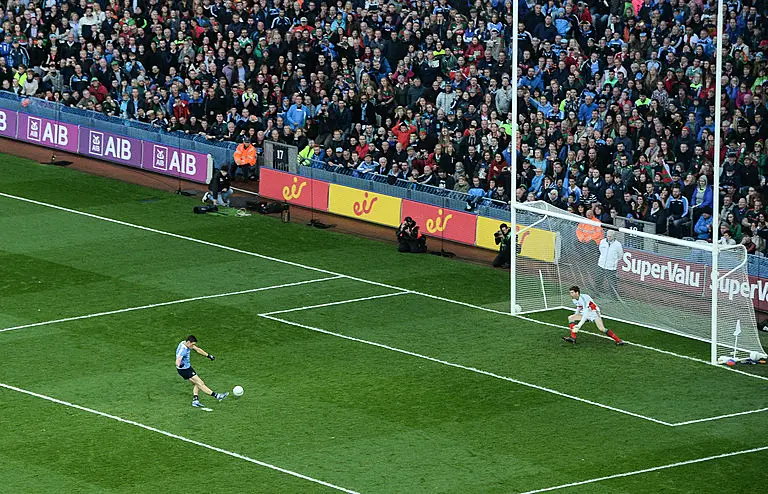 This All-Ireland final replay was even more dramatic than the drawn game. Stephen Rochford made a big decision in dropping goalkeeper David Clarke and bringing in Rob Hennelly for the game. It did not work out, as Hennelly struggled, and was shown a black card in the 41st minute. Diarmuid Connolly converted the subsequent penalty.
One point ended up being the final margin, as a late free from Cillian O'Connor went wide and Dublin won their second successive All-Ireland. O'Connor had scored nine other frees over the course of the game and had also scored the point the first day that forced a replay.
Memorable moments
Hennelly spills the ball
The screw-up that spawned some famous Joe Brolly columns.
Mayo's change of keeper has cost them about 1-3 and the black card of their best defender. Very tough situation for Hennelly to come into

— Conor Grubb (@OfficiallyGrubb) October 1, 2016
O'Connor's free goes inches wide
The height of Mayo agony, or so we thought.
READ HERE: Glenn Ryan Questions "Out Of His Depth" Ref After Kildare Championship Exit
1. 2017 All-Ireland Final: Dublin 1-17 - 1-16 Mayo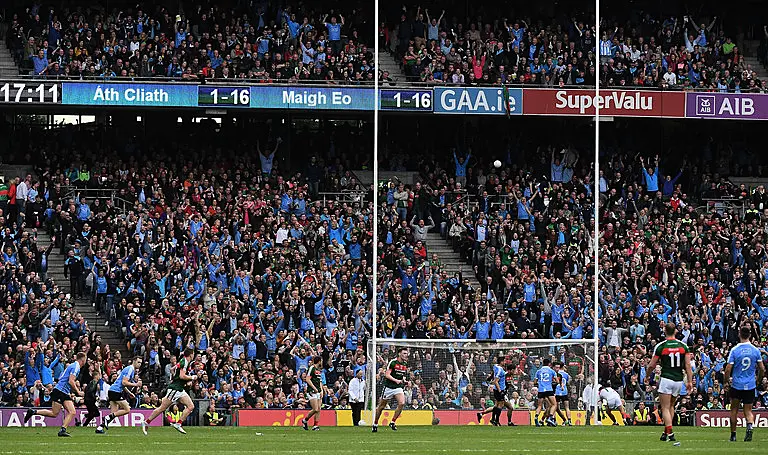 This was a thrilling game of football. It had everything from the first minute to the last, and was one of the greatest games ever played. Dublin were put to the pin of their collar and were very nearly caught out.
It looked like it could be a one-sided affair when Con O'Callaghan found the net for Dublin in the second minute, though Mayo had built up a one point lead by the interval.
John Small and Donal Vaughan were both dismissed in the second half and Lee Keegan's 54th minute goal put Mayo in the driving seat.
Dublin held their nerve in the final quarter however and a late free from Dean Rock saw them claim a third successive All-Ireland.
Memorable Moments
Satellite saga towards the end:
Dean Rock slotted a free to seal the three in a row, though there was controversy towards the end as Lee Keegan appeared to throw a GPS tracker in his direction as he struck the free.
Donie Vaughan's red card
Mayo seemed to be in control until Donal Vaughan was sent off on a straight red card for a late charge on John Small who had just taken out Colm Boyle. Small would walk for a second yellow, Vaughan received a needless red. It was a sliding doors moment for Mayo. Dublin kicked on and won the game.
It's no stretch to say that the Dublin v Mayo rivalry was the defining element of 2010s GAA, and the saga will now continue to stretch into the 2020s with the counties' third meeting in four years this decade.
Will we get another epic chapter in Croke Park on Sunday afternoon? Time will tell. Long may this epic rivalry continue.
The first version of this article was originally written in 2020.