Most of the Kerry panel won't step onto enemy territory until the weekend. For Sean O'Shea, it's different. Kerry's dead ball specialist centre-forward is doing a Masters in Education at UCC. He's already in Cork ahead of Sunday's Munster semi-final at Páirc Uí Chaoimh.
"There has been a bit of slagging in the corridors and the staffroom," says O'Shea, who is on placement at a school in Ballincollig, "but it's obviously do or die championship at this stage. It's going to be really ferocious. Cork are obviously going very well and they're going to bring a massive challenge to the game.
"From tradition, the Kerry and Cork rivalry has always been big and will always be massive, especially now that it's a knockout game. That might add a bit more to it.
"They put up a big score [against Louth], five goals, so it was very impressive. Obviously, they're unbeaten this year and we know from last year the challenge in the Munster final - it was nip and tuck right until the very end. We know the challenge they're going to bring."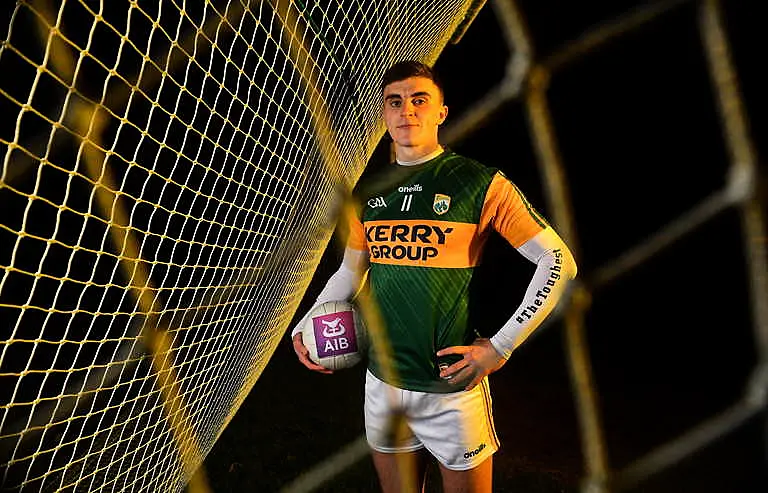 Pictured is Kenmare and Kerry footballer Seán O'Shea at AIB's launch of the All-Ireland Senior Football Championship. Photo by Brendan Moran/Sportsfile
This is the second placement O'Shea as been on as part of his masters.
"It's obviously very different to last year," he says.
Last year you'd be trying to get students interacting with each other. It's a lot more difficult to do this year. Even handouts are gone. Students are wearing masks as well. Everyone is sanitising and making sure that's the most important thing at the moment. It's been a change but it's still good to be out there.
O'Shea's home town of Kenmare - a major tourist destination - is quiet at the moment with the country locked down by Covid-19. The 22-year-old knows he's in a special position, still being allowed to play football.
"Sometimes you can forget this, and take it for granted, but we're very lucky and privileged to be able to go out on the weekend and do something we love, put on the Kerry jersey and represent our towns, our clubs, our families and the people of Kerry," he says.
"Hopefully, we can give them something to look forward to. Level 5 will be tough with the nights getting dark and people stuck at home.
"If we have match on the weekend, people will probably start on a Tuesday or Wednesday talking about it, ringing their friends and finding out about the game. After the game, they'll be talking about it until Tuesday or Wednesday and then looking to the game the next weekend."
Now in their sixth season sponsoring the football county championship and their 30th year sponsoring the club championships, AIB are proud to support some of #TheToughest games there are. In addition to the launch, AIB will soon be releasing their new TV Ad, a fast-paced and upbeat celebration of the 2020 GAA All-Ireland Senior Football Championship. For exclusive content and to see why AIB are backing Club and County, follow us on @AIB_GAA on Twitter, Instagram and Facebook.
Photo by Brendan Moran/Sportsfile