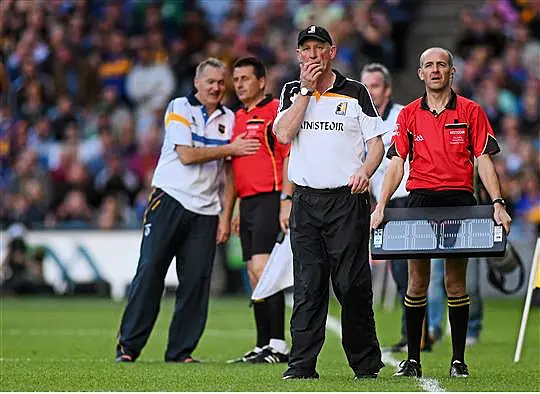 The CCCC now has the power to impose sideline bans on managers and selectors who make derogatory comments about referees in pre or post-match interviews.
The committee say the introduction of the measure has 'nothing to do with Brian Cody or his comments in the aftermath of the final replay.'
Cody described Barry Kelly's decision to award an injury time free to Tipperary as 'criminal' and said 'you don't hand a team a free puck and say 'lads there you go.''
Five years ago, Cody told Marty Morrissey that he never commented on referees and suggested frees given late in a game were no more significant than frees given early in the game.
The head of the CCCC, Fergal McGill said the removal of sideline priviliges was a more sutiable punishment (and probably more palatable and enforceable) than the previous eight week ban.
At the moment the only penalty available to team officials when they criticise referees is an eight-week suspension. That can be very uneven in so far as a team official could criticise a match official in June, be handed an eight-week suspension as a result and then miss the entire championship. We felt a games-based suspension would be more appropriate and that is what you have here. This penalty applies only to managers and their backroom team.
Pat McEnaney welcomed the change.
One would definitely hope this will reduce the week-in, week-out criticism of referees. One would particularly hope it would end the practice of managers making comments about referees and the opposition before matches, trying to influence referees, that under hand kind of stuff. Hopefully this new deterrent will cut all that out. Is it strong enough is the question. Only time will tell.
[Irish Examiner]
Formerly the GAA officials guide of 2012 had all the detail you needed, see here