Sligo stormed to the top of Group 2 in the Nicky Rackard Cup after an impressive 3-18 to 0-14 victory over Tyrone at Scarden with several stand-out performers shining.
Keith Raymond, who hit 2-5 against Louth in round one, followed it up with 0-8 on Saturday while at the other end of the field captain James Weir gave a superb showing.
Weir wasn't content with that, carrying on to play for his club St. Farnan's GAA as they secured the Benson Cup with a one-point win against Owenmore Gaels.
Captains @sligogaa hurlers to an 11-point defeat of Tyrone in the championship, making 3 vital blocks on the line to deny certain goals.
Then plays the full game for the @StFarnansGAA footballers as they beat Owenmore Gaels by a point to win the Benson Cup.
Some man, James Weir. pic.twitter.com/GITYVJ76Fv

— Darragh Cox (@Darraghcox) May 18, 2019
The hurling throw-in was at 1pm, with the Gaelic football kicking off at 7pm at the same venue.
Weir is one of several encouraging prospects from a youthful Easkey/Farnans emergence. Sligo club hurling has enjoyed a welcomed resurgence in recent years, kicking on from five to seven senior clubs. At inter-county level they had reaped dividends, securing the 2018 Lory Meagher Cup in a classic shout-out against Lancashire in Croke Park.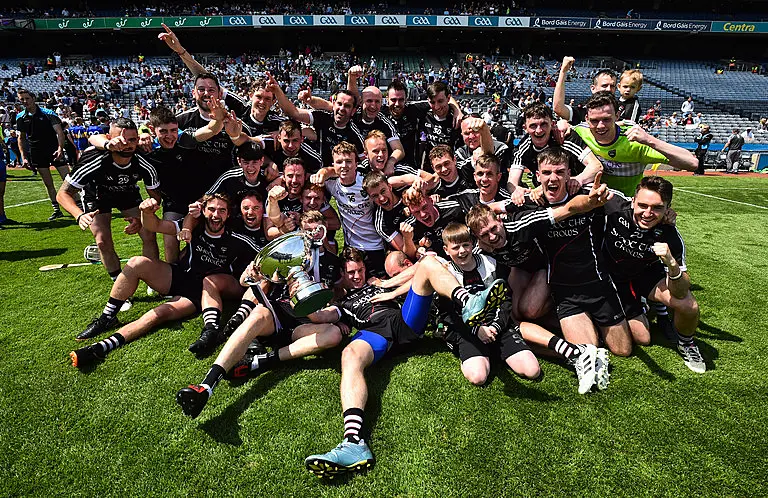 A well-constructed management team incorporating both natives and outside experts overseeing it all has only added to their progress. Galway native Colum O'Meara came on board last year while former Sligo player Mark Burke is involved in a coaching capacity. Another former Yeats County representative, Darragh Cox, is working as a hurling GPO in the county.
"In Sligo, it is a battle to keep the game alive, and to constantly push for funding in terms of the senior team, and the younger teams coming through," explained Raymond in an interview with Balls.ie last year. But the working being done and those progressing through the underage ranks gave cause for enthusiasm: "I'm very excited for the next three or four years of hurling in Sligo."
They're now undefeated in the Nicky Rackard after finishing top of Division 3B earlier this year.
Sligo rising.