The entries are still flying in for The Toughest Season picture book and, we have to say, we've been completely blown away by the response. It's not just the visual quality of the photographs we've received that has been brilliant but the sheer variety of different types of pictures really does show how much Gaelic Games means to local communities, not just in Ireland but all around the world as well.
If this is your first time hearing about The Toughest Season, it is a unique picture book that is currently being created by AIB and the GAA's official photographers, Sportsfile. They are seeking to document an unprecedented 2020 GAA season and they want GAA communities to get involved as well.
The book will be a mixture of photos from Sportsfile and those sent in by GAA fans, and will reflect how much Gaelic Games means to all us. Of all the photos chosen to be part of the book, one winning entry will also receive a €1,000 voucher or their club.
You can enter your photo in the form at the bottom of this article or by posting it to social media and using the hashtag #TheToughest.
Last week, we gave you a glimpse at some of the great images we've gotten in so far but for this week's round-up we thought we'd shine a light on one particular theme that has been shining through in many of our entries – the uniqueness of this 2020 season.
All of the images we showcase below highlight different ways in which this year has impacted GAA communities, whether it be on the field or off it. If you've already entered but your photo is not included, don't worry, these just a small selection that typify the variety of entries we've received.
Making the most of your surroundings
When pitches were closed and families had to stay close to home, it didn't stop players honing their skills and striving to improve. This image was sent to us by Lisa McMahon, from Kilkee-Bealaha Hurling and Camogie Club in Co Clare. They live near a beach, and, during the lockdown, her little girls would head there to practise their camogie.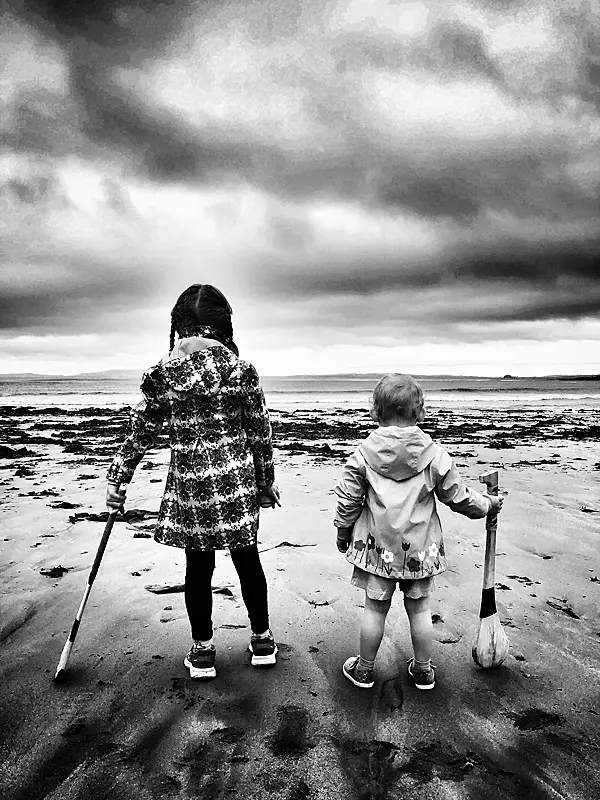 Meanwhile, down the road in St Brendans GAA club, Co Galway, they kept their underage players on their toes with a weekly juvenile skills challenge at home. Declan Kelly sent us in this great photo.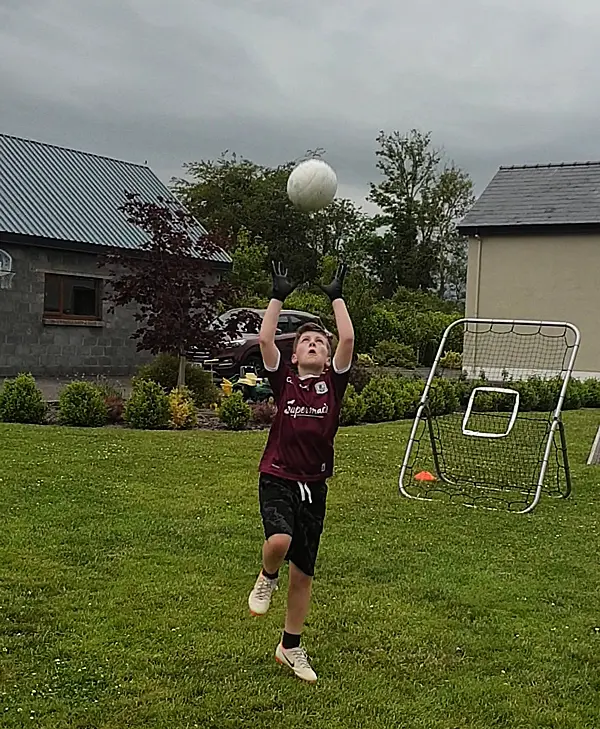 Helping out those in need
We've been sent lots of great photos from so many different clubs highlighting how they came together in the hardest of times to help out those most in need in their community.
For instance, Gerry Loughney sent us a photo of his club handing over a cheque to ChefAid, as part of the money they raised for a number of local charities through their "2km a Day Along the Wild Atlantic Way" initiative.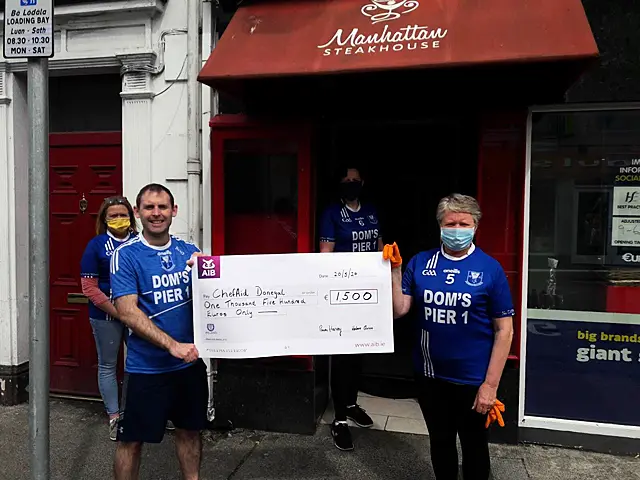 The St Molaise Gaels ladies club in Co Sligo ran 1,280km around the roads of North Sligo, the equivalent of distance of the length of Ireland. Their "Malin to Mizen" fundraiser raised over €10,000 for the Oncology Unit in Sligo University Hospital. This photo was sent into us by Thomas Kilfeather.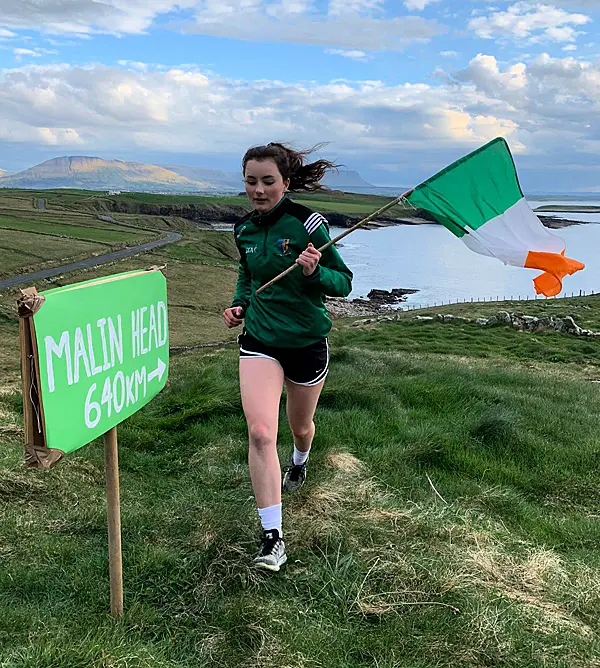 Meanwhile, across the water in Birmingham, John Mitchels GAC raised money and carried out a food donation for the vulnerable Irish living in England during the lockdown. Thanks to Breen Sharkey for sending us in this photo.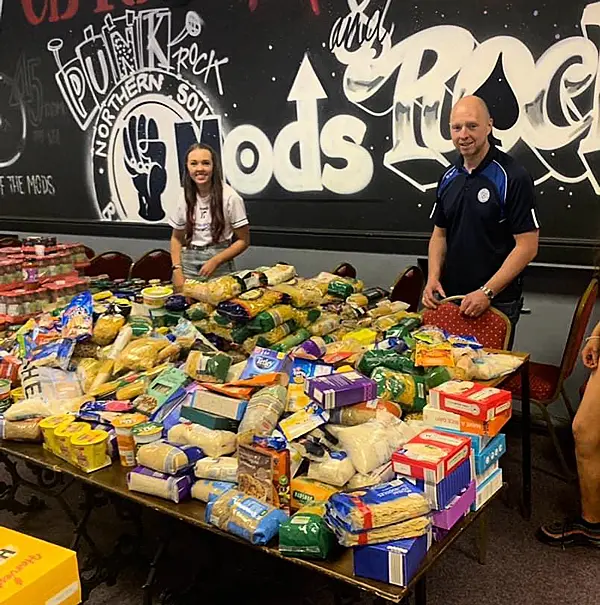 We really liked this entry from Gavin Coyle, of Curraha GAA club in Co Meath. Throughout May, the club ran weekly competitions to keep spirits high and one of those was the Curraha Baking Competition. As part of it, two local girls decided to bake a cake for the oldest member of the parish, Christy Lynch. 97 year-old Christy played for the club between 1935 and 1942.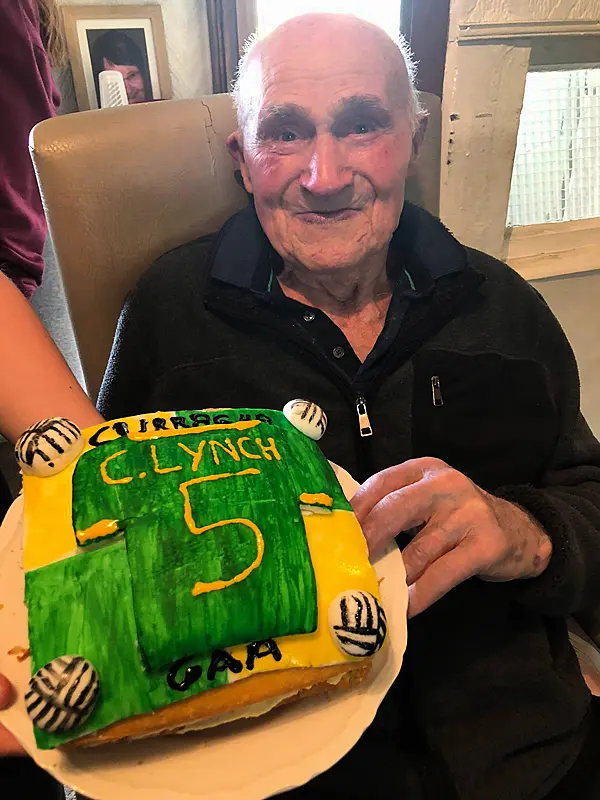 Those on the frontline
Roisin Cully's entry is the true definition of "A picture paints a thousand words." These are some of the staff who have been working tirelessly in Our Lady's Hospital, Navan. Here, they are photographed in scrubs representing their native county colours.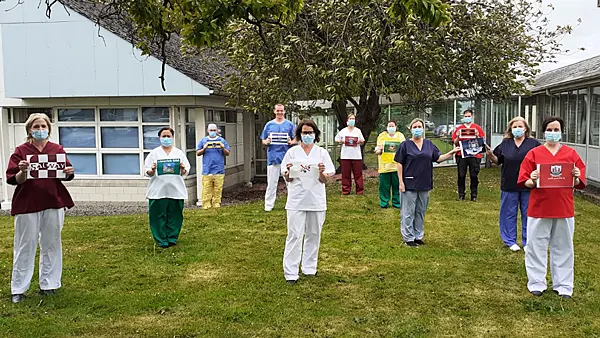 We're back!
It was a patient wait but eventually pitches re-opened, training resumed and players were back out doing what they loved again. Of course, there was still a lot of effort required to keep everyone safe. Here's Holly Reilly, of the Boardsmill U11 camogie team in Co Meath, helping her dad and coach, Paul, sanitise all the training gear ahead of their next session.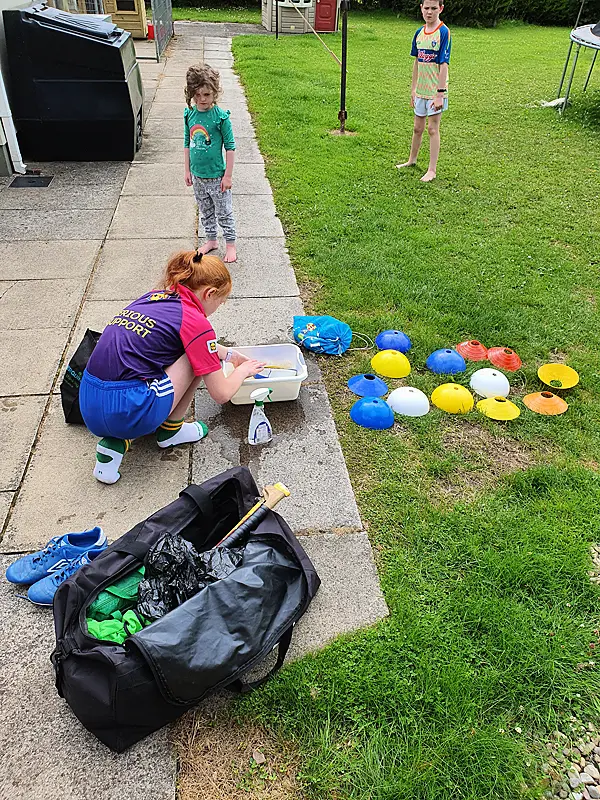 No studio, no problem
This year we relied on commentators and those working on live broadcasts more than ever to keep us informed and entertained. This brilliant photo was sent into us by Seamus McQuillan of Latton, Co Monaghan. There's well-known Northern Sound FM sports commentator, Sean McCaffery, working away at Latton v Carrickmacross in the Monaghan Senior Football Championship.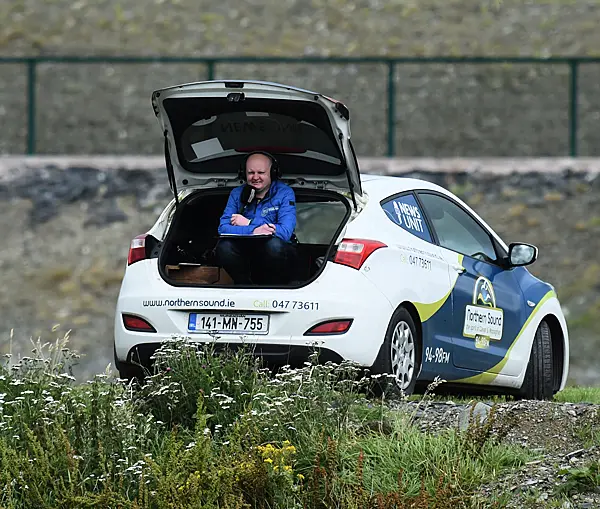 Oh brother, where art thou?
Karl Mallon sent us in this lovely moment after Dungannon won their first Tyrone Senior Football Championship since 1956. Pictured is Lorcan Mallon, busy FaceTiming his brother, Adam, who now lives in Boston. Adam had been a senior player for the club before emigrating and in normal times he would have flown home to cheer them on in the final.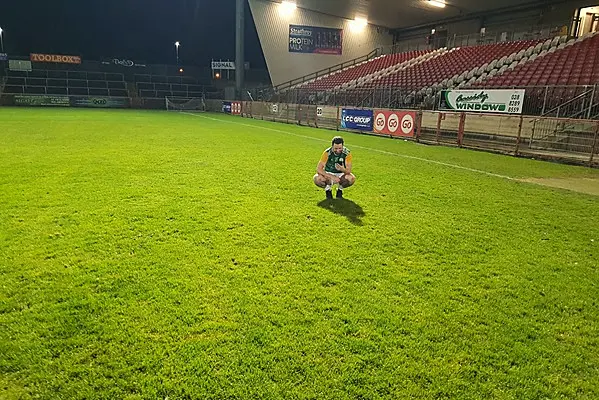 At the end of November, a special edition photo book will be published, combining the best of pictures submitted by the public with some of those taken by Sportsfile, between January and 23 October. The proceeds of the book will go to AIB Together's partner charities, Pieta House, Food Cloud, Soar, Alone and Age NI & Age UK.
How to Enter
As mentioned, you can enter on social media by using the hashtag #TheToughest. Give us a shout at @ballsdotie when you do. You can also enter through the form below. Best of luck!
Terms and Conditions
See terms and conditions here