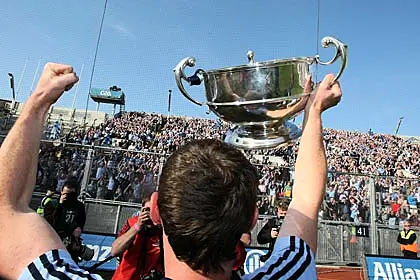 BEGINS:
Dublin, June 29th, 2011: The Dublin Hurling Team will be guests of honour at a special reception hosted by team sponsors, Dandelion Bar, after their Leinster GAA Hurling Senior Championship final against Kilkenny on Sunday, July 3rd. The reception will be held at Dandelion Bar's St. Stephen's Green venue and the public is invited to celebrate with the team.
"The Dublin Hurling team are delighted to be associated with another Dublin institution, Dandelion Bar," said Anthony Daly, manager of the Dublin Hurling Team. "The bar and its patrons have supported the team throughout the entire season and we are looking forward to celebrating what hopefully will be a great occasion for us on Sunday."
The Dandelion Bar are the proud sponsors of the Dublin Hurling Team and the official bar of the team. Dandelion Bar is a unique bar, eatery and nightclub which has created its home in the heart of Dublin's city centre. Its award winning nightclub opens every weekend and plays host to top DJ's and performers from around the world. With a first class lighting and sound system, Dandelion Club has been compared to top nightclubs across the world from Ibiza to Miami.
Event timeline for Sunday July 3rd:
* 7:30 p.m. - The team arrive at Dandelion Bar.

* 8:15 p.m. - Team photo scheduled inside Dandelion Bar.
ENDS
Dandelion have already apologised for sending out the press release early. While the PR does not state that Dublin will be having a victory party at Dandelion, there seems to be something presumptuous about planning post-match celebrations. Daly, although quoted in the PR, has distanced himself from the press release.
"I wouldn't have had any involvement in it and it's not something the players would be overly-concerned about either."