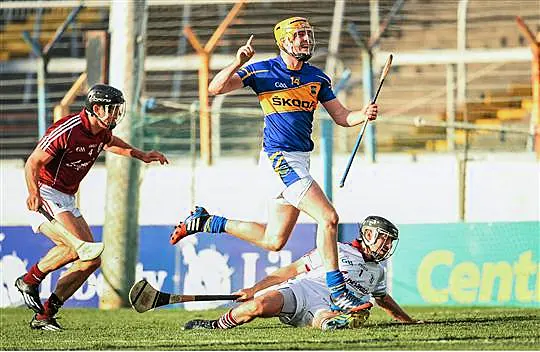 COULD YE NOT WAIT ANOTHER FUCKIN' MINUTE?
When Seamus Callanan banged home his third goal to seal victory for Tipperary as Saturday's qualifier entered injury time, a large number of Galway supporters, including one very recent inter-county hurler from the Conor Hayes/Ger Loughnane era, immediately got up and headed for the exits.
As the traffic beaters were streaming out, they blocked out the view of the Galway supporters who decided to see out the final few minutes. Frustration was rising. There was a palpable sense of anger among the Galway supporters who remained towards those who were leaving.
The game was gone from Galway at that stage. There was no question of there being a happy ending here. Those who hung on until the final whistle did so out of an earnest sense of duty.
However, with the stairwell now clogged up with traffic beaters, they had to crane their necks and, in some cases, stand up to see Galway try and mount one last, hopeless attack.
'EITHER SIT DOWN OR FUCK OFF OUT THE PLACE?' shouted one man. Others chimed in with cries of 'SIT THE FUCK DOWN, WILL YE? and 'ARE YE THAT FUCKIN' DESPERATE TO GET OUT TO YOUR CARS, ARE YE?'
It was all too much for one man who looked to be in late 40s-early 50s.
'COULD YE NOT WAIT ANOTHER FUCKIN' MINUTE?' he roared.
He got to his feet and started eye-balling some of the people leaving. For a second, it looked as if he was squaring up to his fellow supporters. The woman sitting beside him (presumably his wife) grabbed his arm and made him sit down.
The ancient sport of traffic beating has a long, controversial history in the GAA. One could even say it is one of the dark arts of Gaelic football and hurling. One that belongs up there with jersey pulling and grabbing a defender's arm in the cynicism stakes. Perhaps something for Eugene McGee to be asked to sit down and take a look at.
As consolation prizes go it has always seemed rather pathetic but some supporters seem derive a mystifying degree of solace from beating the traffic.
It is a curious attitude. After all, one sure-fire way to demolish the traffic altogether is to stay at home and watch the game on television. The traffic doesn't stand a chance if you decide on that course of action.
But then, the traffic isn't really the issue here. Leaving early can often be a sulky form of protest. At an Ireland-Cyprus match in 2007 (Steve Staunton's last game as manager), one supporter theatrically and smilingly announced to the stewards as he was leaving that 'I've been going to Ireland matches for 30 years and this is the first time I've left early.' He had a good old chortle with the stewards as he slipped down the exit. And that was before Cyprus went 1-0 up.
Those who decided to stay on on Saturday were treated to Tipperary tagging on two more points to the delight of their jubilant, yahooing supporters. Is there a more awful sound in sport than that of another team's supporters gleefully and raucously cheering every score once they know a game is won?
And maybe that's the real issue here. People can't bring themselves to stay around for that.
Traffic tends to be much more bearable after victory.
[polldaddy poll="8168159"]