What is it about motorsport and controversial endings in recent years? The world finals of Gran Turismo's flagship series was held over the weekend with competitors flying to Monaco to compete for the coveted trophy. However, the spectacle that the organisers wanted to create definitely wasn't the one that transpired.
Firstly, team Mazda lost out on a chance at the manufacturers title after apparent rig issues plagued them.
For those wondering what happened to Mazda at @thegranturismo World finals, the TV (which was the same rig that had issues for other drivers earlier in the weekend) went on auto standby in the middle of the race. I can't make this shit up folks. Win potential was there.

— Andrew Brooks (@Deafsun13) November 26, 2022

?
Apparently this simulator was known to be causing issues where the monitor would randomly turn off during a race, which should never happen, especially when everyone should be on a level playing field.
But this was overshadowed by the incredibly controversial ending to the series, where the title came down to the final lap between three drivers; Lopez, Inostroza, and Miyazono. Lopez held the lead going into the final sector of the lap. Inostroza tried a move for the lead around the outside of a right hander, which didn't pay off, forcing him to slot behind Miyazono. Disaster would strike for the Japanese driver as they went three wide out of a tight left hander which resulted in contact and Miyazono spinning out of contention.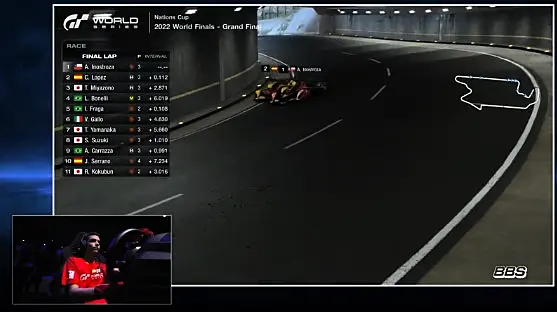 Inostroza capitalised and took the lead. It seemed all over until Lopez lunged down the inside of Inostroza in the final corner, making contact, which forced Inostroza wide. Lopez went through to win and secure the championship.
The deciding move
The incident went to a stewards enquiry, but Lopez was deemed to not be at fault for the incident and was awarded the championship. The decision has prompted debate on social media around the standards of the racing in the series and the stewarding, with one side stating that Lopez is at fault, and the other that it's not Lopez's fault and the stewards decision simply shows the standard of racing to be expected. What do you think? Was it a fair move? Check out the full last lap below and make your own judgement.
After investigation, we have a result:@coquelopez14 is your 2022 Nations Cup Winner!#GT7 #GTWorldSeries pic.twitter.com/Zai3AZ39OP

— Gran Turismo (@thegranturismo) November 27, 2022