With the release of the game only a few months away, we here at Balls have been given some early access to the beta version to test out some of the new features in the title. Here's our FIFA 22 review.
EA Sports have made made a big deal out of some of the changes tho this year's title, with their 'HyperMotion' engine intended to unlock the full power of the PS5 and Xbox X Series.
Does it manage to do so? Here are our thoughts on FIFA 22 so far.
FIFA 22 Gameplay Review
The big addition to this year's title is 'HyperMotion', which EA Sports claims:
HyperMotion integrates advanced full-team motion capture data and machine learning to heighten gameplay in every match in FIFA 22, harnessing the power of next generation consoles to deliver the most realistic, responsive and fluid gameplay experience we've ever built.
So what exactly is HyperMotion? Well, there are a number of different aspects to it.
EA Sports have used advanced motion capture technology to help mimic the movements of real life XI v XI matches. This works all the way down from moving as a team, to micro duels around the pitch as players battle for possession.
Other aspects of the technology includes increased intelligence in relation to how the footballers move in relation to other players on the pitch, as well as things such as aerial battles, their first touch and general ball control, as well as player reactions to refereeing decisions and other incidents.
Outside of HyperMotion, there have also been changes to the behaviour of goalkeepers, in-game ball physics, and the addition of 'explosive sprint'.
The real question is, does this make any of this actually make any difference to the gameplay itself?
In short, yes it does.
Once you load up FIFA 22 on next-gen consoles and enter kick-off mode, the first thing you will notice is the stunning visuals.
Be it the added animations of players entering the stadium, the supporters in the stands, or the pre-game festivities, it looks fantastic. That should come as no surprise, with this the first title in the franchise truly designed for PS5 and Xbox Series X.
Once the game kicks off, there are a couple of things you will notice right away.
The added vibration capabilities of the DualSense controller make for a much more immersive experience. Every touch of the ball, player duel, or tackle is now felt in the controller via micro vibrations. This also comes into play after scoring a goal, with the strong vibration of the controller adding to the sense of this being a big moment in a game.
You will also notice how big names managers such as Jurgen Klopp and Pep Guardiola will come onto the pitch to celebrate with the players post-game, displaying the same mannerisms we are used to seeing from them after a big win in real life.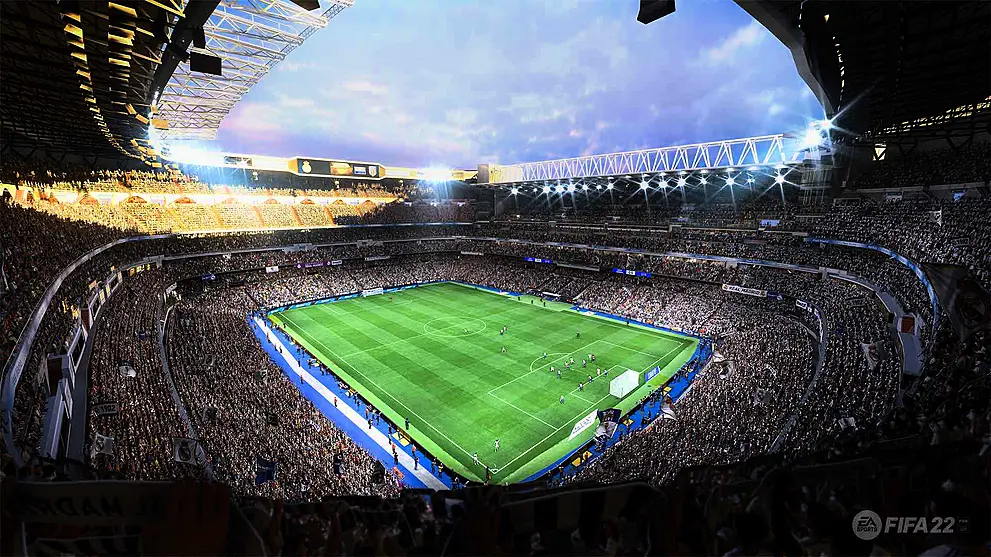 As for the gameplay itself, there are some telling difference.
'Explosive sprint' will be one of the defining aspects of FIFA 22.
Whereas in previous titles players would gradually build up speed after you pressed the sprint button, the players in FIFA 22 will burst out of the traps right away in order to more closely replicate the real life nature of top level football.
The result is that your players feel a lot more explosive, especially those with his acceleration and sprint speed stats.
Good luck stopping the likes of Sadio Mane or Kylian Mbappe if they get a run on your defenders.
Honoured to welcome back @KMbappe

The #FIFA22 cover star 🌟

Stay tuned for the game-changing reveal on July 11th 👉 https://t.co/oT0kH2cJ7b pic.twitter.com/w1NABM6Fjj

— EA SPORTS FIFA (@EASPORTSFIFA) July 9, 2021
Another noticeable change comes in the first touch of players. The more realistic animations as part of HyperMotion means that players will no longer take their touch in a seamless animation, something that often looked glitchy in earlier releases.
They will adjust their feet and body position when the ball approaches and as a result will have a slightly less reliable first touch. This can make it more difficult to turn opposition defenders.
It also has an impact on things such as one-twos, with players now finding it more difficult to given and receive the ball at speed.
The defending team is now also better equipped to halt your attacks. The entire XI moves as a unit, shifting across the field to close down the space. This makes it tougher to find gaps in the defence, although the explosive sprint can help in getting in behind.
All of this combined makes for what feels like a far more realistic footballing experience.
Summary
In all, there are some noticeable differences in FIFA 22 in comparison to its predecessor.
The added vibration capabilities on next-gen controllers make for a more immersive experience, while there has also been an upgrade in the graphics.
In terms of gameplay, the HyperMotion engine does result in a more realistic game.
The players are more explosive, more intelligent, but also less capable of pulling off some of the more unrealistic things that often annoyed gamers in the past.
We're looking forward to seeing what the final version of FIFA 22 brings when it released on October 1st.
Keep an eye on Balls for further FIFA 22 updates on areas such as Ultimate Team, Career Mode, and Pro Clubs over the coming weeks.