With a significant number of senior players expected to announce their retirement from international football following Ireland's playoff defeat to Denmark, there have been a lot of questions asked regarding the production line of young talent coming through.
Martin O'Neill's squad could look very different by the end of the Euro 2020 campaign as a number of young players will be given a chance to prove their worth in international football.
We may not be able to predict the future of the Irish squad according to Martin O'Neill, but what we can do is have a look at who the scouts at one of the most detailed video games ever made believe is the next wave of Irish talent capable of playing at the highest level.
As Football Manager 2018 was released earlier this month, we jumped on the game and started up a save with Ireland to check out the scouting of the national player pool, and here are 10 top young talents you should sign in your game if you want to inject a bit of Irishness into your club.
#10 - Ryan Nolan - CB - Inter Milan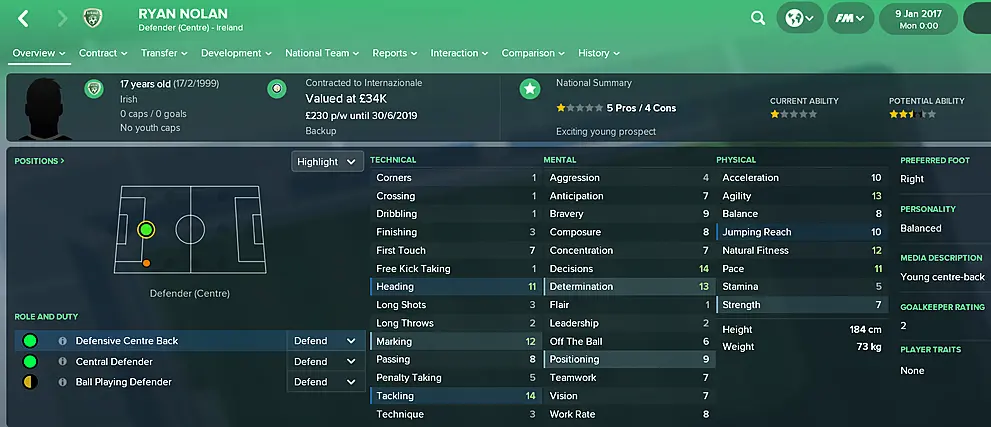 Did you know we had a young Irishman at Inter Milan's Primavera? Nolan made the move over in 2015 and has been progressing well by all accounts as he learns the art of defending in Italy. In FM18, the 17-year-old will need time, but develops into a fine Premier League centre-back.
#9 - Aaron Bolger - CM - Shamrock Rovers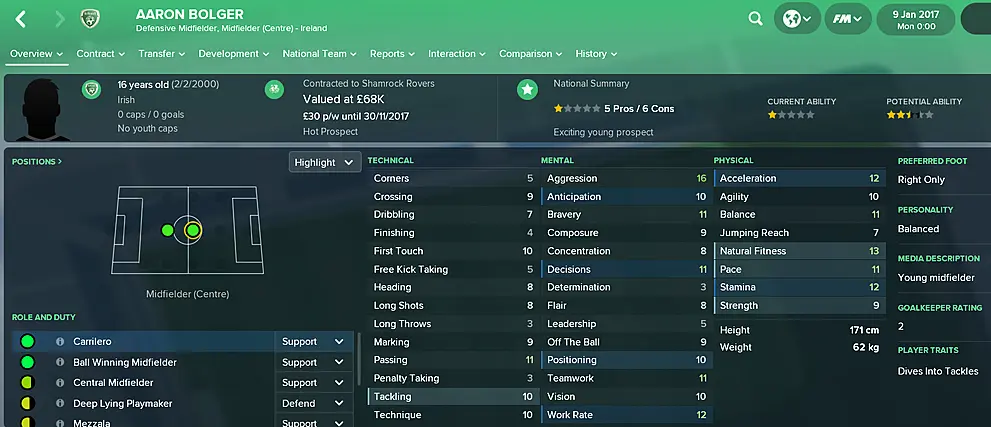 The only League of Ireland player on this list, Bolger is a must sign for lower league clubs as if you are patient you will have a gem on your hands and someone capable of playing international football. At just 16, he can already make an impact in League Two if you're starting at the bottom of the English football league.
#8 - Jack Byrne - CM - Oldham (on loan from Wigan)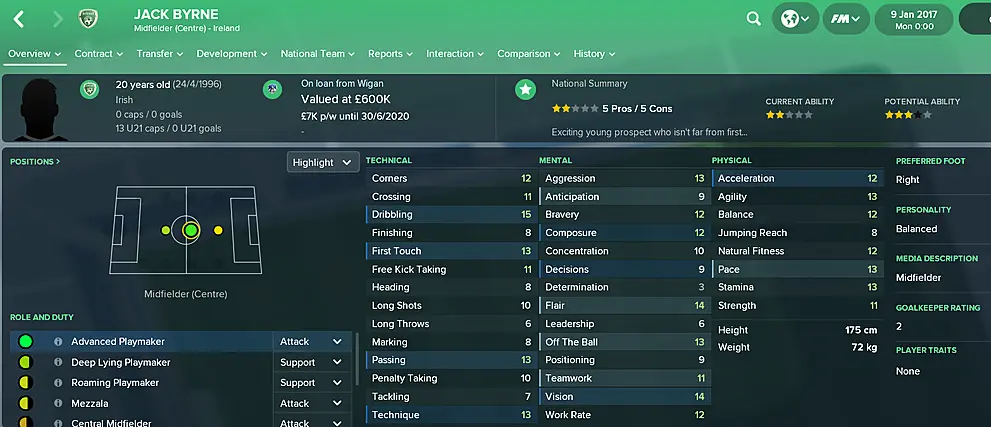 One of the better-known players on this list, despite a tough time at Wigan and Blackburn, Byrne keeps his high potential for the new game. He's been playing really well for Oldham and will be a star at that level as he continues his development.
#7 - Conor Shaughnessy - CM/CB - Leeds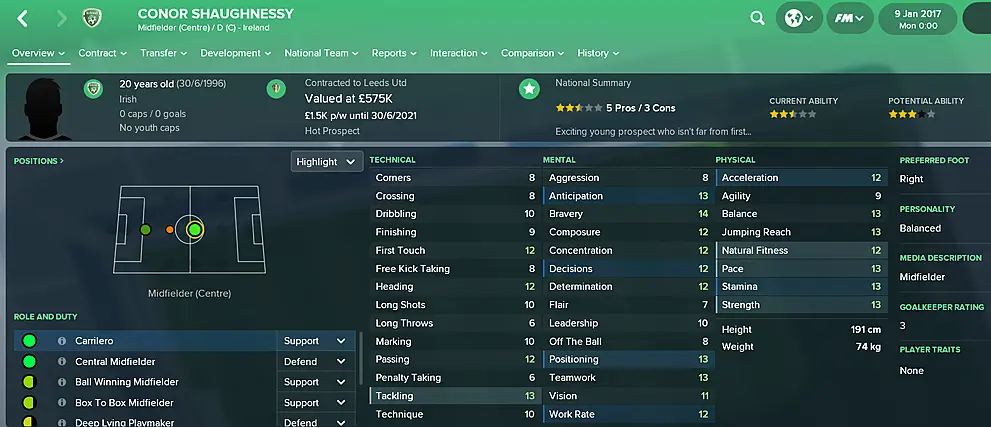 Having made waves during Leeds United's impressive start to the season, the Galway man is one of the better signings on this list that you can make if you need an immediate impact. His stats are well balanced and they'll only get better which makes the versatile Shaughnessy a serious option.
#6 - Glen McAuley - ST - Liverpool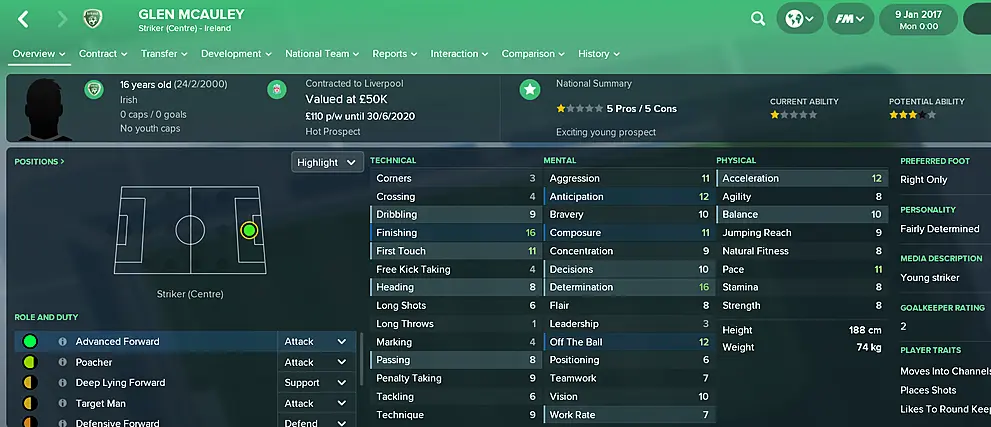 It is very, very rare for an Irish player in Football Manager to be blessed with 16 finishing, so for McAuley to have it at just 16-years-of age suggests we should be seriously excited about the Liverpool man. If you're taking over as Ireland boss, this guy is your future striker so long as he finds some playing time at club level.
#5 - Ryan Manning - CM/ST/LM - QPR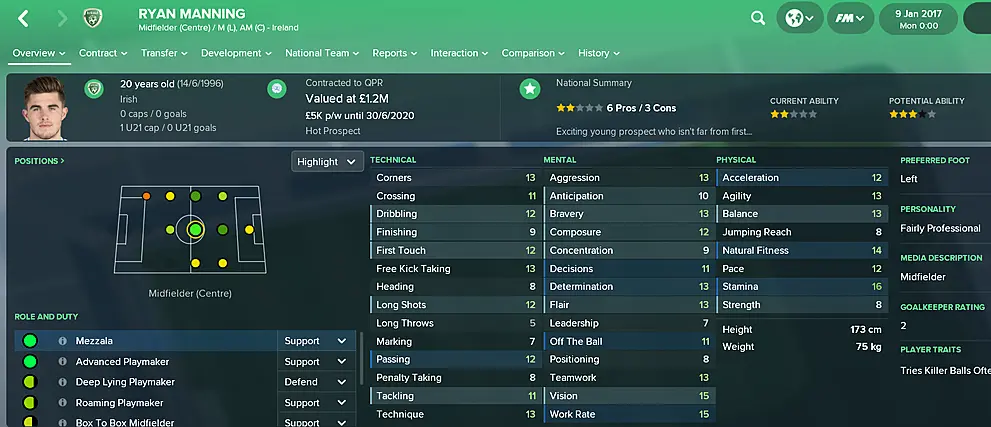 A standout for the U21s, Manning is the player we will likely see in the real Ireland senior squad soonest of those on this list. Another who offers great versatility, he grows into an important player for Ireland.
#4 - Aaron Connolly - ST - Brighton & Hove Albion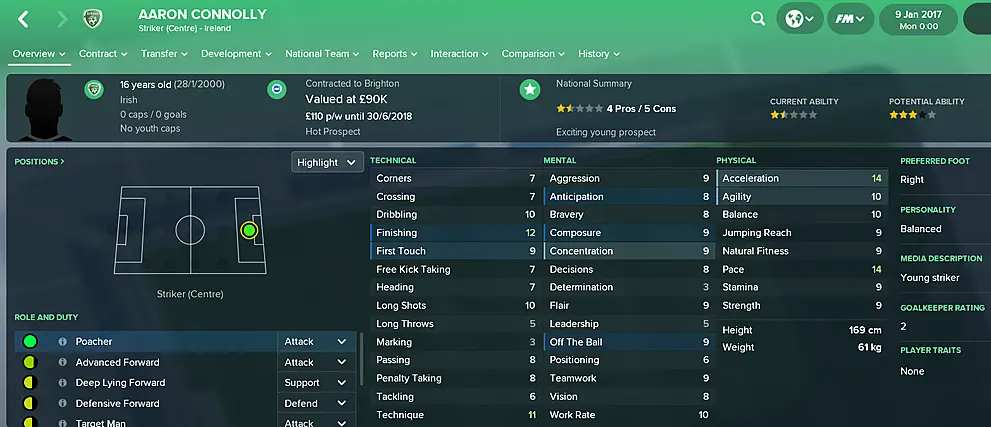 One for the future, the young attacker man is highly rated by those at Brighton & Hove Albion and is someone to keep a close eye on both in real life and if you take over as Ireland boss on the game.
#3 - Tommy Hoban - CB/LB - Watford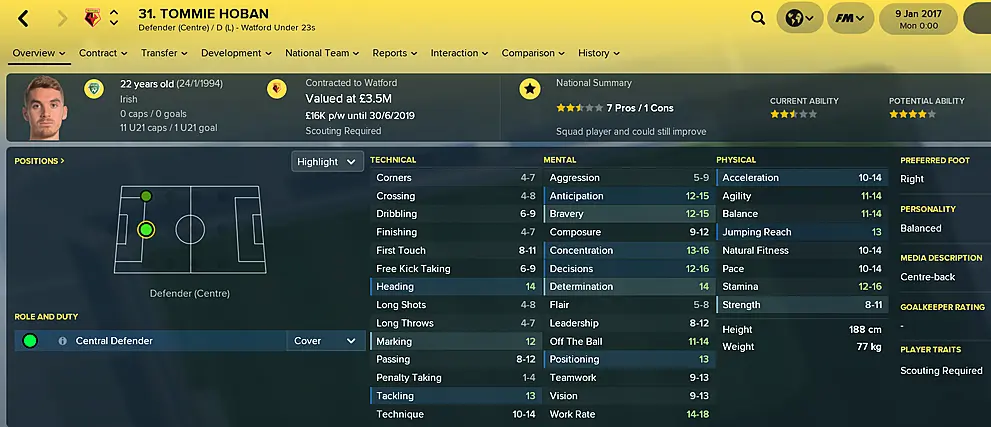 Hoban is ready to come straight into an Irish squad on the game as backup for Clark and Duffy and has the potenital to be better than both with solid stats across the board and the added bonus of being able to cover at full-back.
#2 - Liam Kelly - CDM/CM - Reading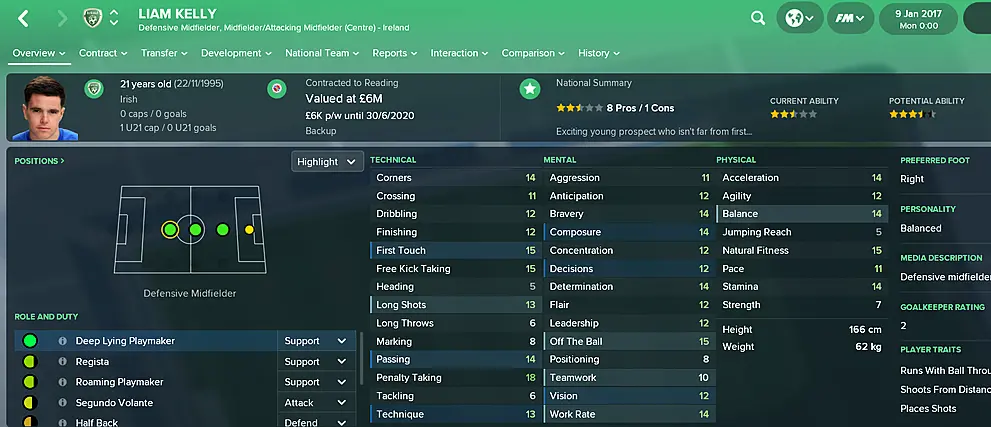 Another ready to be drafted into the Ireland squad right away, and someone we will surely see pull on an Ireland jersey soon, is Liam Kelly. The Reading man is the most expensive player on this list as he not only has great potential but is a useful player at Premier League level on the game already.
#1 - Lee O'Connor - CB/RB/CDM - Man Utd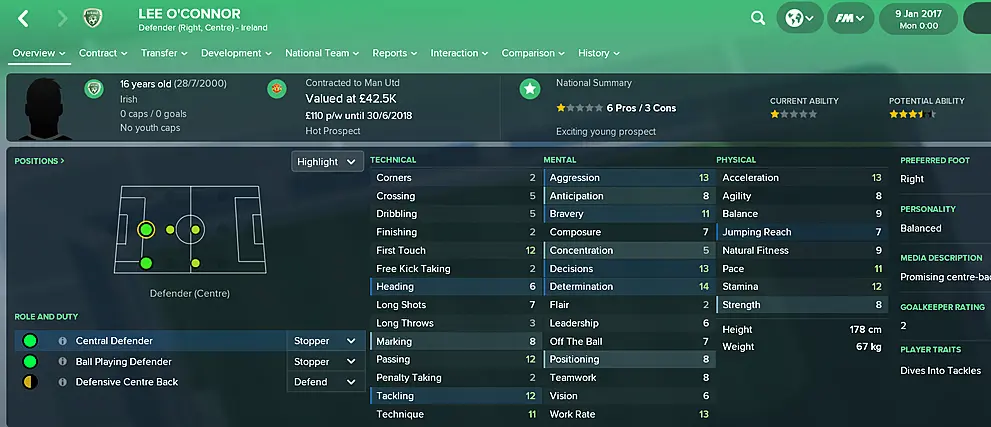 At just 16, the Waterford man is the hottest prospect in the Ireland setup as clearly the FM scouts have been listening to the glowing reports coming out of the Manchester United youth academy. A future Ireland captain on the game, O'Connor is someone you won't be able to avoid if managing Ireland and a real chance at a bargain if you're in charge of a club.
So there you have it, 10 exciting Irish youngsters to help you ring Ireland to a World Cup, or to help you bring your club up through the divsions. Feel free to get in touch with your Football Manager stories if you spot any wonderkids of your own.