Assassin's Creed Origins feels like a soft reboot for the series. While it very much plays out like previous titles, some sharp edges have been rounded off and seems to have made a lot of strides to evolve alongside other open world titles that we have seen this year.
Mostly this applies to the openworld of Egypt which feels like the series' most expansive playground. Despite a few windowed interiors it's easy to cross deserts, swamps, farmyards, high seas, the cities and ruins without even meeting a loading screen.
This makes it far more likely to randomly wander upon both side and story missions without heavily relying on navigation markers. This is the first Assassin's Creed to have completely done away with the mini-map. In its place is a combination of two mechanics, a Skyrim/Fallout style compass and Senior, your pet eagle.
Instead of being inundated with hundreds of little markers on your minimap, as previous titles tended to do, you can now navigate to an area of interest like a military base using the compass and then, using Senu take to the skies for a bird's eye view. From here you can mark enemy locations and find prisoners, loot stashed and optimum entry points before infiltrating on foot as the main character, Bayek.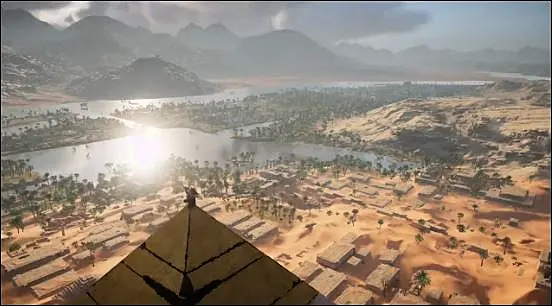 With these mechanics it really feels like Ubisoft are able to present the world they have created with pride. My focus wasn't on a small cluster of symbols in the corner on the screen, instead I was able to look out at the horizon or through the trees or on the shore where a crocodile might jump out at any minute.
Lighting in particular really stood out to me at different moments where flares and volumetric lighting effects cut in and out depending on your angles. Character models as well can be truly impressive in different conditions. I probably took more photos with the game's inbuilt camera system than any other.
Bayek's journey retreads some familiar ground for the series as his personal vendetta gets him wrapped up in a much larger conspiracy, but Bayek feels like his own character. He is older than any previous protagonists and having served a previous life as a Medjay (regional sheriff that serves the king) he feels well established in his world.
While there is a new RPG levelling up system Bayek feels well versed in combat from the start of the game, but I did feel that the new combat system took a while to get used to and sacrificed the style of previous titles in favour of more freeform mechanics.

Where you were previously able to pull off really impressive counter moves with a dozen unique animations for each weapon type, you now have a very predetermined set of moves all mapped to the shoulder buttons. Right bumper is now your light melee attack while right trigger is heavy, which I found to be a bit of an outlandish move for a big franchise, but I have come to terms with it.
Your thumb is now free to operate the camera while you really feel the difference in both power and risk between tapping off a quick attack or lunging in with a beefy heavy. More is required on the player and you feel like you are really controlling Bayek instead of stepping back as an observer as the likes of Ezio does something impressive.
Missions are set at different character levels similar to the Witcher 3 so you'll often find the need to grind a bit before you're ready to progress, but I would encourage trying out some missions while they're out of your league.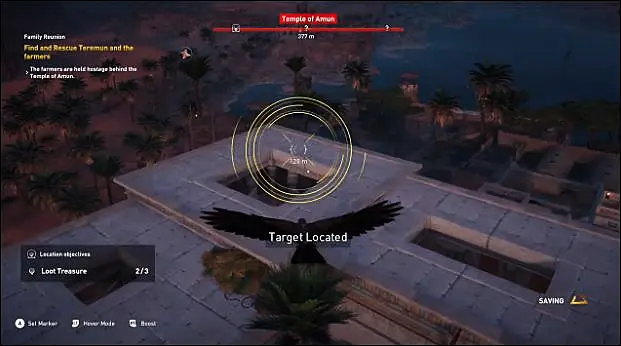 I did so by accident and was met with almost Dark Souls difficult enemies as I tried to save a prisoner from a stronghold. After dying a few times I tried to be more stealthy but was soon spotted. I thought "I have nothing to lose" so grabbed the prisoner while being pursued, put him on a camel's back and kept running, luring the enemies away and distracted them with a lion. This occupied enough of them that I could return to the camel and lose them among the nearby trees.
This was the proper adrenaline fuelled patchwork plan that the franchise always promised, but rarely delivered due to a lack of challenge, limited areas and handholding through the story, but now I feel that they have achieved the franchise's potential. Through not playing to the usual copy and paste year in and year out, Ubisoft have made something substantial and a serious game of the year contender.
9.2/10
Review by Fintan Geraghty