People will tell you that athletes ratings in video games don't matter, and while they are technically correct, that's the worst type of correct to be as it clearly matters a lot to the people who enjoy these games.
I enjoy FIFA 16, maybe a bit too much, but as a fan of the Republic of Ireland soccer team I wanted to shine light on an oversight that is actually infuriating and must be changed.
EA Sports enlist the help of thousands of people when it comes to researching for the ratings they give to their players, so how the hell did they end up giving the green light for Robbie Brady's rating in FIFA 16 to be this: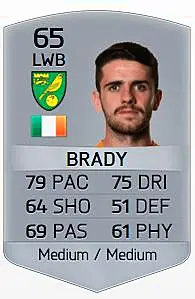 65 overall?
What?
We're talking about probably Ireland's best performing player in the Premier League, and a good bet to win Norwich City's player of the year award, but even last year where these ratings will be taken from, he was one of the bright spots of Hull City's season..
He's slower than he should be, his defending rating is too low for a player that operates as a left-back, and he's rated worse than a number of players in the League of Ireland.
Of course, we've nothing against the LOI and there are some quality players in the league, but Robbie Brady is a good Premier League player and a rating of 65 overall does not reflect that at all.
Here are three players that are rated similarly to Brady that play in the League of Ireland on FIFA 16: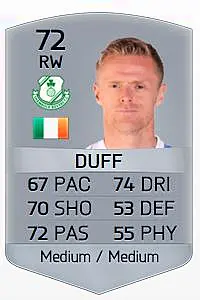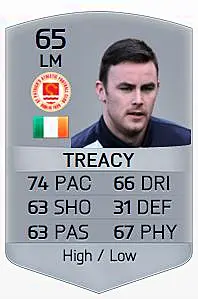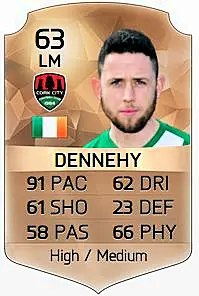 If Damien Duff (now retired), Keith Treacy, and Billy Dennehy are on the same level as Robbie Brady then Martin O'Neill is a madman. Again this isn't a slight against those players, but Robbie is getting no love in the EA studios.
It's simply inaccurate. And even outside the LOI, a look at the Irish players rated higher than Brady will tell you all you need to know: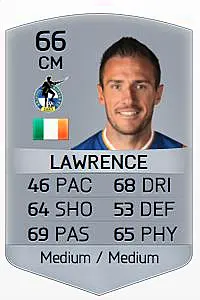 Liam Lawrence? What year is this?
The good news is that EA Sports can easily change this. Today saw the announcement of the first set of FIFA 16 winter upgrades, which give a boost to players who have performed well in the first half of the season:
#FUT Winter Upgrades batch 1 of 4 is now live! Batch 2 next Friday. See the ratings here: https://t.co/zviAoiRF4K pic.twitter.com/e0ZtkPJR3r

— EA SPORTS FIFA (@EASPORTSFIFA) February 5, 2016
Granted, I'm not looking for Robbie Brady to be prioritised ahead of Riyad Mahrez, Jamie Vardy, and Pierre-Emerick Aubameyang, but there are four batches of these upgrades and I am almost certain that Brady will again be overlooked.
And it's not like nobody plays with Irish players so nobody cares. Every year EA Sports run the St.Patrick's Day Cup, an Ultimate Team tournament where you must build a squad of Republic of Ireland or Northern Ireland internationals, and when it rolls around each year the prices on Ireland's best players soar to crazy amounts as everyone wants to win the tournament because it's rewards are huge.
Brady should be one of the most sought after places due to his pace, but instead the likes of Gillingham's Bradley Garmston, a 20 year old with a 91 pace rating, and Jack Grealish, who isn't even going to play for Ireland, will be more effective players to use.
Do the right thing, EA Sports, give Robbie Brady the upgrade he deserves.