Ireland is well known for having some of the best and most beautiful golf courses in the world. From Royal Portrush to Ballybunion Ireland is known as a country where you can play a good 18 holes. But the courses here are pretty similar to those you see the world over. There is nothing particularly crazy or trailblazing about them.
There isn't a tee box on the Cliff of Moher or a putting green at the Giants Causeway. But there are some courses that have the equivalent of those crazy ideas. Here are 5 of the strangest and most unique golf courses in the World.
The Nick Faldo night course
Dubai is known for its modern and unique layout and they have taken the same approach to golf courses. You might not be able to drink or gamble in Dubai but doesn't playing golf in the middle of the night surrounded by buildings sound like something you might do after a few cans?
Nullarbor Links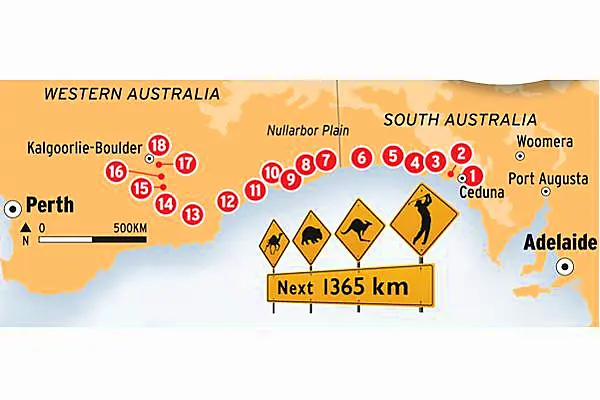 Nullarbor Links is an 18 hole course with a par of 72. Nothing weird so far but the course is situated across 1365km of Australian coastline. A scorecard cost $50 dollars and then you and some buddies can travel Australia playing a course where the average distance from one hole to the next is 66km.
The Legend golf resort
The South African course is actually quite normal except you are playing with lions and elephants nearby. But it is the extra hole known as the extreme 19th that is the main attraction. Standing on top of a mountain the par three is 361m long but 400m high. Amazingly Padraig Harrington was the first pro to get a par.
Camp Bonifas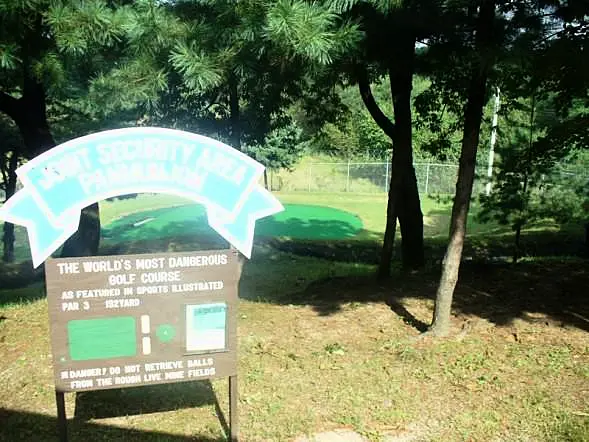 Camp Bonifas is a former US military base located 400m from the demilitarized zone in Korea and it has one long par 3 hole that is surrounded on all sides by minefields. Not technically a golf course but if you can make a birdie under threat of a mine explosion you should really get on honorary green jacket.
Uummannaq Ice Golf Course
This ice golf course in Greenland plays host to the annual World ice golf championship. There are no strict 18 hole course but rather 18 holes are created every year. You could have held the event in Ireland this week.