There is no sob story.
At his ease, Brendan Lawlor walks you through his world. He was born with Ellis-van Creveld syndrome, a rare disability which left him with shorter stature and shorters limbs. He also had an extra finger which was cut off when he was two. He has no knuckles at the top of his fingers and restricted strength.
Not that it bothers him.
Our conversation charts a series of steps along a road. A road that will eventually lead to the world's number one ranked disability golfer and a spot in the Paralympics. Right now he's ranked number three globally and buoyant after finishing a round at the Irish Open Pro-Am in Lahinch.
He never thought he'd play golf. Never thought he'd travel to Portugal, Czech Republic and Australia thanks to sport. Never thought he'd be the pride of Louth village. But he's loving it.
"I've been interested in golf since I was a young fella," the cheerful 22-year-old tells Balls.ie.
It was because of my Grandad really. He had a driver cut down for me when I was four. I used to play pitch and putt with a driver. I could only drive it only 60 yards long but my first hole in one was eventually with a driver!

My grandad was a major influence, he loves it and is still my biggest fan. I never thought I'd have the strength for golf because of my shorter stature. But I started when I was 16 and then a year and a half ago my Mam ran it by me and asked 'would you ever think about playing disability golf?' She wasn't even going to say it to me because she thought I'd be insulted. I never saw myself as different.

People ask me now 'when did you realise you were different?' I tell them 'I still haven't!'
He is different on the course though, different in that he is exceptionally talented. The Dundalk man is playing off scratch and has the world number one spot in his sights. 2019 is set to be the biggest year yet as Lawlor is one of just ten disabled golfers offered wildcard invitations for the Scottish Open next week.

His remarkable rise wouldn't have been possible without his family. The first club was a gift from his grandfather, the man carrying his clubs now is his father. A dedicated and devote caddy.
"Mam and Dad travel to a lot of my events around Europe. It's nice to have that company because it does get lonely as well. If you go to events on your own it can be... So it's lovely to have someone there who is supportive.
"Mam and Dad weren't major into golf but since I started they've been the biggest fans and they are mad into it now," he says with a chuckle.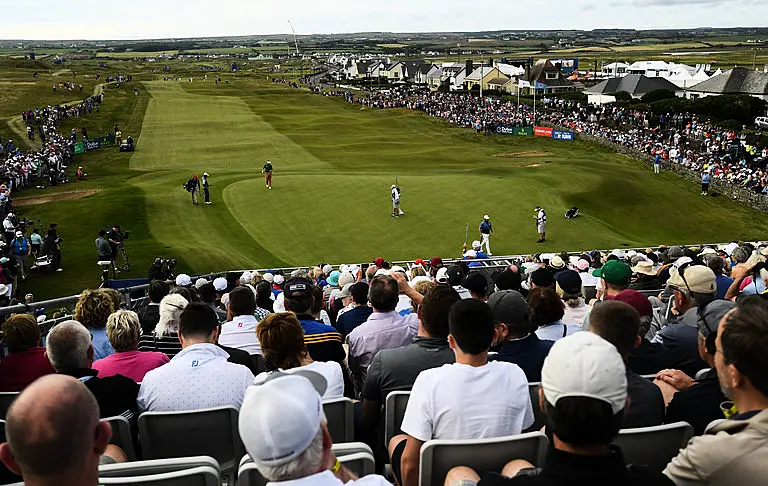 Lawlor's continued advancement saw him participate in the Pro-Am of the British Masters. Organised by European Tour chief executive Keith Pelley, it was part of a continued drive to put disability golf on the map and included in the 2024 Paralympics programme in France.
That's the significant challenge Lawlor is presented with every time he partakes in a showcase. For the sport to be recognised it has to have an "elite edge." Lawlor's dead set on demonstrating it already does.
It was trying to promote disability golf more and more. The major goal of disability golf is to get it into the Paralympics. They don't accept it for some reason. But now that the European Tour accepts disability golf and see the talent that is there, they are doing showcases around the world.

So I have to keep doing what I am doing. They want a world disability tour by 2021. Obviously, it'd be great to earn money doing what I love someday. But that's a whole different road I guess...

It is getting bigger. The R&A took over rankings and we are getting opportunities around Europe and the world to compete in the European Tour.
He's now playing with a standard length driver and three-wood. The only modification is the way he grips the club, but the ability is obvious, all he needs is the platform to show it.
Not in search of special treatment, just an opportunity.
That initially proved difficult: "When I started playing disability golf I was sending messages and emails to people looking for support and this, but it's just so hard. They don't know you and you have to make a name for yourself first really. You have to try to get out there."
Instrumental in it all has been the goodwill of fellow Irish pros. At a recent showcase during the Australian Open, Lawlor got the opportunity to play alongside Paul Dunne and Shane Lowry.
The Offaly man saw an elite-level player spearheading a burgeoning sport. Any chance he got, Lawlor broke down barriers. What better place to do it than this week in Clare, where the sport's figureheads have descended for an engrossing week of action.
"They kept in contact and then Shane got me into the Pro-Am this week which was really nice of him. He didn't have to do that.
He wrote to the organisers to get me a spot on Wednesday. He just did it of his own accord. His management team even set me up with a club deal and everything when I came home. They were really good to me. It was special, y'know?

He's a lovely guy. Before he left he said 'if there is anything you need just give me a shout.' I had been talking to him and just mentioned that it would be lovely to get a chance to play the Irish Open in 2019 or, I know this is a long shot but it's an Irish event so you never know, to play the JP McManus Pro-Am 2020.

To have an Irish ambassador at that and get more exposure for disability golf would be a dream of mine.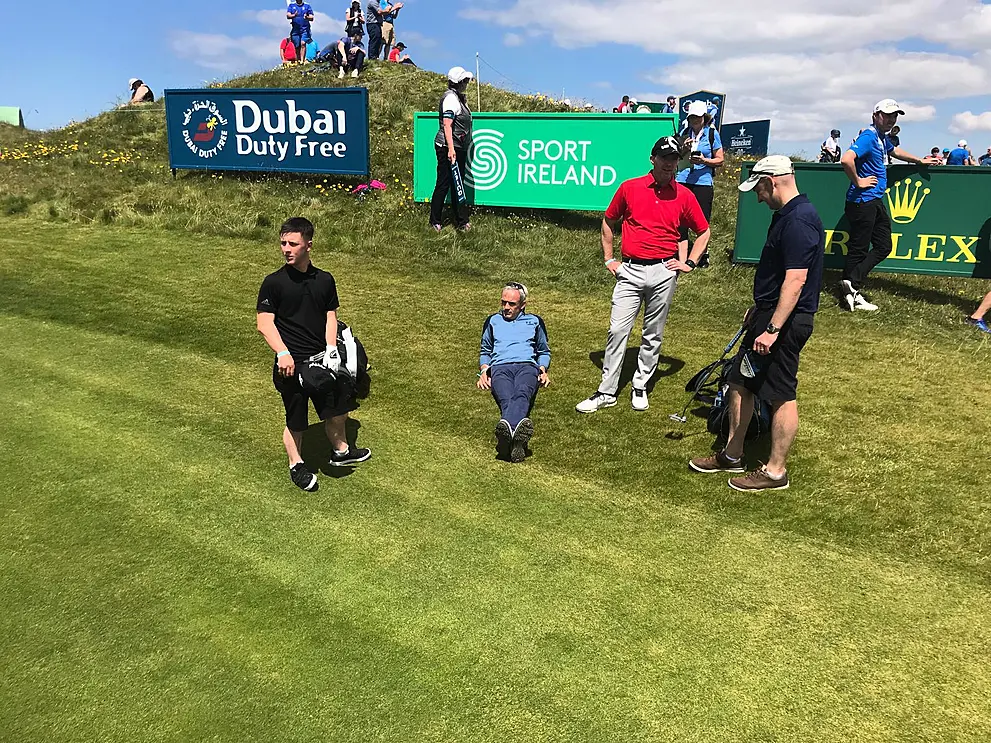 He was paired with a group that included Dermot Whelan, Ruby Walsh and Trevor Immelman. For Lawlor, this was an opportunity to represent his family, his village and his sport.
Pressure? Please.
It was unbelievable. I played the best golf of my life! It was just mental. I was really nervous at the first, we started on hole 16 which is a par three. But then, I honestly never hit the ball as well. I made seven birdies and one bogey for six under. That might never happen again. It was just one of those days.

This is what I enjoy, I mean I really enjoy it. When you get out there you are nervous but privileged to be there. I like the fact I can put on a show for people and have them see you doing stuff you really shouldn't be doing. I drove a ball 320, 330 yards on the day.

People were kind of in awe. I guess they see someone different doing something they think they shouldn't be doing. I could see kids saying 'he's like us.' It's nice to see you can have that effect on people.
Scotland next, Dubai after that. The show goes on, with Irishman Brendan Lawlor at the heart of it.
"I look at golf like anyone else can. You enjoy it, you want to go out every Sunday and play it. That is what's great about golf. It's for everyone. If you are small or tall, old or young. Disabled or not, everyone has a handicap so it's a level playing field.
"That's the amazing thing about golf. I can play a 90-year-old man or a pro and you are equal."
The way it should be.