'It's never as good as you think it is and it's never as bad as you think it is.'
This mantra was given to John Murphy by his assistant coach, and it has stuck with him ever since. It is remarkably true if you think about it, and you can apply to many aspects of life, not least to Murphy's golfing career.
The Kinsale native - who is an ambassador for Arachas, Ireland's largest nationwide insurance broker - captured headlines last October by finishing tied for ninth in the Alfred Dunhill Links Championship on the DP World Tour. It was a performance that exceeded all expectations, proving that he had the game to make a successful career in the professional ranks. Things were pretty good.
But perhaps not as good he thought they were. Later that month he began a run of form that would see him miss the cut in five out of eight tournaments, including his last two events.
However, like his assistant coach once told him, things are not as bad as they seem, in fact far from it. He plays on the PGA Tour this week in the AT&T Byron Nelson at TPC Craig Ranch. It is the second PGA Tour event of his career after February's AT&T Pebble Beach Pro-am. He also has an air of contentedness about him, pleased where his game is at and aware of the areas he must improve on.
He makes an interesting observation in this regard.
There is constant talk of big-hitters and the need for supreme length off the tee, and some even argue that increased distance may ruin the game. Murphy disagrees, and believes that it is overstated, and has wisely chosen not to go chasing length, instead focusing on tidying up his overall game. This, he says, is what separates himself from the guys at the next level.
Tidiness vs Distance
"One thing that I did kind of take from last year was that the distance side of things might have been a little bit blown out of proportion. A lot of the really good players I played with seem to be very clean and very tidy with their game.
"Every part of their game seemed to be really sharp. That's one thing that I took, I don't think I'm at the point where I need to be chasing distance or anything, the best in the world are just very tidy and very professional and don't seem to make too many mistakes so I'm just kind of in the process of trying to clean everything up, trying to eliminate those things as much as possible."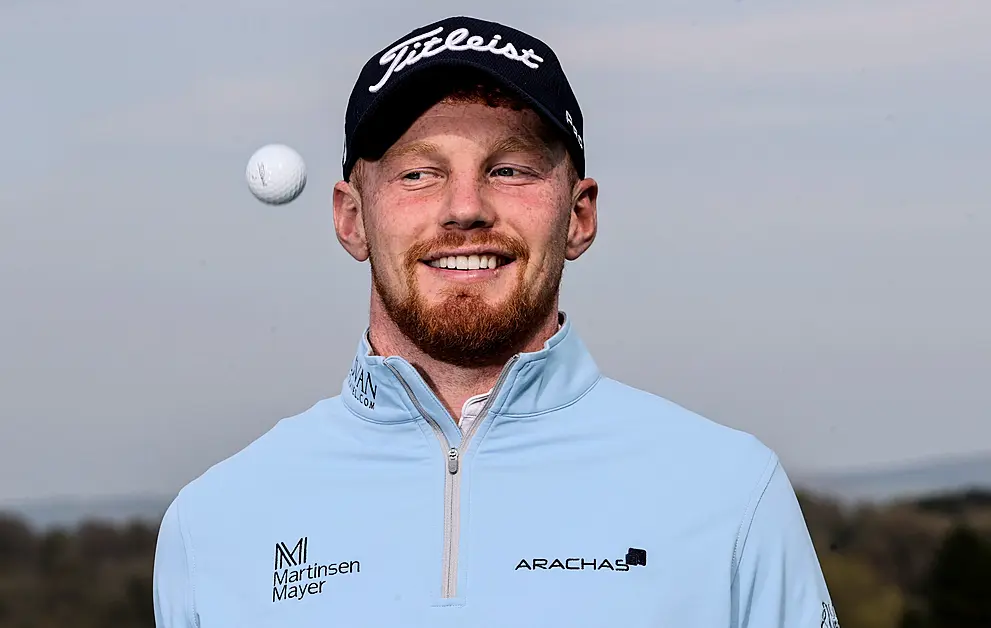 The next level for Murphy is learning how to tackle the grind of the Challenge Tour, and earn his DP World Tour card. And it is difficult not to root for him in this journey, and difficult not to back him either, given the humble manner in which he talks about feeling at home when playing in these tournaments.
"A couple of time last year I had the learning curve of being very nervous before teeing off and once I'm out there just feeling like I'm a kid playing golf. Actually I got a memory on my phone earlier this day last year, myself and Mark Power were playing in the Walker Cup together. A big learning curve for me was that the whole night before, the whole anticipation the whole build-up, you've got the nerves going and you're getting a bit of adrenaline going.
"I hit that first tee shot and I remember walking down the first and just being like this really is the kind of thing you dream of. I think that kind of put me in a lot of comfort out on the course, acknowledging that this is where I want to be, I don't want to be a ball of nerves for this, this is the fun part.
"It's the preparation and stuff that might not be the fun part, but when you're actually playing and competing, that's what's fun for me. I was pleasantly surprised at how comfortable I was under those high pressure situations I put myself in last year I'm looking forward to try and put myself in some more."
Learning From Power And Lowry
Golf in the Republic of Ireland is in a good place right now, with Shane Lowry and Seamus Power the new Harrington and McGinley.
Power in particular is someone for young amateurs or new professionals to aspire to. Not everybody wins the Irish Open as an amateur. Power's route to the world's top 50 also seems more attainable in a way. This is not to take anything away from Power. His mentality and perseverance to make it so far in what is arguably the most competitive and difficult sport in the world, is remarkable and commendable. And clearly Murphy takes great inspiration from his compatriot's rise.
"Seamus has showed I think as much persistence as any Irish golfer ever that I remember in terms of how long he had to wait for his time to come. When you think about it what was it three or four years ago when he was on the Korn Ferry Tour, and it's incredible to see where he is now. It's not an easy thing to do to break that top fifty in the world and it doesn't look like he's stopping any time soon, so it certainly is motivating to see.

"I'm staying with Seamus this week and I'm looking forward to picking his brain and seeing how he goes about his tournament preparation. It's obviously great to learn from some of the best in the world."

"I read something recently where the average age of actually getting your first tour card is twenty-eight-years old so there's a lot of cases where people are waiting it out. Seamus is prime example, he didn't get his first full-time PGA Tour card until he was in his thirties. I suppose that's certainly more inspiration for me to take is that I'm young I'm 23. As much as I don't want to sit back and be content with where I am, I'm very comfortable with the fact that I still have time to kind of figure things out and figure out what works best for me."
He also explains how some of Lowry's habits have rubbed off on him as well.
"As I said right now I'm kind of at the stage where I'm just going to try and show up every day, do the most I can every day to feel like I'm getting better. Some days that might be sitting there and taking break and watching a movie. That's one thing that I've learnt from say the likes of Shane.
"The year after he won the British Open he said he didn't touch a golf club for a month that winter maybe even more. Sometimes you just kind of have to listen to yourself, listen to what's best for you, and I'm still kind of at the stage where I'm figuring a few of those things out. But I feel like last year was a huge learning curve and I figured out a lot about myself and a lot about what are the best ways to grind essentially, and I'm looking forward to continue to learn more about myself."
A Mature Perspective
Grounded is probably one of the more apt ways to describe Murphy's current state. He realises that not everyone can be like the Hojgaard twins, Rasmus and Nicolai, who he describes as 'incredibly gifted'. The brothers have made waves on the DP World Tour while still only 21 years of age.
His journey will take a little bit longer than that. More days of sharing accommodation and rental cars with his close friend and caddy Shane O'Connell lie ahead, as they navigate the grind of the Challenge Tour.
At only 23-years-old Murphy is still a pup in terms of experience, but with the mental side of the game so crucial these days, his mature perspective which belies his years may be the key to future success.
"It's so true in the moment you feel like it's the biggest thing in the world and you feel lonely and down but a week later when you're playing well again I suppose those bad emotions go very quickly.
"That's the beauty of golf, the confidence can come and go very quickly like that. It can be a pretty lonely place if things aren't going well but there's certainly coping mechanisms to deal with that and I'm looking forward to that challenge when it does arise because nobody gets through a full career without playing poorly or without a few blips in the way."
John Murphy is sponsored by Arachas, Ireland's largest nationwide insurance broker providing innovative car, home, and business insurance products. Arachas employs some 500 people in Ireland and is part of the Ardonagh Group, a global insurance broker. Visit www.arachas.ie for more information.