Having joined in the celebrations at Windsor Park nine days ago, Rory McIlroy turned up in Cardiff last Sunday to support the Irish rugby team against France. He tweeted a picture of his view from the Millennium Stadium for the benefit of his followers.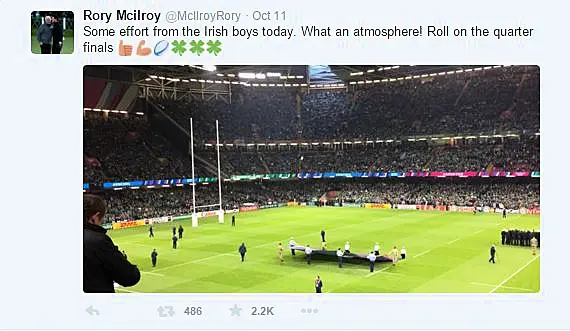 Cultural commentator @Nardone67 got in touch and proffered the view that there was some incompatibility between supporting the Northern Ireland football team and the Ireland rugby team.
@McIlroyRory you were at the Northern Ireland game the other day. Make your mind up ya prick

— Anthony (@Nardone67) October 11, 2015
Why can't I like football and rugby? ??? https://t.co/cG7E0JvSta — Rory Mcilroy (@McIlroyRory) October 11, 2015
When it was pointed out that the Irish rugby team comprised of players from both the Republic of Ireland and Northern Ireland, @Nardone67, who no doubt employs spin doctors to deal with situations like this, insisted it had been meant as a wind-up.
We may never know whether @Nardone67 was sincere in his original comments, but we are certain in the belief that Rory needs to add to his entourage.
As this writer wrote on Saturday afternoon.
With all his money, Rory would be well advised to employ his own cultural advisor to help him navigate his way through the tricky business of being a Catholic sportsman from Northern Ireland with a limited interest in politics.

There would be no shortage of potential candidates for such a role, an esteemed historian perhaps, or an ex-diplomat with the Department of Foreign Affairs, or maybe even a high ranking member of the Alliance Party.

For safety, he may even be required to employ two advisers, one from each community in the North.
This has now become an imperative.
If Rory needs advice as to who he should bring on board to fulfil such a vital role, here is a short list of some suitable candidates.
Prof. Ronan Fanning, emeritus professor of modern history at UCD
Tim Pat Coogan has to be discounted here as Rory would be alienating unionist sensitivities. Likewise, the appointment of Ruth Dudley Edwards would raise the ire of nationalists.
The eminent professor Fanning would seem to be a wise appointment for someone in Rory's position.
Sean Donlon, former secretary general of the Department of Foreign Affairs
As a former Irish ambassador to the United States and a senior civil servant in the department in foreign affairs during a time of great strife in Northern Ireland, Donlon would be a great addition to Rory's team.
His bio entry after being granted an honorary degree by the University of Limerick indicates as much.
Seán Donlon's commitment to Northern Ireland affairs was widely praised after he returned from America and he went on to lead the Department of Foreign Affairs as Secretary-General and Head of the Irish Diplomatic Service. His work on the two jurisdictions was continued and he played a major role in the construction and implementation of the Anglo-Irish agreement of 1985. Mr Donlon has always proved ready to take on offices of State at critical junctures, particularly those that marked Ireland's relationships with the United States and with the United Kingdom.
David Forde, leader of the Alliance party
While we appreciate it would be tough juggling the roles of Alliance party leader, minister for Justice in Northern Ireland and the role of Rory's cultural advisor, we believe that Forde, who has devoted his career to mediating even-handedly between both sides of the conflict, would move heaven and earth to help out a kindred spirit.
His colleague Naomi Long has to be excluded on account of her activism on the flag issue.
Robin Eames, former Anglican primate of All-Ireland
The former Anglican primate of All-Ireland and the archbishop of Armagh between 1986 and 2006, Robin Eames was an even-handed and moderate figure who sought to cool tensions on all sides.
As then Senator Shane Ross wrote on his retirement.
He consistently preached the gospel of peace and practised ecumenism in that he consistently joined with other denominations in an attempt to bring peace to Northern Ireland.