Recently, Davy Fitzgerald made headlines with a broadside on his former manager Ger Loughnane. Not happy with the hurling on the ditch (or ranting in The Star), Davy said, "I don't hate Ger Loughnane. I feel sorry for him. Because every single week he is having a cut at someone."
And that's always been Loughnane's style. Between his Star column, or for many years on The Sunday Game, and even before that as a manager, the Clare legend has never been afraid to speak his mind, even if we suspect half of it is only to have the craic.
Fitzgerald is far from the only one who's had an issue with Loughnane over the years. In the immediate aftermath of the 2007 All-Ireland final, Cody referred to Loughnane as 'that lunatic from Clare'. Many years later, Cody's views had softened somewhat. Ahead of the 2016 season, when Ger was knocking Kilkenny's chances for another three-in-a-row, Cody referred to him as 'gas'.
So he is. Ger Loughnane - the rants and controversies files.
8. Davy
Loughnane has had a good few swipes at his former goalkeepers over the years. Long before the aforementioned "cut" at him last month, he compared him to a Jack Russell earlier this year. It might have been our favourite, but there were endless more to choose from.
Ger Loughnane talking about Davy v Lohan, and his dogs in @IsFearrAnStar. Very entertaining pic.twitter.com/z3364noYIR

— Shane Stapleton (@ShaneSaint) February 2, 2020
7. Sunday Game Muppets
Ger took his leave from The Sunday Game panel last year. And he wasn't long in lamenting the straight talking panels of old after Donal Óg Cusack and Derek McGrath's infamous defence of hurling's sweeper system, with Donal Óg uttering the eternal "last remnants of British culture on these islands" line.
While there was much critcism for the two boys in the days that followed, nobody went in harder than Loughnane, again writing in his always entertaining Star column.
It's true what Joe Brolly says. Stupid, confident people are taking over the world.

The whole thing was contrived, it didn't happen by chance. They just set up Des Cahill and nobody cried stop.

So it became all about justifying themselves with both exposing their pathetic egos. McGrath was even crying about what someone had said about him on The Sunday Game three years ago and Cusack comically brought up British rule in Ireland.

At that stage, the producer should have shoved both of them out the exit door and left the rest of the programme to the excellent Brendan Cummins. The magical weekend of hurling was nearly ruined by two eejits of megalomaniacs behaving like Statler and Waldorf on The Muppet Show.
6. Offaly
Again in his Star column many years earlier, Ger gave his diplomatic verdict on the conditioning of the Offaly hurlers ahead of the 2014 hurling championship.
In an era of modern conditioning, Offaly was, in Ger's estimation, a retro world populated by such charming relics as 'fat bellies' and 'fat legs'.
And 'fat arses', no less.
Coaches these days are less tolerant of oversized backsides and protruding guts. But Ger contended that the people in charge of Offaly hurling stand athwart history in defiance of body fascism.
Offaly look like a county who are still living in the dark ages. They're the only team in the modern era where you still see players with fat legs, bellies and arses
Like most of the world, former Offaly hurler Daithi Regan adheres to the principle that we can say what we like about our own kind but outsiders can get stuffed.
@DuignanMichael @darraghmaloney someone give Ger a replica Liam McCarthy cup, stamp it 1998 "winners" then he might crawl back up his ass

— Daithi regan (@daithi_regan) February 14, 2014
5. Galway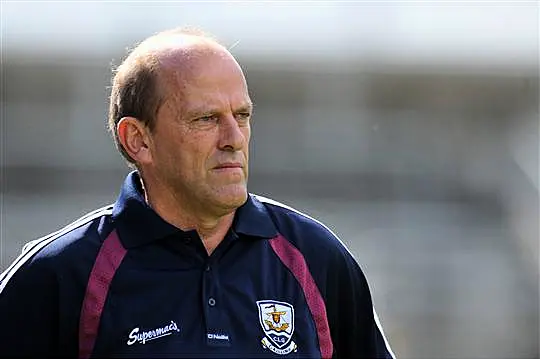 Ger Loughnane arrived in Galway following the 2006 season. There was a widespread belief at the time that not even Galway could fail to fulfil their potential under such a magician.
In fact, during his two years there, Galway were worse than ever, beating only Antrim and Laois in the championship.
In successive seasons, they contrived to lose to two Munster sides hitherto assumed to be in a state of chaos - Clare in 2007 and Cork in 2008.
Apparently, a rather discreet show of player power was instrumental in convincing the county board to ditch him in 2008.
After the players deposed Anthony Cunningham in more acrimonious and divisive circumstances a few years later, Ger lashed out at his old charges, referring to a clique of players who think they're the shit and are forever demanding instant solutions. They had taken the cowardly route out.
There are a group of older players there who have been involved with the county team for a long time. They're always looking for instant solutions. It wouldn't surprise me if this group are at the forefront of the uprising.
A year previously, he scoffed at the notion that Joe Canning could be regarded as a great player, painting him as the 'Billy Beane' of hurling.
A couple of years later, Ger was widely credited with helping motivate Galway to beat his own county in the 2016 All-Ireland quarter-final. And how could he not have after his comically incendiary Star column after the Leinster final?
After the stance they took against Anthony Cunningham, this was the day when Galway had to stand up and be counted.

Otherwise, they'd rightly be regarded as a laughing stock. This defeat showed they are made of absolutely nothing. You can forget about this Galway team - they have no guts whatsoever!

Galway are always looking for a crutch. There's always someone or something to blame. The manager, the trainer, the physio, the length of the grass on the training pitch, the weather...

After pushing Cunningham out the door, the crutch was kicked away from the Galway players. they had to stand up for themselves. No-one would listen if they played the blame game again.
Just over 12 months later, Galway finally ended their All-Ireland famine.
4. Tommy Walsh
One of the brief segments that the Sunday Game trialed for a season only to discard the next year, 'Clubcall' is only ever remembered now for Loughnane's barb at Tommy Walsh.
During a drill, he urged the players to protect their hands when catching the ball, saying that Tommy Walsh might be in the vicinity.
True to form, no one inside the Kilkenny camp said anything though Eddie Keher did come out and defend Tommy from his many critics after the season finished.
3. Brian Cody
In 2007, Loughnane was Galway manager and ahead of the All-Ireland quarter-final, alluded to Kilkenny's tendency to 'push the rules to the limit'.
In the euphemistic world of hurling comment, 'pushing the rules to the limit' means 'pushing the rules well past the limit'.
(Brian Cody once cleverly answered the charge of his team's propensity for 'playing on the edge' by saying he hoped they were indeed playing on the edge, because that's where you need to be to achieve at the elite level, an ingenious response, albeit one which deliberately ignores the fact that 'playing on the edge' was a euphemism to begin with).
Loughnane said that Kilkenny's hardness often resulted in opposing players getting hurt. He said 'it is only a small bit of their play but it is dangerous.'
Cody maintained a Buddha-like wall of inscrutability, instead waiting until after the All-Ireland final before drawing the world's attention to Ger's deeply anti-social mixture of lunacy and Clareness.

2. The Munster Council
It remains a stain on the reputation of Amnesty International that they didn't take a more active role in the Colin Lynch saga.
You may remember that from the throw-in in the 1998 Munster Final replay, Colin Lynch started swinging wildly across everyone else's shins, deploying the hurl like a scythe, as Pat Fluery observed.
Following a foul-tempered game, Lynch was singled out for punishment. Ger wasn't having it and mounted an audacious campaign through the media to try and prevent the suspension.
In one of those urgent interviews with Marty Morrissey on the Six One News, broadcast on the week of Lynch's suspension hearing, Loughnane delivered a stunning oration in which he alleged that Colin's fundamental human rights were being threatened.
If the natural rule of justice prevails that a man is innocent until proven guilty, if that prevails which is one of the basic human rights of every person on this island, and one of the rights that people have fought and died for, then Colin Lynch will playing on Sunday.
In a hysterical Clare FM interview in the first week of August, he accused the Munster Council of improper conduct, acting ultra vires and hypocrisy.
He broadcast the alleged contents of a conversation overheard by Clare chairman Robert Frost at a recent match. It suggested that the Council had decided on Lynch's suspension before the hearing.
. . . on the lines that the Clare team were tinkers, Loughnane was a tramp and the Clare team must be on drugs. This was the general tenor of their conversation.

One of the priests then pointed out, he said: `Don't worry. The PRO - who I will not name - of the Munster Council has told me that he had been talking to the secretary of the Munster Council - who I will not name - and that the Munster Council was going to get Loughnane up into the stand the next day and that Colin Lynch would be suspended for three months. Now remember that this event took place three days before the Munster Council met to discuss the referee's report.
The Munster Council told the Irish Times they considered taking legal action against Loughnane over the Clare FM interview.
1. Fr Harry Bohan
An incident which resulted in a Gardai complaint against Loughnane - because he forgot to hang up the phone.
In 2006, Clare decided to honour their best hurling team of the past 25 years and bestowed an award for one who had offered 'special services to Clare hurling'.
The four All-Stars he won as a player and the two All-Irelands he won as a manager wasn't enough to get Ger recognised.
Instead, the 'special service' award went to the less successful but more agreeable Fr Harry Bohan. Ger insisted he wasn't bothered about such baubles but he strongly objected to Fr. Harry Bohan getting one.
He'd been on a call to Clare county board chairman Michael McDonagh. He described what went down to Clare FM.
The impression is that this has something to do with an award I didn't get. No way, in our house there are no awards on display. The only photograph I have is of the 1995 People of the Year award with Maureen Potter. I just laughed the selection off, not with the 1995 team but when I saw some of the others. They were big game chokers. Worst of all was the person who got the top award - I would regard as the man, hurling wise, as the greatest failure ever in the history of Clare.

I made him aware in the strongest language that I strongly objected to two of the award recipients. I told him that they gave the honour to a man I considered insanely jealous of Clare's success, a man who has tried to create friction between two lifelong friends.
After not hanging up properly, he rang friend and Clare team doctor Colm Flynn - the lifelong friend to whom Loughnane had been referring - on his mobile and made a joke about going out hunting and imagining a certain person's head being the target. Duly motivated, he hit every target.
McDonagh had not hung up either and heard every word. Rather melodramatically, he went to the guards over the incident.
Editor's note: this article originally was published in 2016 by Conor Neville and has been updated in 2020 to take in more recent rants and controversies