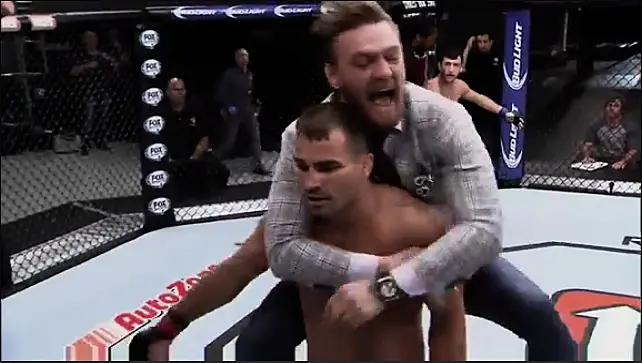 There's no stopping Dublin's Russian Hammer.
We found out Wednesday night that long time team mate of Conor McGregor, Artem Lobov, will fight on Friday night in the finale of The Ultimate Fighter. The SBG fighter didn't have a straight forward route to the final, having been knocked out in the preliminary round but he was brought back into the competition by Dana White and he has well and truly proved his worth. After the semi-final bout, Lobov spoke of just how much that early elimination drove him on.
I got back into the house and I believe I proved Dana right. I got three KOs, no one else got a KO, I brought excitement, I represented my countries with pride and honor. My flags are covered with the blood of my enemies and I will enter the final fight ready to kill and prepared to die.
Lobov will fight Team USA's Ryan Hall despite the fact that Hall lost to Team Europe's Saul Rogers in the semi-finals. It was revealed after the season finale that Rogers has had visa issues and is not allowed back into the States.
Here's how Lobov made his way through to the final and make sure to keep an eye out for Conor McGregor's entry to the octagon after his teammate's win.
With Jose Aldo making an appearance during the final recorded episode, there was still time for a face-off, even if McGregor had to do it in his ripped trousers.
With Rogers out of the final. it's now Lobov vs Hall in Vegas on Friday night, just 24 hours before UFC 194, to see who wins that invaluable UFC contract.