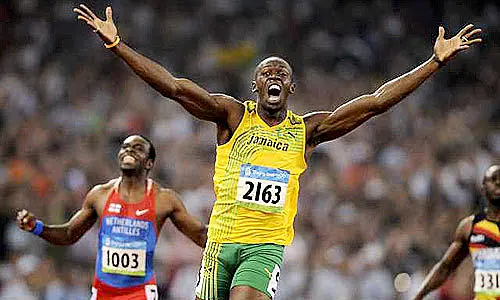 Two memories from the Penn Relays, which I ran in twice in high school, the twin pinnacles of a very ordinary athletic career.
1. Bill Cosby's seat on the finish line. After finishing my leg at my second Penn Relays, I caught his eye from the track and gave him a Thumbs Up. Which he politely returned.
2. The crazy "Bwwwoooop, bwwwwoooop, bwwwwooooop" sound that the travelling Jamaican fans used to make anytime one of their runners or relay teams were coming around the last bend and onto the final stretch. It was this rhythmic, guttural sound that would echo strangely around a half-empty Franklin Field. We'd always head back to Jersey before the college kids started running.
We'd have stayed for Usain Bolt though. Apparently he cracked nine seconds anchoring Jamaica this weekend. What does one do when great feats can no longer be believed or imagined?
[youtube]http://www.youtube.com/watch?v=QibH25THri8&feature=related[/youtube]