While many are transfixed by the thought of Conor McGregor and Jose Aldo finally squaring off in the wee hours of tomorrow morning, we here at Balls have been trying to imagine what would happen if Jose Aldo squared off against another brash and outspoken Irish sporting legend, who coincidentally has the same name as he.
What the hell would happen if Aldo took on John Aldridge, aka Aldo, in a mixed martial arts fight?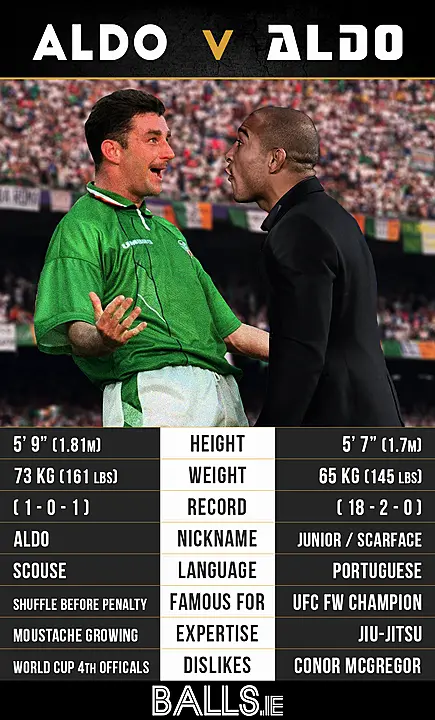 Aldo would bring his two most memorable fights to bear on this one: his win over Fernando Couto by shouting in 1995 and his impassioned draw with the sideline official during the Mexico game of the'94 World Cup.
Even though the other Aldo is unbeaten, we're confident our Aldo's considerable size advantage and raw aggression would negate Brazilian Aldo's jiu-jitsu knowledge. Irish Aldo is also quite good at kicking. Finally, how would Brazilian Aldo respond to the moustache? Would he be psyched out?
It wouldn't be a fight for the purists but we can only see one winner.
Aldo.