Part one of this article ran yesterday. Part three will run tomorrow.
Because the league has morphed and evolved over it's history, from a run based one to a league full of pass oriented offenses, the roles of the players at the skill positions have changed. No more is that evident than with today's running backs. In the past a player like Jim Brown would have just one job—run the football. Brown would also rarely leave the field, as he filled what a role that is referred to today as the feature back.
The feature back is the back who never leaves the backfield. He has an all-around skill set and contributes to every facet of the offense. Marshall Faulk is the greatest example of this player. Faulk ran, caught and blocked as well as any other player on the field during his days with the St. Louis Rams and Indianapolis Colts. Just a decade later and most teams are employing a committee at the running back position.
Committees are generally made up of a primary ball carrier, a short yardage back and a third down back. Some teams have backs who cover two of these roles, while others use up to four different players to fill those roles. The Chicago Bears rely on Matt Forte and Michael Bush to fill those roles. Bush's low center of gravity and bulk allows him to gain forward momentum when the team needs tough yards, while Forte's dynamism and speed in the open field, combined with his soft hands and ability to pick up blitzing linebackers, makes him a perfect primary ball carrier and third down back.
Along with the running back, the tight end position has completely revamped itself in recent years. It's hard to believe that teams used to not throw to the tight end, but nowadays players like Jimmy Graham are essentially overgrown receivers. Graham and Antonio Gates come from basketball backgrounds and are rarely ever asked to block. Conversely, players like Heath Miller, Owen Daniels and Rob Gronkowski remain what are today referred to as two-way tight ends. Those players are relied upon to be key run blockers as well as mismatches in the passing game. That difference is largely why most believe Gronkowski is the best tight end in the game today and not Graham. Even though their statistics are very similar.
As far as receivers go, it is not just a case of having inside receivers and outside receivers. Congruency between your starting receivers is very important, generally receivers are typecast as deep threats or possession receivers, but the definitions are often very ambiguous as players at this level are so versatile. Some teams are fortunate enough to have a group of individual receivers who can do everything. Teams like the Green Bay Packers and Pittsburgh Steelers, when fully healthy, have a depth of players who can do a multitude of things on the field. Other teams either craft their offense around their receivers' limitations or are exposed in situational football.
Last season's Patriots team fell victim to not having enough diversity at the receiver position. The Patriots had four receivers who would be classified as possession receivers in Chad Johnson, Deion Branch, Wes Welker and Julian Edelman. Matthew Slater, the team's fifth receiver, was a burner but only had one reception on the season. The Patriots were able to get away with it because of the overwhelming talent of Gronkowski and Aaron Hernandez at tight end, but when Gronkowski was injured, the New York Giants were able to squash the field.
Having speed on the outside isn't just about scoring long touchdown runs, stretching the defense by forcing the safeties to defend the whole field with their presence is just as important. That is why the Patriots brought in Brandon Lloyd this season. Lloyd may not be having a major statistical impact, but he is making it very difficult for teams to match up to Welker and Edelman simply with the threat of his speed going deep.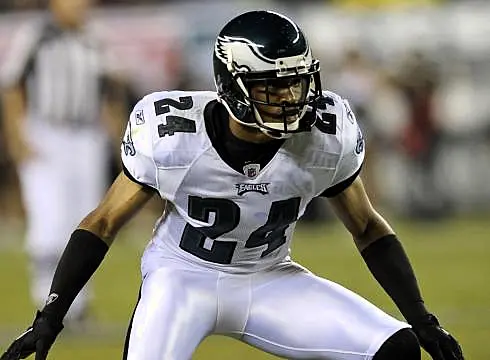 Defensively, matching up to those receivers requires different types of cornerbacks also. Just because one cornerback excels in one situation, it doesn't mean that he will automatically be better at another. The most obvious example of how cornerbacks are different is Nnamdi Asomugha. Asomugha was a dominant player in Oakland with the Raiders when he exclusively played press man coverage. That allowed him to be aggressive and not think too much. He was given a receiver to cover, and he stuck to his body whereever he went. Once Asomugha moved to the Eagles, he was asked to play zone coverage which requires more awareness of your surroundings than playing man coverage.
The difference between zone and man coverage for defensive backs is fairly simple. Smaller cornerbacks who get to the NFL are generally reliant on their quickness and awareness to exceed at this level. When those cornerbacks are asked to play man coverage, their lack of size and straight line speed will inevitably be found out. Zone specific cornerbacks don't receive the same credit as man corners, but asking a man cornerback like Antonio Cromartie, who is playing at a very high level this year, to do the job of a zone cornerback is just as foolish as doing the opposite. Neither is necessarily better than the other, it's simply a matter of style.
Similarly, the difference between an outside cornerback and a nickel(inside) cornerback is understated, but significant. Two of the best young cornerbacks in the game today, Lardarius Webb and Joe Haden, perfectly exemplify the difference between the skill-sets of both positions. Haden is a super star who shuts down outside receivers with ease. His game is similar to that of Darrelle Revis in New York. Webb on the other hand shuts down receivers, but unlike Haden, when the Ravens bring an extra cornerback onto the field he is the one who moves inside.
Much like Charles Woodson has been for the Packers over the years, Webb is a very dynamic player. Playing inside gives cornerbacks more help from teammates more often, but it takes away the one benefit outside cornerbacks have, the sideline. On the outside cornerbacks can use the sideline as an extra defender to take away space, but inside the receiver can go to either side and see open field. Inside cornerbacks must be able to move laterally very quickly and change direction in a split second. Outside cornerbacks are more reliant on straight line speed. But much more than that, inside cornerbacks must be better tacklers in run support, as they are closer to the backfield, and provide a threat as a blitzer.
Cornerbacks who play inside are generally very instinctive football players who can later prolong their career by moving to safety. That is not to say that safety is a lesser position, but it does require less coverage typical. Safeties come in two forms, but much like receivers' the definitions have become blurred over the years. The free safety is thought of as the coverage player who plays deeper from the line of scrimmage, while the strong safety lines up closer to the line, plays in the box to support the run and covers tight ends. The difference is perfectly highlighted by the Ravens' Ed Reed and Bernard Pollard. Pollard is a hard hitting player who plays very physically, while Reed is all about reading the quarterback's intentions while covering vast amounts of space deep.
Follow Cian Fahey on Twitter - @Cianaf
Read more of Cian Fahey on Irish Central and in the Guardian's US Sport section.