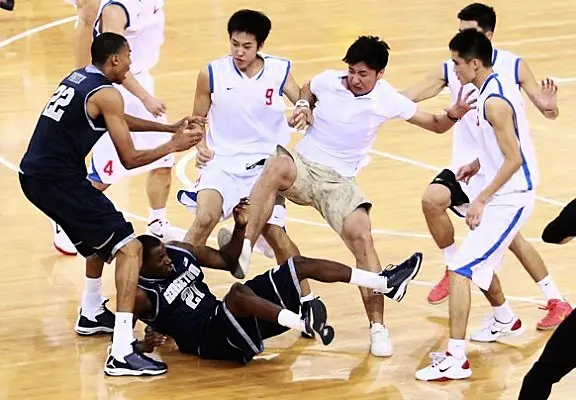 With Obama's right hand man Joe Biden in China this week, hopes were high that his trip would be memorable for the strengthening of relations between the two superpowers, alas sport got in the way. The VP even went along and caught a basketball game as the Georgetown Hoya's continued their own tour of China, oh how lucky he was to escape the next neck of the university team's tour, where they faced the Bayi Rockets...
From the Washington Post
What began as a goodwill trip to China for the Georgetown men's basketball team turned violent Thursday night, when its exhibition game against the Bayi Rockets deteriorated into a melee during which players exchanged blows, chairs were thrown and spectators tossed full water bottles as Hoyas players and coaches headed to the locker room at Olympic Sports Center Stadium.

Georgetown Coach John Thompson III pulled his players off the court with 9 minutes 32 seconds left in the game and the scored tied at 64 after a chaotic scene in which members of both teams began throwing punches and tackling one another.
close the advertisement in top right of this video to get it going